Found February 26, 2013 on The Nats Blog:
                        Those of you who have worn the Curly W since the beginning will remember the name Chad Cordero very fondly. In the roller coaster season that was 2005, the then 23-year-old phenom both charmed and electrified Washington during the club's surprising 81-81 inaugural year in the Nation's Capital.    Both MLB.com and USA Today ran features on former Washington Nationals closer yesterday, as the 31-year-old embarks on a physically and emotionally taxing comeback to Major League Baseball. Now a special invite with the Los Angeles Angels, the team he rooted for as a kid growing up in California, Cordero pitched against live MLB pitching yesterday for the first time since a failed comeback attempt in 2010 with the Seattle Mariners.    Cordero pitched one inning Monday for the Angels big league squad, giving up a home run against his first batter, before retiring the next three hitters in order. Most will likely chalk up the lead-off home run to jitters, but the most important note from the day was that he was consistently hitting 89-91 MPH on the radar gun with his fastball. Those of you who remember Cordero's sudden decline in Washington know that his career fell apart after a shoulder injury sapped him of his velocity, and the effectiveness of his changeup evaporated.    As yesterday's features noted, those shoulder injuries were only the start of Cordero's struggles. Out of the game by the age of 28, the former All-Star and his wife lost their 11-week-old child, Teyha, to Sudden Infant Death Syndrome. The emotional toll this took on the right-hander made a comeback at the time near impossible.   Cordero, however, has now lost nearly 40 pounds, according to accounts, and it appears that his fastball and love for the game has returned. It's unknown where he will end up out of camp, but it is almost certain he will not follow the big league club to Los Angeles. At the age of 31, Cordero faces some major uphill challenges as he tries to make his way back to the show. Not only will he have to re-prove that he can be an effective member of a bullpen that will be making a push for the playoffs, but also that the Angels should use a roster spot on a guy whose long-term role with the franchise is unclear.    Personally, I will always remember going to games at RFK Stadium in 2005 with my friends and straightening out the bills of our caps when "The Chief" got in the game to close it out. Cordero pitched with such great passion, and wore every emotion on his sleeve. Regardless of is future, he will always have a place in the Nats record books, as I find it hard to believe that any Washington closer will ever top the 47 save, 1.82 ERA year that Chad posted for the Nats in year one.
Original Story:
http://www.thenatsblog.com/2013-artic...
THE BACKYARD
BEST OF MAXIM
RELATED ARTICLES
The February 25th, 2013 edition of daily news for the Los Angeles Angels including Weaver "doesn't give a (expletive)" about lost money, Burnett and Madson to ramp up throwing programs and much more... The Story: Jered Weaver "doesn't give a (expletive)" about the money he left on the table when signing a contract extension. The Monkey Says: He...
Albert Pujols is in the starting lineup to make his 2013 spring training debut for the Los Angeles Angels, about 10 days ahead of schedule following offseason knee surgery. Pujols was down to be the designated hitter and bat third against Cincinnati on Tuesday, saying he wanted to ''see some live pitching,'' Angels manager Mike Scioscia says Pujols ''feels...
By David Saltzer, AngelsWin.com Senior Writer --  It takes a lot to make a successful Little League baseball season. It starts with the dedication from the people who organize the league, includes all the hard work from the coaches who run the teams, and ends with all the hours donated by the parents who make it all happen (especially the team moms!). It's a labor of...
TEMPE, Ariz. (AP) -- Josh Hamilton wants to turn over a new leaf with his new team. The free-swinging slugger is planning to practice better plate discipline in his first spring with the Los Angeles Angels. Hamilton then swung at the first pitch he faced in an Angels uniform Tuesday, grounding out to short in Los Angeles' 7-7, nine-inning tie with an Arizona Diamondbacks split...
The MWAH prospect countdown marches on with a third baseman who deserves a shot in the majors but probably won't get one, at least not with the Angels. Luis Jimenez Position: 3B  Highest Level: Triple-A Bats: Right Throws: Right  Height: 6'1" Weight: 205 lbs. Age: 25  Born: 1/18/88 2012 Season Stats Triple-A: 517 PA, .309 AVG, .334 OBP, .495 SLG, 38...
The Los Angeles Angels enter the 2013 season with a roster filled with superstars, but none may be more popular than Mike Trout. The 21-year-old burst onto the scene last year and was one of the best players in baseball. Had it not been for Miguel Cabrera winning the Triple Crown, Trout could have easily taken home the American League MVP award. How popular is Trout in LA? Of the...
C.J. Wilson got his wish by getting a big fat contract to return to Southern California to pitch. But that dream turned into a nightmare by the end of the season. Will everyone's favorite straightedger be able to redeem himself in 2013? 2012 Stats: 202.1 IP, 13-10, 3.83 ERA. 4.04 FIP, 181 H, 91 BB, 19 HR, 173 SO, 1.68 GB/FB, 2.5 fWAR 2013 ZiPS Projections: 193.1 IP, 3...
By David Saltzer, AngelsWin.com Senior Writer -- One of the things that I love most about baseball is that it constantly teaches me something new every day. As a child, it taught me how to play hard and fair play. As a teenager, it taught me how to work hard to achieve greatness. As a young adult, it taught me to maintain my faith in my team through challenges and triumphs. ...
The February 27th, 2013 edition of daily news for the Los Angeles Angels including Callaspo reported to camp overweight, Hamilton makes his spring debut and much more... The Story: Alberto Callaspo showed up to camp 20 pounds overweight, but has already lost most of it. The Monkey Says: It seems Alberto was nursing a shoulder problem in the off-season so he didn't work...
The MWAH prospect countdown marches on with a slugging outfielder who is hoping to make a name for himself. Randal Grichuk Position: OF  Highest Level: High-A Bats: Right Throws: Right  Height: 6'1" Weight: 195 lbs. Age: 22  Born: 8/13/91 2012 Season Stats High-A: 575 PA, .298 AVG, .335 OBP, .488 SLG, 30 2B, 9 3B, 18 HR, 71 RBI, 92 SO, 16 SB, 6 CS, .329...
There is a stupid premium on Jered Weaver. Stupid as in dumb. Not stupid as in, "Yo, Grey your feathered hair is stupid fresh! Farrah Fawcett is prolly jealous in heaven. Flap your wings, Greyseph Hawkins, you are my angel on earth. I love you." In the top 20 starters for 2013 fantasy baseball, I went over some of this so if you've been there, read that, skip...
Mike Trout's 2012 season is much like a fishing story. It just seems to get more extravagant with each telling of the tale. I've heard the fables, "Oh man, I caught this 12 lb walleye in my bath tub!"; when in reality the guy probably dropped a 12 lb turd in his toilet after eating Taco Bell. The plastics and tainted horse meat will do that to a guy. You'll...
MLB News

Delivered to your inbox

You'll also receive Yardbarker's daily Top 10, featuring the best sports stories from around the web. Customize your newsletter to get articles on your favorite sports and teams. And the best part? It's free!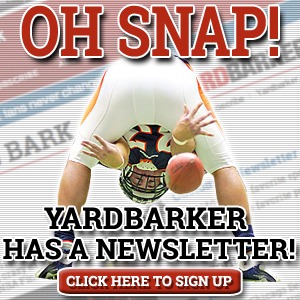 Latest Rumors
Best of Yardbarker

Today's Best Stuff

For Bloggers

Join the Yardbarker Network for more promotion, traffic, and money.

Company Info

Help

What is Yardbarker?

Yardbarker is the largest network of sports blogs and pro athlete blogs on the web. This site is the hub of the Yardbarker Network, where our editors and algorithms curate the best sports content from our network and beyond.