Found November 08, 2011 on Dugout Central:
PLAYERS:
Prince Fielder
,
Jose Reyes
,
Yuniesky Betancourt
,
Mat Gamel
,
Doug Melvin
,
Tom Hicks
,
Alex Rodriguez
,
Ryan Braun
,
Fernando Vina
,
Scott Podsednik
,
Corey Hart
,
Rickie Weeks
TEAMS:
Milwaukee Brewers
,
New York Mets
,
New York Yankees
Following the Brewers defeat in the National League Championship Series, team owner Mark Attanasio vowed that the Brewers would be "participating in the sweepstakes" for All-Star first baseman Prince Fielder, who has entered the free agent market this season after six full seasons as the Milwaukee Brewers' first baseman.
Prince Fielder has been everything that the Brewers hoped he would be when they drafted him with their first pick in the 2002 draft. Critics claimed that Fielder (mainly because of his weight) would never become an effective every-day first baseman, but Prince proved them wrong, earning two National League Silver Sluggers, three all-star selections, five straight 30-homer seasons, and the distinction of becoming the youngest player to ever hit 50 home runs in a season. Before Prince suited up as a Brewer, the team hadn't had a winning season since 1992; since he entered the heart of the order, they have made the playoffs twice – something that seemed in possible when he was drafted in the middle of a 106-loss season.
At just 27 years old, Prince Fielder has done pretty much everything imaginable to secure himself a long-term, 9-figure deal. The Milwaukee Brewers, however, should thank Prince for his hard work and dedication to the team, and pursue another star this off-season: former Mets all-star shortstop Jose Reyes. Here's why:
#1: Reyes Represents a Greater Value – for the Brewers
Prince Fielder is the odds-on favorite to out-perform Jose Reyes in terms of production in upcoming years.
But when building a roster, placement in the MVP voting is hardly relevant.
Going off of the 2011 roster, Jose Reyes wouldn't replace Prince Fielder so much as he would replace former Brewers shortstop Yuniesky Betancourt. And Fielder wouldn't be replaced by Reyes, but rather long-time prospect Mat Gamel.
Mat Gamel won't come close to matching Prince's production, but he is coming off of back-to-back solid years at AAA, hitting .309/.387/.511 for the Nashville Sounds in 2010 and .310/.372/.540 in 2011. An inability to field the hot corner kept him in the minors, but with Prince out of the picture, he can finally bring his bat to the big leagues, full-time.
Jose Reyes, meanwhile, would represent an enormous upgrade over Yuniesky Betancourt who put up a pathetic .271 on-base percentage last year and is widely accepted as one of the very worst players in baseball. Reyes won the batting crown in 2011 (albeit through questionable means), has stolen 30 or more bases six times, and is known for solid defense up the middle. In short, he's everything Yuni isn't.
Neither Gamel nor Reyes will replace the production of Fielder – but combined, they should replace and even exceed the aggregate production of Fielder and Betancourt.
#2: Reyes will be Cheaper
Projections have Prince Fielder making at least 20 and possibly 25 million dollars per year on whatever his new contract ends up becoming. A small-market team, the Brewers must be weary of committing too much of their payroll to a single player; Brewers General Manager Doug Melvin knows this, having seen his former owner in Texas, Tom Hicks, unilaterally commit well over a quarter of the Rangers payroll to one player, Alex Rodriguez. Jose Reyes – who made 4.5 million less than Prince Fielder in 2011 – will probably be looking at a new contract in the range of 15-18 million dollars per year, limited somewhat by his injury past (an issue Prince Fielder doesn't have, missing just 12 games in 6 seasons).
While this certainly isn't cheap, it's certainly manageable for the Brewers.
In 2011, the Brewers spent 15.5 million on Fielder, and 4 million on shortstop Yuniesky Betancourt. In theory, that means that 19.5 million dollars can be spent on those two positions; with Fielder's heir apparent, Mat Gamel, set to make the league minimum salary in 2011, this means that the Brewers have around 19 million dollars per year to theoretically spend on Jose Reyes (assuming no major additions elsewhere).
#3: Reyes Will Require Fewer Years
Prince Fielder is looking at up to an eight-year deal this off-season. If he gets it, wonderful – he's done absolutely everything to earn it.
With the big money set to kick in on MVP candidate Ryan Braun in 2016, the Brewers need to be thinking about shorter term deals while their super-star is still a bargain.
Jose Reyes's injury issues certainly make him a huge potential risk, but they also reduce his likely contract-length to around four or five years, a far less overwhelming commitment than what Prince Fielder will command.
#4: Reyes Would Provide a More Balanced Lineup
Ever since the departure of Paul "The Ignitor" Molitor, the Brewers have been searching for a true lead-off man, who can reach base at a decent clip and utilize his speed ahead of the big boppers. They've gotten solid individual seasons out of Fernando Vina (1998) and Scott Podsednik (2003), but for the most part, a conventional lead-off man has been missing.
Jose Reyes not only solves that problem, but he enables Ron Roenicke to use the two power-hitters who set the table in 2011 – Corey Hart and Rickie Weeks – down to a more natural spot at the heart of the order to protect Ryan Braun – and make pitchers pay for pitching around the Brewers sluggers slugger without fear of Fielder-esque retribution.
#5: Reyes Would Improve Team Defense
Despite winning the National League Central crown in 2011, the Brewers infield featured minus fielders at all four infield positions. Prince Fielder did a lot for the team, but no one was going to mistake him for Keith Hernandez with the glove. Meanwhile, Betancourt demonstrated lackluster range and made a pair of costly errors in the NLCS against the Cardinals.
Jose Reyes represents a significant upgrade at the most important infield position, and while Mat Gamel has had his defensive struggles at third, he has greater mobility than Fielder and will likely represent an upgrade as well, once he has gained experience at first base.
Original Story:
http://www.dugoutcentral.com/?p=2319
THE BACKYARD
BEST OF MAXIM
RELATED ARTICLES
TALENTS TO SOUTH BEACH
As soon as the free agency period started, the Miami Marlins were all over former Mets' shortstop Jose Reyes. They want Reyes to be the cornerstone as they enter a new ballpark and to sell those hideous new uniforms.
With Jose Reyes set to meet with the Miami Marlins some time today, fans are understandably worried that the man they watched dazzle them at shortstop  for the better part of eight years may be on his way out.  People close to the team, however, may not be as worried….at least not when it comes to Miami.  According to John Harper of the Daily News: Photo by Michael G. Baron...
With Wednesday's news that Jose Reyes took in the sights at the Marlin's new complex in Miami, many Mets fans entered panic mode as the idea of losing the all-star shortstop to free agency finally came full circle.  Fans should remember that Reyes, who will undoubtedly take similar tours at other cities across the country, has stated all along that he intends to see what...
In a post to Twitter, Tom Haudricourt of the Milwaukee Journal Sentinel says he doesn't believe it's likely the Brewers will sign Jose Reyes this winter. Having said that, in regards to Reyes, Brewers GM Doug Melvin told Haudricourt "I'm interested in everybody until I know what the price is." SI.com's Jon Heyman recently said the Brewers are targeting Jose Reyes, since...
In a post to Twitter, Joe Frisaro of MLB.com says the Marlins met with Jose Reyes today, although no offer has been made yet. Here are other key updates about Jose over the last few days: In a report to the Daily News John Harper says the Marlins plan to offer Jose Reyes a three-year deal at a high annual average, presumably more than $20 million a year. Yesterday afternoonon...
Updated 9:00 PM * Jerry Crasnick of ESPN talked to a Marlins official who confirmed that his team has talked with free-agent SS Jose Reyes. According to Crasnick, the Marlins are also speaking to Prince Fielder and Albert Pujols. It seems that they are intent on getting one of those big names to help showcase their new ballpark. * Jon Heyman of SI.com says the Mets have asked...
Perhaps Jose Reyes already has received assurances from Hanley Ramirez he would be welcomed to the Miami Marlins, specifically to the shortstop position, with enthusiasm. If Reyes still is looking for Ramirez to extend him that support, it's not likely to happen Tuesday. Ramirez is not expected to be part of the Marlins' welcome party when team officials host Reyes. While Reyes...
Unheralded free agents could help Mets in 2012 as they aim for future success
In his blog for ESPN.com, Buster Olney says Sandy Alderson's approach to Jose Reyes this winter is this: "They are not going to engage in a bidding war for the shortstop. They will make an offer they feel comfortable with, and if it's rejected, they will move on – and so if the Marlins' offer is as aggressive as expected, there would appear to be almost no chance Reyes...
MLB News

Delivered to your inbox

You'll also receive Yardbarker's daily Top 10, featuring the best sports stories from around the web. Customize your newsletter to get articles on your favorite sports and teams. And the best part? It's free!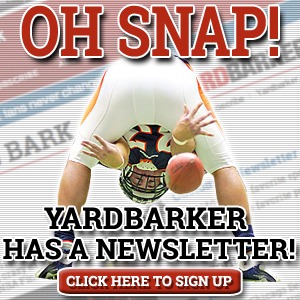 Latest Rumors
The Backyard

Today's Best Stuff

For Bloggers

Join the Yardbarker Network for more promotion, traffic, and money.

Company Info

Help

What is Yardbarker?

Yardbarker is the largest network of sports blogs and pro athlete blogs on the web. This site is the hub of the Yardbarker Network, where our editors and algorithms curate the best sports content from our network and beyond.