Found June 02, 2012 on The Daily Stache:

So many things were running through my mind as I watched the ninth inning unfold on a Friday night in June at Citi Field.
How would it end? Triumph or Heartbreak? How will I react if Johan Santana throws a No-Hitter? What will I say? How do I say it?
David Freese, the World Series MVP last season, a man who when down to his last strike in the World Series got the game tying hit to keep the Cardinals alive was coming to the plate.
Sure, its a pressure filled at-bat, but nothing that he hadn't already gone through on a much bigger scale in his young career.
That fact, the fact that in my opinion I don't think he was feeling the normal pressure the potential last out of a No-hitter would face worried me.
Santana was throwing at a pitch count he had never done before, when you include warm ups and his bullpen session before the game, he was north of 200 pitches on the day. Less than 18 months after a shoulder surgery that some pitchers have not comeback from.
Then with the count 3-2, Johan threw one more signature changeup and Freese swung and missed. Pandemonium broke out at Citi Field, on Twitter and in my own living room as I pumped my fist and screamed as loud as I could.
What Johan Santana did tonight was not just historic, it was not just unbelievable, it was a showcase that no matter what, you can persevere and make it back to the top of your craft.
Santana has been a wonderful pitcher for the Mets in his time here and has been nothing but a professional on and off the field. I saw Johan in person help raise 20,000 dollars for the Tuesday's Children charity benefiting families that lost loved ones on 9/11/01. The man is an inspiration to us all.
Every out I watched, home to enjoy a Mets game for the first time it seemed like in forever, counted down with the fans on twitter, enjoyed the panic, joy, enthusiasm and relief they all showed during and after the game.
I saw the best not only on the mound, but in the stands and in social media as we all enjoyed watching something that no Mets fans had ever seen before by one of our own.
I look forward to the day when I can tell my children and grandchildren about this magical night on June 1st, 2012. Tell them what I was doing, where I was sitting, how I reacted and so forth.
And I can look back to when I called my Dad, who has been the Hospital for almost three weeks, and celebrated not only a Mets victory but the news that he was finally coming home.
Tonight was most certainly a night to remember and I know it will live on in Mets history and our history forever.
Original Story:
http://dailystache.net/archives/1576?...
THE BACKYARD
BEST OF MAXIM
RELATED ARTICLES
JUST ONE EXCEPTION
A St. Louis newspaper gave an asterisk to Johan Santana's no-hitter against the Cardinals. See what their reason was.
While the Phillies were playing through some late innings of a rain-delayed game against the Miami Marlins, history was made just north in Queens, New York. New York Mets pitcher Johan Santana threw his first career no-hitter Friday night in Citi Field against the St. Louis Cardinals, who came in to the night as the best hitting team in the National League. Santana, who labored...
Johan Santana? More like No-han Santana, amirite? (*Rimshot. "I'll be here all week."*) Santana tossed the first no-no in the history of the Metropolitans Friday night in an 8-0 victory over the Cardinals. It took Johan a career-high 134 pitches to complete the task and he was also aided by an incorrect call in the 6th inning. Carlos Beltran's liner in that...
Johan Santana's no-hitter came at a cost to the New York Mets. Injured outfielder Mike Baxter is expected to miss about six weeks after crashing into the fence while making an outstanding catch to preserve Santana's no-hitter Friday night against St. Louis. And reliever Ramon Ramirez is likely headed to the disabled list as well after straining his right hamstring during...
Watch the final out of Johan Santana's no-hitter
All of the New York Mets were absolutely ecstatic over Johan Santana's masterful pitching dominance that gave the franchise it's first no-hitter in over 50 years. I wouldn't say they were full, hard-on erection excited, but from the looks of the post-game interview with coincidentally Mets starter R.A. Dickey, they were pleasantly plump. Via @EricMadel
Starting pitcher of the New York Mets, Johan Santana has thrown the first no-hitter in team history on Friday, June 1.  Here's the video of the complete game victory: Link to Santana's no-hitter With the no-hitter by the Mets, the San Diego Padres are the remaining franchise in Major League Baseball to have yet to throw a no-no.
NY Mets pitcher Johan Santana and NYM manager Terry Collins post no hitter interviews via SNY. Your browser does not support iframes. Santana's brief speech to the clubhouse. Your browser does not... Full story at Bob's Blitz ~ http://www.bobsblitz.com
In an event most Mets fans never thought we would see, the club finally got a no hitter. Star Johan Santana pitched a gem for the first no hitter in the clubs 51 year history. I will follow up with more details later, right now I am just enjoying the moment!
Congratulations Mets fans.  The wait is finally over, and it feels good.  It was great to be able to see some Mets history being made, but I couldn't help noticing how much attention there was surrounding Johan Santana's pitch count.  I know he's coming off a serious shoulder surgery, but was there ever really a question about whether he would have been pulled from that...
Doug O'Neill knows how to play to a New York audience. The morning after Johan Santana pitched the first no-hitter in New York Mets history, the trainer of Triple Crown hopeful I'll Have Another showed up for his Belmont Stakes news briefing sporting a Mets cap. A security guard at his colt's barn gave him the cap Saturday morning, and O'Neill popped it right on...
June got off to a rousing start with a 10-4 picking start. That Mets pick sort of worked out didn't it? Nice going, Johan Santana. Good for you and for the Mets. The Angels over the Rangers was another particularly good pick. Mike Trout again stole the show. The guy is the most exciting player in the game right now. On the flip side, the Pirates won easily and the picks did...
MLB News

Delivered to your inbox

You'll also receive Yardbarker's daily Top 10, featuring the best sports stories from around the web. Customize your newsletter to get articles on your favorite sports and teams. And the best part? It's free!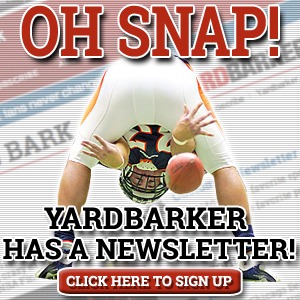 Latest Rumors
Best of Yardbarker

Today's Best Stuff

For Bloggers

Join the Yardbarker Network for more promotion, traffic, and money.

Company Info

Help

What is Yardbarker?

Yardbarker is the largest network of sports blogs and pro athlete blogs on the web. This site is the hub of the Yardbarker Network, where our editors and algorithms curate the best sports content from our network and beyond.