Found April 18, 2013 on Pirates Prospects:
PLAYERS:
AJ Burnett
,
Clint Barmes
,
Felix Hernandez
,
Gio Gonzalez
,
Matt Holliday
,
Russell Martin
,
Carlos Beltran
,
Neil Walker
,
Matt Carpenter
,
Travis Snider
TEAMS:
Pittsburgh Pirates
,
Seattle Mariners
,
Washington Nationals
,
St. Louis Cardinals
A.J. Burnett's almost-perfect outing helped the Pirates to a 5-0 win. So many events have to go right for a no-hitter to happen. We sometimes lose sight of that, living in this Golden Age of 23 no-hitters in the last six years. Even with no-hitters becoming almost as common an occurrence as Clint Barmes home runs, they still require a potent combination of talent and good fortune to come true (you know, like a Clint Barmes home run). When looking at A.J. Burnett taking a perfect game into the 6th inning and a no-hitter into the 7th inning of Wednesday night's win over the St. Louis Cardinals, it is important to look at both skill and luck. Talent and Skill Burnett generated nine swings-and-misses on Cardinals hitters, which actually is about average for the veteran pitcher in any particular start. Thing is, Burnett's "average" is quite good for getting batters to whiff. His swinging-strike rate since the start of 2011 is better than that of aces like Felix Hernandez and Gio Gonzalez. "I'm throwing balls and they're missing," Burnett told Pirates Prospects' Tom Bragg. "I'm just attacking." Attacking indeed, as Burnett threw first-pitch strikes on 14 of the 23 hitters he faced. Perhaps the most impressive sequence was Burnett getting slugger Matt Holliday to swing and miss at two curveballs, including this one to retire him at the end of Burnett's 4th inning on his way to eight strikeouts. Eight of Burnett's 10 swings-and-misses were generated by his curve, with two coming on his four-seam fastball (which touched 94 mph early on). Those two pitches, with a few sinkers tossed in, were all Burnett needed to stymie the Cards' offense. That's right, stymie. But do not forget the talent of Russell Martin behind the plate. He called a game that included seven ground-ball outs, but one pitch in particular stands out. In the top of the second, Carlos Beltran worked the count to 2-2, but was struck out looking on this sinker. That was a nice frame by Martin to get the strike-three call from home plate umpire Adrian Johnson. Look at where the ball was when it crossed the plate. I don't want to gush, because you will see Martin frame far better pitches than this over the season, but his ability to consistently draw strike calls on close pitches like the one above will help Burnett, who had trouble with walks in his last couple years with the Yankees. Good Fortune Second baseman Neil Walker looked smooth play in the 4th inning to rob Matt Carpenter of a hit, but many of the other balls in play were hit toward Pirates fielders. Burnett mostly limited the balls hit to the outfield, but a pair of line drives later in the start were directed right at Travis Snider in left field, which is the kind of good luck a pitcher relies on to twirl a gem. Right before Beltran got the Cardinals' first hit with two outs in the 7th, Burnett made a fine play on a dribbler off the bat of Holliday, making a throw to first that just barely beat him. Exhale. In a combination of good pitching and good luck (that the Cardinals were not swinging at them), Burnett threw 20 called strikes that got him ahead in counts. "I had a good hook today and threw some balls in I don't normally throw in and it caught them off guard," Burnett said. Unfortunately for Burnett, good fortune can only get you so far, and his velocity was dropping as he approached the 100-pitch mark. It would have taken some more luck  to seal the deal, even if he had retired Beltran. Courtesy of Brooks Baseball Ultimately, it wasn't to be for Burnett on Wednesday night. Instead, it became the seventh game in his career that he pitched 6+ innings of one-hit baseball. Hell, maybe it was because the Cardinals were stealing signs. Burnett already has his no-hitter safely in hand, getting it on May 12, 2001 in San Diego, despite nine walks. After this one and his near-no-hitter at Wrigley Field last year, it's not difficult to see Burnett orchestrating another attempt at a perfect game. Everything just has to come together. For now, Pirates fans can just enjoy Burnett making the Cardinals look like a far lesser team. Not perfect, but still beautiful.
Original Story:
http://feedproxy.google.com/~r/Pirate...
THE BACKYARD
BEST OF MAXIM
RELATED ARTICLES
A.J. Burnett led a day of strong starting pitching across the entire organization. Photo Credit: David Hague. Wednesday was probably the best day of system-wide starting pitching you could ask for. First there was A.J. Burnett, who led the pitching staff in throwing a one-hitter. Not just a one-hitter, but a one-hitter against the best team in the division. James Santelli did a great...
A.J. Burnett. Wow. In a night that brought back memories from Wrigley Field last July, Burnett was absolutely stellar for the Bucs and flirted with history before coming up just short. Well, he still did make some history, as he recorded his 2000th career strikeout in the second inning. It was a special night for A.J. and a great night for the Bucs, who played an excellent game and...
Final: Pirates 5, Cardinals 0 (box) WP: A.J. Burnett (1-2, 2.63 ERA) LP: Shelby Miller (2-1, 1.96 ERA) A.J. Burnett was perfect through 5 1/3 innings and carried a no-hitter into the seventh inning. His only two blemishes were a hit by pitch and a double to Carlos Beltran. He also struck out eight batters in his seven innings. His second strikeout was the 2,000th of his career. The...
The Pittsburgh Pirates finally scored some runs for A.J. Burnett in his most recent outing, and their offense seems to have turned the corner since that victory. St. Louis' Shelby Miller could be capable of turning it right back around. Miller looks to build on the best outing of his brief career Wednesday night while Burnett hopes for another offensive boost as he tries to...
I've said this before, but the biggest revelation of the AJ Burnett's time in Pittsburgh is that occasionally a pitcher with great stuff can take the mound and you'll know within minutes that he's going to take the game over. It happened for Burnett a few times last summer against the Astros and once on a nearly-unforgettable night against the Cubs and it happened...
PITTSBURGH (AP) -- A.J. Burnett took a no-hitter into the seventh inning nearly 12 years after throwing the only one of his career, pitching the Pittsburgh Pirates to a 5-0 victory over the St. Louis Cardinals on Wednesday night. Burnett (1-2) lost his bid with two outs in the seventh on Carlos Beltran's double to right-center. That was the lone hit given up by the 36-year-old...
A.J. Burnett made some history Wednesday night when he recorded his 2,000th career regular-season strikeout. Of course, he also has 31 career postseason strikeouts, and I don't know why those don't matter — but they don't matter, and this isn't even the main point of this piece. Burnett nearly made some more impressive history Wednesday when he carried a no-hitter into...
All I have to say is A.J. Burnett. The guy is a freaking legend.  A folk hero.  If the Pirates manage to turn it around this season it's in large part due to the leadership of A.J. Burnett.  He is that big of an acquisition in my opinion. The Braves are in town for four…
Wins are for the most part an antiquated statistic in baseball, but sometimes a win can carry a bit of significance. A.J. Burnett got his first one of the 2013 campaign Wednesday night at PNC Park, but that was not what people will remember about the game. Burnett not only got strikeout No. 2,000 for his career, he flirted with perfection and took a no-hitter into the seventh inning...
The Cardinals leave out of Pittsburgh with essentially a split series due to the rain out of Tuesday evening, and also with a series that's a tale of two halves. After an offensive eruption in game one, which they won 10-6 on Monday, they could barely find their way into the hit column two days later, dropping the final game of the series 5-0 to AJ Burnett. Now, as they depart...
MLB News

Delivered to your inbox

You'll also receive Yardbarker's daily Top 10, featuring the best sports stories from around the web. Customize your newsletter to get articles on your favorite sports and teams. And the best part? It's free!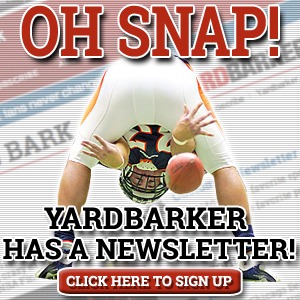 Latest Rumors
Best of Yardbarker

Today's Best Stuff

For Bloggers

Join the Yardbarker Network for more promotion, traffic, and money.

Company Info

Help

What is Yardbarker?

Yardbarker is the largest network of sports blogs and pro athlete blogs on the web. This site is the hub of the Yardbarker Network, where our editors and algorithms curate the best sports content from our network and beyond.