Found February 18, 2012 on hardballchat.com:
PLAYERS:
AJ Burnett
,
Eric Chavez
,
Raul Ibanez
,
Andruw Jones
,
Phil Hughes
,
Freddy Garcia
,
Dellin Betances
,
Manny Banuelos
,
Hiroki Kuroda
TEAMS:
New York Yankees
,
Philadelphia Phillies
,
Toronto Blue Jays
Yesterday, MLBtraderumors reported that the Yankees and Pirates agreed in principle on a deal that will send A.J. Burnett to the Pirates in exchange for two low level prospects. As a part of the deal, the Yankees will assume 20 million of the remaining 33 million on Burnett's contract. According to reports, the Yankees will get Exicardo Cayones and Diego Moreno from the Pirates in the deal. Deals involving this much money cannot be made official until approval comes from the commissioner's office. This stems from the 1970s when Charles Finley tried to sell off many of his stars from the championship A's teams. Bowie Kuhn invoked the "best interest of baseball" clause to prevent teams from gutting themselves. So, whenever a great deal of money is involved, the commissioner must approve the deal. That is expected to be a formality in this case. It's hard to call anyone a winner of this deal as very few people have heard of Cayones or Moreno. If you were to shoot the Yankees up with truth serum, they would tell you that saving 13 million dollars was more important to them. Now, they can go out and sign a couple of hitters to help balance out their lineup and deepen their bench. Similar reports have them targeting Eric Chavez to provide infield depth and Raul Ibanez as a natural platoon partner with Andruw Jones. As for the Pirates, they get Burnett for two more seasons at 6.5 million per year. Even if pitches as he has the last two seasons they will get close to that value once you account for the changes in league and differences in home ballparks. Moreover, they are hoping that a change of scenery will bring back the Burnett that was a force with the Toronto Blue Jays and Florida Marlins. Some players never get used to the bright lights and media pressure of New York. Burnett's struggles were always placed under a microscope and scrutinized to the nth degree. According to pitch f/x data, his fastball last year averaged 92.7 MPH in velocity. That is a little lower than his career average (94.1) but it is still enough to get hitters out. Hitters and a swing and miss rate of 10 percent against him after a couple of seasons where he suffered career lows in that mark. For most of his career, he has lived north of ten percent in that category. In other words, he still has better stuff than most pitchers in baseball. The key is for him to trust his stuff and simply throw strikes. Some experts have maintained that Burnett needs to further develop a third pitch to be successful. When his curve is not staying in the zone or causing hitters to swing and miss, they get to sit on his fastball. 90 percent of his pitches last year were either fastballs or curve balls. He had a slider that he abandoned once he went to New York and started throwing his change up more. Last year, he saw a huge jump in his change ups to ten percent. So, the potential is there, but there needs to be a lot of refinement. Perhaps a new pitching coach can get in his ear and get him turned around. The other side benefit for the Yankees in this deal is that it loosens the logjam they had in their rotation. Now, they have six pitchers for five slots. Phil Hughes has pitched in relief before, so he can easily go into the pen and help them out there. Freddy Garcia will slide into the fifth starter's slot. If there is an injury or ineffectiveness then Hughes is right there ready to jump in. Furthermore, this deal clears up future room for youngsters Dellin Betances and Manny Banuelos. Both Garcia and Hiroki Kuroda are signed to one year deals, so there will be room for them to come up if they are ready. There are too many variables to pick a winner right now. We need to see where the Yankees ultimately go with the 13 million they are saving. We need to see what happens with A.J. Burnett now that he has a change of scenery. It's possible that one of those two kids may make it, but at this point they seem to be more food for fodder than anything. In addition to being the editor of hardballchat.com, Scott Barzilla is also the proud father of one and the author of four books. His books can be found at Amazon and Barnes and Noble. Barzilla's Hall of Fame Index was nominated for the Sporting News Award for statistical advancement.
Original Story:
http://www.hardballchat.com/2012/02/a...
THE BACKYARD
BEST OF MAXIM
RELATED ARTICLES
NEW YORK (AP) -- A person familiar with the negotiations says the New York Yankees and Pittsburgh Pirates are close to agreement on a trade that would send pitcher A.J. Burnett to the Pittsburgh Pirates for a pair of minor leaguers.
After several days of reports and speculation of a deal, the Pittsburgh Pirates and New York Yankees finally agreed on a trade that will send starting pitcher A.J. Burnett to Pittsburgh in exchange for relief pitcher Diego Moreno and outfielder Exicardo Cayones.  The Yankees also agreed to pay all but $13 million dollars of Burnett's $31.1 million dollar salary remaining...
Yankees gain salary relief, prospects in shedding right-handed starter
Teams determining which two minor leaguers will be included
The February 17th, 2012 edition of daily news for the Los Angeles Angels of ...
Seems there are two prominent schools of thought around here regarding the Pirates' pursuit of A.J. Burnett from the New York Yankees.
Well, after days of breathless anticipation, countless efforts by the Yankees' media shills to invent a "mystery team" to ratchet up the pressure on the Pirates, and about a billion updates all saying more or less the same thing, the deal for A.J. Burnett appears to be about done.  The latest reports have it down to the last details and expected to go today to the Commissioner's...
Rod Barajas is a naturally cheery fellow. Nevertheless, the new Pirates catcher's smile was especially wide Saturday, as he contemplated an imminent reunion with the newest Pirate -- right-hander A.J. Burnett.
MLB News

Delivered to your inbox

You'll also receive Yardbarker's daily Top 10, featuring the best sports stories from around the web. Customize your newsletter to get articles on your favorite sports and teams. And the best part? It's free!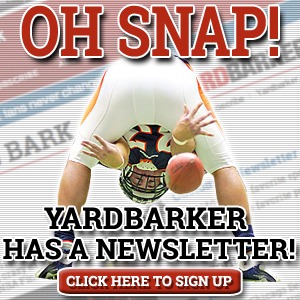 Latest Rumors
Best of Yardbarker

Today's Best Stuff

For Bloggers

Join the Yardbarker Network for more promotion, traffic, and money.

Company Info

Help

What is Yardbarker?

Yardbarker is the largest network of sports blogs and pro athlete blogs on the web. This site is the hub of the Yardbarker Network, where our editors and algorithms curate the best sports content from our network and beyond.