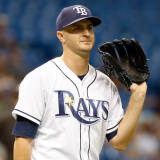 The Minnesota Twins may have missed out on Yu Darvish in free agency, but they have managed to upgrade their starting rotation this offseason.The Twins acquired pitcher Jake Odorizzi in a trade with the Tampa Bay Rays on Saturday night, as first reported by the Tampa Bay Times' Marc Topkin. Yahoo's Jeff Passan says Jermaine Palacios is going back to the Rays as part of the deal.Odorizzi...
It's not hard for Twins fans to monitor what Jose Berrios is up to in the offseason, as the right-hander routinely posts his workouts and throwing sessions from Puerto Rico via social media.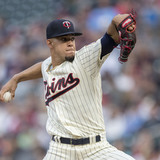 Mitch Garver was no match for teammate Jose Berrios' fastball.Then again, neither were the White Sox, who were completely shut down by Berrios in Wednesday's 11-1 beatdown. Berrios gave up only four hits, one walk and one earned run, while striking out 11 on the night.On one particular at-bat, Berrios completely froze Yolmer Sanchez with a fastball that had some serious run on it...
Jose Berrios is having a breakout season. In 13 starts for the Minnesota Twins, the 23-year-old right-hander has a 3.50 ERA, and he's won nine of his twelve decisions. His breaking ball is a big reason. It's a plus pitch, and certainly not run-of-the mill. I recently had the following exchange with Twins pitching coach Neil Allen: How would you describe Berrios's breaking ball? ...
Let me set two arbitrary thresholds for you. One is going to be 25% strikeouts. Nice, clean, familiar dividing line. The other is going to be 20 innings pitched, as a starter. That's not very many innings, but it's probably enough to show whether you're a strikeout starter or not. Between 2008 and 2016, the Dodgers had 17 pitcher-seasons meet those criteria. That's a lot! The Indians...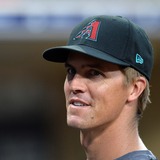 Welcome to this week's edition of Three Up, Three Down — your weekly catch-up of the three best highlights (and lowlights) from around the league. We're here for all of the cheers and the jeers, because it's baseball. You can't have a winner without someone losing along the way. Up: Rockies and DiamondBacks continue to stick around Next Monday, we're going to hit the unofficial...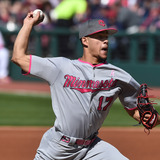 Jose Berrios has been dominant in his first two outings this season for the Minnesota Twins. He's looked so good that he has one of his opponents comparing him to the late Jose Fernandez.Here's what Colorado Rockies first baseman Ian Desmond said about Berrios after Thursday's game: Desmond would know, as he used to face the Miami Marlins stud when he was in the NL East as a member...
Though it started with a strikeout and a ground out, the World Baseball Classic appearance by Jose Berrios Wednesday didn't end well. He allowed a single to the scuffling Nolan Arenado, then hit Eric Hosmer and walked Andrew McCutchen before he was replaced. In essence, the outing encapsulated the ups and downs of Jose Berrios as a pitcher: tantalizing stuff, near-fatal flaws. If...
MINNEAPOLIS -- Corey Kluber struck out 10 in seven innings and Carlos Santana hit a three-run homer to help the Cleveland Indians to a 7-1 victory over the Minnesota Twins on Sunday. Kluber (16-9) gave up an unearned run and four hits while passing the 200-strikeout mark for the third straight season. Bob Feller, Gaylord Perry and Jack McDowell are the only other Indians to accomplish...
MINNEAPOLIS -- James McCann had a three-run homer among his four hits, Daniel Norris pitched into the seventh inning and the Detroit Tigers completed a sweep at Minnesota with an 8-5 victory on Thursday for the Twins' seventh straight defeat.The Tigers, trying to stay close in the wild-card race, are 10-2 against the Twins this year. They stretched their winning streak at Target...
MORE STORIES >>
Twins News

Delivered to your inbox

You'll also receive Yardbarker's daily Top 10, featuring the best sports stories from around the web. Customize your newsletter to get articles on your favorite sports and teams. And the best part? It's free!