Found May 10, 2013 on IT IS HIGH, IT IS FAR, IT IS caught:
In January of 2007, after it was clear that the Randy Johnson-in-NY experiment had failed, the Yankees wrangled a deal with the only team that he'd pitch for - the hated and hate-filled Arizona Diamondbacks.For the Big Unit, we received Steven Jackson, Ross Ohlendorf, Luis "Mr. Every Day" Vizcaino and Alberto Gonzalez - who at the time was the namesake of the embattled Bush Administration Attorney General. This brought hilarity to every blog post.Vizcaino appeared in 77 games and was one of the last bullpen lugnuts generally believed to be killed by Joe Torre. His ERA was 4.30, but he always took the ball. He left as a free agent the following year. Ironically, we signed him as a free agent in the winter of 2010, then dropped him a month later. Circle of Life, Mustafa would say.Jackson never pitched for us. We waived him, the Pirates - the reclaimers of lost Yankee souls - signed him, and he pitched in 51 games over two seasons, last seen in 2010. Gone.Ohlendorf was s...
Original Story:
http://johnsterling.blogspot.com/2013...
THE BACKYARD
BEST OF MAXIM
RELATED ARTICLES
Photo Credit: Daniel Shirey – USA TODAY Sports The Yankees and Chicago Cubs struck a deal last night that sends shortstop Alberto Gonzalez to New York in exchange for either cash or a player to be named later, according to Andy McCullough via twitter. The move gives the Yankees some much needed depth at shortstop, since Derek Jeter will be out until after the All-Star break and...
Carlos Villanueva has a heck of a mustache.  I mean, just look at that thing.  Signed in the offseason to be a long reliever/plug 'n play starter, Carlos Villanueva has stepped into the starting rotation for the Chicago Cubs and made an instant impact.  Dubbed by Cubs color man, Jim Deshaies, as the "best mustache in baseball", Villanueva is the owner of a 3.02 ERA and a...
Yasiel Balaguert mashed a two-run home run to key a three-ruun 3rd, Jeffrey Baez belted a solo HR, Trevor Gretzky collected an RBI double and two singles and scored three runs, Carlos Penalver singled, doubled, walked, stole a base, and scored two runs, Reggie Golden singled twice, walked, drove-in a run, and scored two more, and Lance Rymel doubled and walked and drove-in three...
Jeffey Baez belted an inside-the-park HR, drilled an RBI single, and walked, Justin Marra hammered a three-run triple, singled, walked, and scored a run, Kevin Encarnacion laced a bases-loaded three-run double, and Yasiel Balaguert blasted a solo HR, as the Cubs swept a Cactus League Extended Spring Training doubleheader from the Giants by scores of 6-3 and 10-7 this morning...
The Cubs have moved their second Dominican Summer League team to Venezuela (Ciudad Alianza), and so 2013 will see the debut of the VSL Cubs (and no more DSL Cubs #2). While the Cubs have signed many Venenezulan players over the years (with Carlos Zambrano, Angel Guzman, Ronny Cedeno, and Geremi Gonzalez being the most-notable ones), they have operated a team in the Venezuelan Summer...
Throughout the long storied history of the Chicago Cubs franchise, there have been many mistakes made in trades and in free agency. They made a mistake when they traded away Lou Brock. They made a mistake when they signed Kosuke Fukudome. They made a mistake when they extended Carlos Marmol to an ungodly amount of money, and yes they made a mistake when they traded Tyler Colvin for...
Chicago Cubs first baseman Anthony Rizzo gives a maximum effort in pursuit of a foul ball against the San Diego Padres. Rizzo makes a nifty grab while sprawling over the field tarp in foul territory. Who cares if he caught the ball, look at that salad, sick hair Rizzo. The post Anthony Rizzo Tarps A Web Gem In Foul Territory appeared first on Baseball Hot Corner.
The Chicago Cubs have activated reliever Kyuji Fujikawa in time for their weekend series with the Washington Nationals in the nation's capital. Fujikawa is expected to be ready Friday night. MLB.com's Cubs beat writer Carrie Muskat tweeted the announcement early Friday afternoon. #Cubs will activate Kyuji Fujikawa for Friday's game. Rafael Dolis headed back...
The Chicago Cubs currently have Kevin Gregg closing games for them. He's got five saves and a perfect zero ERA. Kyuji Fujikawa is probably the future though. Fujikawa was activated from the 15-day disabled list today. To make room, Rafael Dolis was demoted to Triple-A Iowa. Fujikawa landed on the disabled list April 13th with a muscular strain of his right forearm. In two rehab...
Serena Dai published an article this evening about the Cubs inching closer to getting more night games. The gist of the article is that Mayor Rahm Emanuel introduced an amendment to allow the Cubs to schedule more night games. Here are some of the important snippets of the article. Emanuel's ordinance allows for 35 scheduled night games and five more in case of MLB asks. Any additional...
Yes, I have a confession to make.  It is a very embarrassing thing, especially being a Cubs fan and blogger, that I have to admit.  And it probably is no excuse that I woke up at 6 AM and have been romping around Chicago and working most of the day.  But it's something that I have to get off my chest. I fell asleep during the Cubs game. That's right…I just didn't have...
Hilarious commercial a Chicago White Sox and a Chicago Cubs fan bantering back and forth about one another's respective team. All 3 rounds included below: The post Baseball Commercial: Chicago Vs Chicago- Round 1-3 appeared first on Baseball Hot Corner.
MLB News

Delivered to your inbox

You'll also receive Yardbarker's daily Top 10, featuring the best sports stories from around the web. Customize your newsletter to get articles on your favorite sports and teams. And the best part? It's free!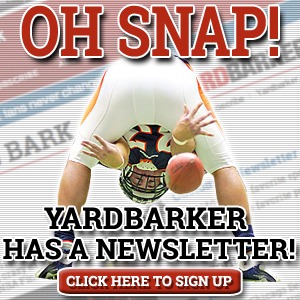 Latest Rumors
Best of Yardbarker

Today's Best Stuff

For Bloggers

Join the Yardbarker Network for more promotion, traffic, and money.

Company Info

Help

What is Yardbarker?

Yardbarker is the largest network of sports blogs and pro athlete blogs on the web. This site is the hub of the Yardbarker Network, where our editors and algorithms curate the best sports content from our network and beyond.