Although there was no indication early on that the surgery to repair Alex Rodriguez's hip would be career-threatening, that is exactly what sources within the New York Yankees organization are saying. In fact, it would seem that regardless of Rodriguez's rehab and recovery he won't be playing for the Yankees again. And he may not play baseball again if you believe the sources. According to the New York Daily News, baseball sources are suggesting that Rodriguez's hip is in such bad shape that he may not return to the game. If he were to return it would be in a capacity so diminished that some don't see Rodriguez wanting to even try. With the insurance policy the Yankees have on Rodriguez, the team could essentially have the third baseman paid out and never have to pay him again. That is, if they can prove their claim of permanent disability to the insurance company. The troubling part of the suggestion that Rodriguez's injury is career-threatening is that it only comes after Rodriguez was linked to yet another PED scandal. Prior to news linking Rodriguez to a Miami PED distribution clinic, there was very little, if any, mention of Rodriguez's career being over. Now, with New York desperate to get out from under Rodriguez's contract, an insurance claim may be what they pursue. The thing to keep in mind with such a claim by the Yankees is they will have to prove Rodriguez's disability.  At most, prior to the PED scandal breaking, the Yankees' GM Brian Cashman suggested Rodriguez could miss the entire 2013 season.  However, initial estimates put his return somewhere around the All-Star break.  The Yankees will have to provide medical evidence that Rodriguez can no longer play the game - or no longer play it at a productive level.  They will also have to overcome any objections Rodriguez may raise.  While the very premise behind this insurance claim seems strange, it's not surprising.  New York does not want Rodriguez around anymore, and they certainly don't want to pay him.  The insurance company will not be so eager to for over $114 million, so they will need concrete evidence.  If the insurance company denies the claim, the Yankees only recourse would be to take the matter to court.  If they lack the medical evidence to support their claim, the team will not likely be willing to present to the court a weak argument that they should be paid $114 million for a player who in all liklihood will return to the field.  Despite the fact that New York may not receive payment in full for Rodriguez's contract, they will receive some compensation for at least this year.  Rodriguez's extended absence will be offset by the insurance payment for the time he misses this season.  And even though the Yankees are not likely to get their money out of this deal, they may part ways with Rodriguez anyway.  Rodriguez has been a distraction for the club ever since he was signed.  The team was so excited to have him until he was there.  New York only won one World Series with Rodriguez on the team, and he has never proven himself to be a clutch hitter in the postseason.  Throw in the PED allegations and the admission in 2005, and the Yankees want to put as much distantce between themselves and A-Rod as possible. They will just need to be careful about filing a potentially fraudulent insurance claim.
Original Story:
http://www.mlbinjurynews.com/2013/01/...
MORE FROM YARDBARKER
Yankees News

Delivered to your inbox

You'll also receive Yardbarker's daily Top 10, featuring the best sports stories from around the web. Customize your newsletter to get articles on your favorite sports and teams. And the best part? It's free!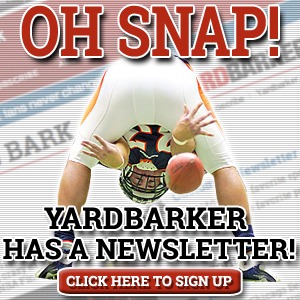 Latest Rumors
Best of Yardbarker

Today's Best Stuff

For Bloggers

Join the Yardbarker Network for more promotion, traffic, and money.

Company Info

Help

What is Yardbarker?

Yardbarker is the largest network of sports blogs and pro athlete blogs on the web. This site is the hub of the Yardbarker Network, where our editors and algorithms curate the best sports content from our network and beyond.