Found February 02, 2012 on MyTeamRivals.com:
In the Twittersphere, we at RSBS have a reputation for taking cheap shots at Prince Fielder's… er… um… corpulence (good word, interns!). While we do a good job of avoiding the F-word (no, the OTHER F-word, silly), we cannot help but point out the absurdity that is Prince Fielder's physique. Dude is big, as in I's hongry big. He does not have an athletic body. Yet he's just as athletic an athlete as you're apt to find these days when it comes to production. Prince is an anomaly though. An anachronism, even. He's the digital watch in Glory in that HE SHOULDN'T BE WHERE HE IS. Except he is. How did he get here? I call McDonald's' bluff. If it were really that easy — to just stuff one's face full of awful simulated food product — then nearly all of US America would be getting paid by a Big League club right now. In Prince's case, I gotta think it's the genes that make it all too easy. Don't hate me. 'Cuz I'm right. Peace, Jeff Bookmark It Hide Sites $$(
Original Story:
http://www.mtrmedia.com/mtr/2012/02/a...
THE BACKYARD
BEST OF MAXIM
RELATED ARTICLES
The Detroit Tigers signed Prince Fielder in order to fill the gap left by an injured Victor Martinez, and the team is getting a lot more than it bargained for in some ways.
Some of you are livid with me for writing that I don't think the Mariners front office truly believes they will make the playoffs before 2015. You just can't understand why I would want to believe that. I've received emails from people suggesting I'm upset the Mariners did not get Prince Fielder. No, that's not it. My take on how the Mariners view their playoff...
Episode 16 is another great show! Scott and Hudson discuss the signings of the week, the Prince Fielder deal, and are joined by Jason Martinez of mlbdepthcharts.com. Hope you enjoy! Podbean Link iTunes Link  
On this episode of Call to the Bullpen, Corey and I are back from vacation with our best episode yet: We talk about: the Prince Fielder and Edwin Jackson signings Argue over whether the Patriots and Giants will combine for more points Sunday than the Astros will win games in 2012. We share our feelings about the unnecessary amount of coverage of Josh Hamilton's "relapse"...
The next financial efficiency report will feature the AL Central Champions, Detroit Tigers. A team that quickly forgot about their losing ways in the beginning of the 21st century. They have an outstanding offense, now even more improved with the addition of Prince Fielder, and the most dominant starting pitcher in the Majors in 2011, Justin Verlander. In 2011, the Tigers won 96...
Baseball season is only a few, short months away!  Here are 10 story lines to start getting you ready for hot dogs, beer, and everything baseball…   1. Can the National League still compete? No Prince Fielder.  No Albert Pujols.  No Ryan Braun (At least for a while).  With the National League losing arguably their best hitters to the American League (Or suspension in Braun's...
Fans had been waiting patiently for the last chip to fall. All of the big free agents had signed (Albert Pujols, Prince Fielder, C.J. Wilson, etc.) except for one. That one was Edwin Jackson, and he signed with the Washington Nationals yesterday for one year worth somewhere around $10 million. At first glance, this looks like a pretty good deal for the Nats. First, let's take...
Delmon Young knew that with Victor Martinez out, there was a chance he'd be the one protecting an All-Star slugger in the Tigers' batting order. He had no idea that would be Prince Fielder instead of Miguel Cabrera.
How would you caption this photo of Detroit Tigers owner Mike Ilitch with new team member Prince Fielder last week? The Tigers signed Fielder to a contract that will pay him $214 million over nine years. E-mail your best ideas to captionthis@freepress.com by 2 p.m. Thursday. We'll publish the best captions online and in print Sunday.
Tigers News

Delivered to your inbox

You'll also receive Yardbarker's daily Top 10, featuring the best sports stories from around the web. Customize your newsletter to get articles on your favorite sports and teams. And the best part? It's free!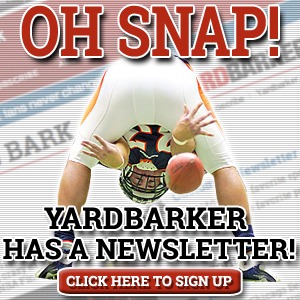 Latest Rumors
Best of Yardbarker

Today's Best Stuff

For Bloggers

Join the Yardbarker Network for more promotion, traffic, and money.

Company Info

Help

What is Yardbarker?

Yardbarker is the largest network of sports blogs and pro athlete blogs on the web. This site is the hub of the Yardbarker Network, where our editors and algorithms curate the best sports content from our network and beyond.