Found April 14, 2013 on Pirates Prospects:
PLAYERS:
Garrett Jones
,
Brent Lillibridge
,
Cody Ransom
,
Lastings Milledge
,
Clint Hurdle
,
Adam Dunn
,
Jim Thome
,
Adrian Gonzalez
,
Prince Fielder
TEAMS:
Pittsburgh Pirates
,
Chicago Cubs
,
Milwaukee Brewers
,
San Diego Padres
,
Houston Astros
,
Chicago White Sox
,
Baltimore Orioles
,
Los Angeles Dodgers
,
Detroit Tigers
Garrett Jones is one of the biggest pull hitters in baseball. (Photo credit: David Hague) The Pirates did not need much help to hit into outs over the first week of the season, they were doing a good job all by themselves. Cubs manager Dale Sveum decided to make life a little more difficult for one of the Bucs' best hitters, Garrett Jones. On Opening Day, Sveum shifted his infield to have three of his infielders on the right side. Jones hit into the shift in his first three at-bats, only reaching on a first-inning error by infielder Brent Lillibridge. "I guess it's just that time of year right now, I'm just a little out in front," Jones said. "Teams pick up on that." That was a day the shift worked. It's a bold strategy, Cotton, but does it really pay off for teams that use it? I set off to find some evidence either way by watching and charting all of Jones' ground balls and line drives dating back to the start of last season. If you have an MLB.tv subscription and no life, like yours truly, you too can waste the hours away in a similar way. (All statistics that follow are accurate, I hope, through April 11, 2013.) Jones Hits Grounders and Liners Mostly to the Right First, we find the reason teams shift on Jones in the first place. He is a true-blue left-handed pull hitter. Since the start of 2012, Garrett Jones has hit more than 78 percent of his line drives and ground balls to the right side, and fewer than 19 percent to the left side. (These categories are largely eye-balled, with any of the three middle categories defined by the middle infielder having to move toward second base to make a play.) Getting Shifty To study how often teams shift positions on Jones, I divided the infield shifts I saw into five different categories: No Shift (12 times) Mild Shift, in which the infielders all move to their left, but the shortstop is still to the left of second base. It's very common against left-handed hitters, which is why I counted it (168 times) 2B Grass, which is like a mild shift but with the second baseman positioned in the grass (3 times) Infield In, only occurring with two runners in scoring position (2 times) Full Shift, with three infielders gathered on the right side (37 times) When I started watching Jones' ground balls and line drives, one thing frustrated me: no one was pulling a full shift on him! It wasn't until June 2 that I first spotted a full shift, provided by the Milwaukee Brewers and shortstop Cody Ransom moving to the other side of second base. Immediately, Jones proved true the old adage: "the best way to beat a shift is to hit past it." Or "hit 'em where they ain't." Whichever you like. Anyway, he singled to center. After that, the floodgates opened! Kind of! The Brewers shifted on Jones the rest of the weekend, then a few days later, interleague opponents Kansas City, Baltimore and Cleveland all shifted their infield when Jones came up to hit. Maybe those AL teams were compiling different scouting reports than the NL teams. Three examples and the results: Against Kansas City, Jones hit into the shift all three times. Against two Baltimore shifts, Jones hit an infield single up the middle and grounded to second. Garrett Jones went 2-for-4 on liners/grounders against Cleveland's shifts, with one line drive single to left and one to right. Since the start of 2012, the two teams that have shifted the most against Jones are the Chicago Cubs (under manager Dale Sveum) and the Houston Astros (under Brad Mills and Tony DeFrancesco). And when Jones hits into it… "That's very frustrating, especially when you hit it hard and it just one-hops right to him, and you know it would be a hit," Jones said. "It's tough. It can play games with you mentally." Here is an example of the shift the Cubs pulled on Jones on Opening Day, when he hit grounders to the right side three times. Since the start of last season, the Cubs have shifted on 11 of Garrett Jones' line drives and grounders. Notice how teams like the Royals and Orioles position their second baseman further back into the grass, like defenses often aligned against David Ortiz. Jones does not have the same power as Ortiz, but AL teams are probably used to positioning that way against him. Couldn't Jones Just Bunt Away From the Shift? You, dear reader, have almost as much experience bunting Major League pitches as Garrett Jones does (unless Jack Wilson is reading this, in which case "HI, JACK!"). Let's take a journey back to the halcyon day of August 18, 2009. Old friend Lastings Milledge hit his first Pirates homer in a 5-2 win, but it was all surpassed in beauty by Jones laying down a bunt single. It remains the only bunt Jones has put into play over 2,113 MLB plate appearances. Though Jones is not completely green when it comes to bunting. Manager Clint Hurdle says everyone worked on bunting in Spring Training. And Jones points out it "doesn't even have to be a good bunt, as long as you get it over there" down the third base line to beat a shift. "I see that third baseman over there and a bunt could be a possibility," Jones said. Jones is also somewhat slow on the basepaths, especially trying to get his 6-foot-4 frame out of the batter's box. I clock him at about 4.3 seconds to first base, making him a 40 on the 20-80 scouting scale. Combine that below-average speed with the fact that Jones is barely acquainted with the bunt, and the suggestion that he simply bunt away from the shift down the third-base line may not work out so well. A good hitter like Jones would have to bunt successfully 40% to 45% of the time, as Tom Tango figured out last year, for the bunt-away-from-the-shift ploy to pay dividends. We would have to see Jones lay down more than one in-game bunt to have any idea if he could get it done two out of every five times. Does Pitch Location Affect Where Jones Hits It? It sure seems to. On pitches thrown down the middle or inside to Jones, almost 92% of his ground balls and line drives went to the right side. On pitches thrown outside, just 66% of his line drives and grounders were hit to the right side. That's a pretty stark difference, even on a sample of only 79 inside-middle pitches and 118 outside pitches. Pitch speed does not seem to affect Jones' hit location as much, with the only significant number being that he hits fastballs up the middle more often than he does off-speed pitches. How Jones Compares There are many other players who see more infield shifts than Jones. Thanks to John Dewan for finding those guys so I don't have to spend 100 more hours watching old at-bats. Dewan found the hitters shifted against the most between 2010 and 2011. Let's compare their ground ball/line drive numbers from those years (and how often they hit it to the right side) to Jones' career marks. Hitter Shifts, 2010-11   % hit to right   Carlos Peña 341 81% Garrett Jones N/A 80% Ryan Howard 461 79% Adam Dunn 305 76% Jim Thome 223 75% David Ortiz 486 74% Adrian Gonzalez 205 72% Prince Fielder 253 71% (Batted ball data courtesy of BaseballHeatMaps.com) With teams shifting on Ortiz and Howard, it stands to reason they should be shifting more on Jones, who hits more line drives and ground balls to the right side. Conclusions (The important part!) Here is the main reason more teams should shift on Garrett Jones. Look at his batting average on ground balls and line drives in play for each scenario. When shift is on: 12-for-40 (.300 BABIP) When shift is off/mild: 75-for-180 (.417 BABIP) It's not as large a sample size as I would like, but the difference of 117 points on balls in play remains pretty stark. Combine those numbers with Jones hitting about four of every five line drives and ground balls to the right side, and we can say pretty comfortably that more teams should be shifting on Garrett Jones. As for the shifts being used on him now, Jones says he does not really change his approach when he sees three infielders on the right side. "I guess I get pull-happy throughout the season, and that's when teams do it," Jones said.  "It's just a matter of trying to square the ball up… if you hit it hard somewhere, it's going to find a hole." Even if the difference only ends up being 50 points on line drives/grounders in play, that would turn Jones from a hitter with a .320 on-base percentage over a full season to one with a .300 on-base percentage, especially if opposing teams pitch him inside. Consistent shifts could turn Jones from an average hitter at getting on-base to well below average. All it takes is a couple steps to the left.
Original Story:
http://feedproxy.google.com/~r/Pirate...
THE BACKYARD
BEST OF MAXIM
RELATED ARTICLES
Phil Irwin will make his major league debut today for the Pittsburgh Pirates, the club announced this morning. Irwin won 29 games in five seasons of minor league competition, and while wins and losses are not necisarily a good barometer for the developmental process in the minors, Pirates manager Clint Hurdle said Irwin's presence made his teammates better which translated to success...
Remember at the start of the year when the Pirates had a lot of starting pitching depth? Kyle McPherson had just missed out on the fifth starter role. Phil Irwin had some impressive outings in Spring Training, and looked like he could also be an early season option. Everyone hoped that Gerrit Cole's demotion to Triple-A would only be a formality for a few weeks until he gained...
The Pittsburgh Pirates recalled right-hander Phil Irwin from Class AAA Indianapolis on Sunday and he was set to make his major-league debut by starting against the Cincinnati Reds. The Pirates optioned infielder/outfielder Josh Harrison to Indianapolis to clear room on the roster for Irwin. Irwin, 26, won his only start with Indianapolis this season, allowing one run in six innings...
Below are the top Runs Created* totals in the Pittsburgh Pirates' farm system from the last week. The rankings include every hitter who had an at-bat for a Pirates' minor league affiliate, not including DSL teams, and with no limitations on whether the hitter has prospect eligibility. Players who spent time at different levels are counted multiple times, once for each level,...
Top prospect Gerrit Cole gets his third start of the season tonight, hoping to go at least five innings for the first time. Casey Sadler looks to win his third straight game. For a look at the possible starters over the next few weeks, please check out our Probable Pitchers Chart. A full recap of yesterday's action can be found here. Gerrit Cole was removed early from his second...
Your browser does not support iframes.Believe it or not, some fans still bring their glove when attending a Major League Baseball game. Because you just never know when you might get a chance to snare a souvenir.Well, the effort paid off for this Pittsburgh Pirates fan (shown above) on Monday, as he managed to engulf a foul ball hit down the first base line using one of the biggest...
Michael McKenry hit a huge 2 run home run to propel the Pirates to a sweep of the Reds The Pittsburgh Pirates finished off an impressive 3 game sweep of my dark-horse favorites to contend for the World Series, the Cincinnati Reds. The series provided a spark for the Pirates and it is looking as if the bats are about the come to the level the pitching has been at to open the...
Backup catcher Michael McKenry had the first two-homer game of his four-year major league career and Starling Marte hit a tiebreaking two-run drive in a six-run eighth inning Sunday, helping the Pittsburgh Pirates rally from a five-run deficit for a 10-7 win over the Cincinnati Reds. Cincinnati has lost five straight, its longest slide since last Aug. 5-9. The Pirates swept the...
Reds (5-6) at Pirates (5-6) 1:35 PM–PNC Park, Pittsburgh MLB.com Gameday TV: ROOT The Bucs go for a sweep of the Reds this afternoon, which would obviously be awesome. They've won 4 of 5 while Cincinnati has lost 4 in a row, so momentum is on the Bucs' side for sure. They may need it today with a tough matchup on the mound, but hey, they beat Cueto last night (well, kinda)...
When starting pitcher Corey Kluber struck out Jerry Sands to open the top of the seventh inning of Sunday afternoon's game at Huntington Park, the Columbus Clippers appeared to have seized the high ground over the Indianapolis Indians. Five Clippers' tallies over the fourth and fifth innings had cooled off hot Indianapolis starter Andy Oliver. Columbus' 5-2 lead presented a...
After a fairly improbable win last night that required a Johnny Cueto injury and a million or so Reds left on base, the Pirates have a chance to sweep the Reds this afternoon. They're going to have to do it with a pitcher making his big league debut, as Phil Irwin's been called up to make Wandy Rodriguez's start as Wandy recovers from his hamstring injury. I talked about...
Jeff Locke against Johnny Cueto?  Good luck.  Even I wasn't feeling too optimistic about this game.  However, Jeff Locke's Pirates proved me wrong, and I'm sure I wasn't the only one.  Cueto left after just 4.1 innings with an injured arm.  I won't be happy about the injury, but the timing worked out well for…
MLB News

Delivered to your inbox

You'll also receive Yardbarker's daily Top 10, featuring the best sports stories from around the web. Customize your newsletter to get articles on your favorite sports and teams. And the best part? It's free!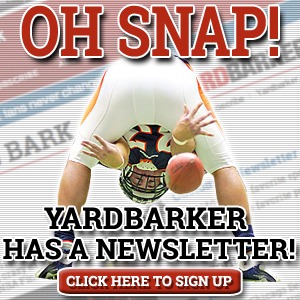 Latest Rumors
The Backyard

Today's Best Stuff

For Bloggers

Join the Yardbarker Network for more promotion, traffic, and money.

Company Info

Help

What is Yardbarker?

Yardbarker is the largest network of sports blogs and pro athlete blogs on the web. This site is the hub of the Yardbarker Network, where our editors and algorithms curate the best sports content from our network and beyond.