Found March 18, 2013 on Monkey with a Halo:
Rumors started circulating late last week that the Angels were on the lookout for a veteran back-up catcher in the wake of a spring training in which Hank Conger has knocked the cover off the ball with the bat but been throwing like the Korean-American version of Rube Baker. Those throwing problems made the Angels nervous so instead of plying Hank with lingerie catalogs and nudie mags, they, in typical Dipoto fashion, acted fast and have signed veteran catcher Chris Snyder to a minor league contract with an invite to spring training. Chris Snyder had been in Nationals camp, but was released this morning, which is nice because it saved the Angels the trouble of trying to work out a trade. As I had planned to post later this morning in a review of the Angels' catching options, Snyder is an ideal fit for Dipoto and the kind of players he prefers. Snyder is an established veteran, giving them some certainty behind Conger, who is at least passable defensively and has some pop with his bat as well as a knack for drawing a lot of walks even when he isn't hitting. For his career, Snyder has slash line of .225/.329/.385, making him kind of a poor man's Chris Iannetta. But last season in Houston he was only able to post a .176/.295/.308 slash line. A big part of that is Snyder underwent surgery to repair a herniated disc back in 2011, so there is a very real chance that he is no longer the same player he was prior to the injury and thus my comment earlier about his defense at least being passable. It could be better, we just don't really know where is is health-wise. At a minimum, Snyder is now in camp as an insurance policy behind Conger in case he doesn't get his throwing ironed out. However, it seems unlikely that he is magically going to fix his problems and regain the trust of the coaching staff. As such, Snyder is probably the favorite to make the Opening Day roster as the back-up catcher with Conger heading to the minors possibly for a very long time. The question then with Conger is if this might actually be the end of the line for him in Anaheim. He has tried for a few years now to secure a permanent spot on the roster but had his defense thwart those efforts each and every time. At a point, it is time to just cut bait. If he doesn't make the roster, don't be the least bit surprised if Hank gets shopped around the league, although that may no be a great idea since it weakens the depth at catcher, where Iannetta and Snyder both have injury histories, and would be a classic example of selling an asset at the bottom of its value. But if they keep him, it is unclear what, if anything, he is going to have to do to get back in good standing with Scioscia and the front office. [follow]
Original Story:
http://www.monkeywithahalo.com/2013-a...
THE BACKYARD
BEST OF MAXIM
RELATED ARTICLES
How do you sum up an evening with Mr. Angel? As the first of our guest speakers, Tim Salmon got the party rolling at the 2013 AngelsWin.com Spring Training Fanfest as our first of many guests in the evening. The AngelsWin.com Board of Directors started off the talk with a few questions that they had prepared for the Kingfish. Emceed by Chuck Richter, the founder of AngelsWin.com...
The March 19th, 2013 edition of daily news for the Los Angeles Angels including Snyder could replace Conger, predictions about Trout and much more... The Story: Hank Conger's throwing looks like it is going to cost him a roster spot in the wake of the team signing Chris Snyder. The Monkey Says: I wrote yesterday that I think Snyder has the edge, which is really saying...
The American League West is stocked with talent in left field but there's little doubt where the pecking order begins. Los Angeles boasts of the game's best talents in Mike Trout, who was the team's primary centerfielder last season. While Trout is outstanding, there are plenty of other good left fielders in the West. Here's a look at the picture in left in the...
By Ellen Bell, AngelsWin.com Staff Writer --  Spring Training is a time of renewal and recommitment to your team. It's the one time of the year when all baseball fans have the luxury of believing that this could be their year. In those precious, optimistic weeks of March, before a single pitch has been thrown on Opening Day, anything is possible.  That's exactly why I...
TEMPE, Ariz. -- Ryan Madsons return from Tommy John surgery hit a minor snag when the reliever experienced tightness in his elbow after last Thursdays bullpen session, a setback that prompted the right-hander to tweak his exercise and throwing program to meet the more rigorous demands of throwing off a mound. Madson, who has thrown off a mound only twice since Feb. 1, played long...
The Angels preseason press is unequivocal. Mike Trout is the new Mickey Mantle. Pujols, Hamilton and Trumbo are the new Murderer's Row. Weaver could be the new Verlander, if it wasn't for the fact that, annoyingly, every year some guy called "Verlander" keeps being that. Spring training is winding up, and the Angels are a team of new promise. But one question remains...
With his rich new contract extension set to kick in this year, can Angels fans expect more from Erick Aybar with him entering his prime or will it just be more of the same productive but maddening inconsistency? 2012 Stats: 554 PA, .290 AVG, .324 OBP, .416 SLG, 67 R, 8 HR, 45 RBI, 20 SB, 4 CS, 61 K, .321 wOBA, 109 OPS+, 3.4 fWAR 2013 ZiPS Projections: 601 PA, .276 AVG, .317...
Vernon Wells hit his fourth spring training home run and Mike Trout had a two-run triple to back C.J. Wilson on Sunday in the Los Angeles Angels' 7-4 win over a San Diego Padres' split squad. Wells hit a two-run homer in the fourth on a slider from Freddy Garcia to put the Angels ahead 5-1. Wells went 2 for 2 and is batting .423 (11 for 26). Trout, the AL Rookie of the...
Leading up to the season we've heard a lot about lost velocity. Specifically, the velocity that Jered Weaver and Tommy Hanson lost over the last few years. There has been much hand-wringing over whether or not Jered and Tommy would be able to recover that velocity and if they don't, how they will adjust to life with a not-as-fast fastball. Mike Scioscia even went so far as...
In a game where balls and strikes were briefly called from behind the pitcher's mound after an umpire was injured, Albert Pujols made his spring debut at first base for the Los Angeles Angels in a 6-1 loss Tuesday to the Milwaukee Brewers. Pujols played the field for the first time since offseason surgery on his right knee. The slugger went 0 for 2. Rickie Weeks, Aramis Ramirez...
PHOENIX (AP) -- In a game where balls and strikes were briefly called from behind the pitcher's mound after an umpire was injured, Albert Pujols made his spring debut at first base for the Los Angeles Angels in a 6-1 loss Tuesday to the Milwaukee Brewers. Pujols played the field for the first time since offseason surgery on his right knee. The slugger went 0 for 2. Rickie Weeks...
MLB News

Delivered to your inbox

You'll also receive Yardbarker's daily Top 10, featuring the best sports stories from around the web. Customize your newsletter to get articles on your favorite sports and teams. And the best part? It's free!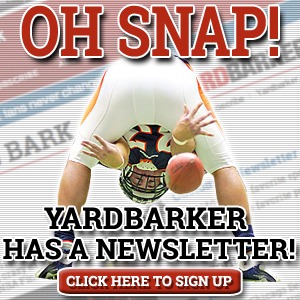 Latest Rumors
Best of Yardbarker

Today's Best Stuff

For Bloggers

Join the Yardbarker Network for more promotion, traffic, and money.

Company Info

Help

What is Yardbarker?

Yardbarker is the largest network of sports blogs and pro athlete blogs on the web. This site is the hub of the Yardbarker Network, where our editors and algorithms curate the best sports content from our network and beyond.