Found February 23, 2012 on Deuce of Davenport:
If baseball fans ever wanted to hate a team because of its name, the sheer stupidty of doing business as the "Los Angeles Angels of Anaheim" would suffice. Yet 10 years ago, it seemed this n'er do well franchise was becoming a force to be reckoned with: with one of the game's brightest young managers, deep pockets, and a stocked farm system, the Angels seemed poised to challenge the New York Yankees and Boston Red Sox for American League superiority. Alas, that never happened.
The front office made a series of bizarre personnel decisions affecting the Major League roster while simultaneously failing to develop many of their prospects. Meanwhile, the young genius manager became old, obstinant, and controlling quite fast. Each off-season, fans sat around and waited for the Angels to do something stupid: trade for Vernon Wells, sign (and subsequently re-sign) Bobby Abreu, add another Southern California region to their name, etc. Despite the astute hire of Jerry Dipoto as the team's GM, observers in 2011 weren't disappointed when the team committed over $300M to free agents Albert Pujols and C.J. Wilson. At the time of the signings, Pujols was coming off of the worst season of his career and Wilson had just finished only his second season as a full-time starting pitcher. Both players are over the age of 30, so there ain't a lot of ceiling left. Owner Arte Moreno (seriously, dudes named "Arte" or "Artie" just can't be trusted) predicated the signing of Pujols as not just a significant event for the team, but rather a cultural phenomenon for Hispanic baseball fans, Angels fans, and oh hell, all of Southern California in general. In other words, "I'll market anything to make money off this." I guess he should have checked with Pujols about that first:
But one segment of the [Pujols marketing] campaign has run afoul of the player's wishes. The Angels have 20 billboards around Southern California with Pujols pictured in an Angels uniform alongside the Spanish words, "El Hombre."

Pujols has asked not to be called that in deference to St. Louis Cardinals Hall of Famer Stan Musial, who was referred to as Stan "The Man" during most of his 22-year career.

The Angels said they did not consult Pujols or his agent before launching the campaign. It was planned shortly after the Angels signed Pujols to a 10-year, $250 million contract in December.
Big surprise. Maybe the marketing people should have done a little research — it wouldn't have been hard since the quite-respectful Pujols has mentioned his preference not to be referred to in that way over and over and over again.
Chalk this up as just another example of how this would-be juggernaut franchise just can't seem to get out of its own way (Sound familiar, Dodger fans?  Seriously, what' s up with LA baseball?). Not a good omen. At least they have 10 more years to figure it out.
Original Story:
http://www.deuceofdavenport.com/2012/...
THE BACKYARD
BEST OF MAXIM
RELATED ARTICLES
COMMUNICATION BREAKDOWN
Albert Pujols remains adamant that he not be referred to as "El Hombre," a moniker he disliked in St. Louis due to his respect for Stan "The Man" Musial. Sadly, the Angels have already rolled out billboards featuring the nickname.
So the Los Angeles Angels have decided to build their marketing plan around their newly acquired superstar, Albert Pujols.  A move that we can all agree is smart.  But if we're going to point out their smart decision, we also have to point out that the Angels have also made a very dumb one.  They decided to place 20 billboards around Southern California with a picture of Albert...
Albert Pujols is the focal point of the Los Angeles Angels' 2012 marketing campaign, which kicked off in late January with 70 billboards...
Yadier Molina will become a free agent following the 2012 MLB season with the St. Louis Cardinals, and he has already made it clear to everyone involved that he will not negotiate a long term deal once the regular season begins. That may not resonate well with cardinals fans, who saw Albert Pujols go the exact same route last season, only to leave for greener pastures...
The February 21st, 2012 edition of daily news for the Los Angeles Angels ...
The February 23rd, 2012 edition of daily news for the Los Angeles Angels ...
The National League MVP race looks to be pretty wide open this season.  Two of the top candidates from the past six years are now in American League.  The 2011 winner will likely miss the first 50 games due to a failed drug test.  Since 2006, Albert Pujols has won three times along with Ryan Braun taking the award home
We now interrupt your round-the-clock coverage of Albert Pujols taking batting practice at training camp to bring you this very important distraction. I have to be honest, I've been so bogged down providing roster analysis and player profiles for the last several weeks that I feel the need to shake things up a bit.  This will probably be the least important thing you read about...
LOS ANGELES (CBS) - When the Los Angeles Angels acquired Albert Pujols, it set off a chain reaction throughout Orange County and put everyone on the team on notice that the direction was changing a little. However, it also meant that some players were going to be left out. With Pujols taking over at first base, Mark Trumbo moving to third base, Albert Callaspo platooning with him...
Although the runner-up for American League rookie of the year last season, he has been forced out of first base because of the team's acquisition of Albert Pujols, but looks at learning to play third base as a challenge.Dec. 8 was a day of celebration for the Angels. That's when they signed first baseman Albert Pujols, considered one of the greatest hitters in baseball history.
MLB News

Delivered to your inbox

You'll also receive Yardbarker's daily Top 10, featuring the best sports stories from around the web. Customize your newsletter to get articles on your favorite sports and teams. And the best part? It's free!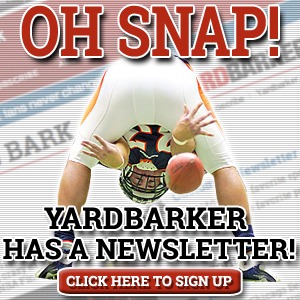 Latest Rumors
Best of Yardbarker

Today's Best Stuff

For Bloggers

Join the Yardbarker Network for more promotion, traffic, and money.

Company Info

Help

What is Yardbarker?

Yardbarker is the largest network of sports blogs and pro athlete blogs on the web. This site is the hub of the Yardbarker Network, where our editors and algorithms curate the best sports content from our network and beyond.