Found July 20, 2012 on Waiting For Next Year:
The quote in the title of the piece is from Chris Antonetti. It is something that we've heard several times from the front office this season.
It doesn't take a genius to know that if Justin Masterson and Ubaldo Jimenez were pitching like a pair of aces the Indians would have a better record and would likely be in first in the division.
It also doesn't take a genius to know that if Carlos Santana was hitting something other than .221 with a .678 OPS the Indians would be scoring more runs, and potentially winning more games.
Yes, we are all disappointed in Matt LaPorta.
But here's what has been bugging me. The Indians have a narrow window of opportunity. That was actually part of the message we were told after the trade of Pomeranz and White to the Rockies for Jimenez last year. We all know that Shin-Soo Choo will test the free agent market- mostly because he is a Scott Boras client. That will likely mean the Indians aren't going to be serious players for his services in the future. He will simply price himself out of the Tribe market.
With this window of opportunity being around 2 or 3 years (and with no real prospects of note in triple or even double A ball) the team can't afford to sit around and pin everything on the players not performing up to expectations.
What happens at your job if your production goes in the toilet? Wouldn't there be consequences? What if you were a big part of a team or a committee on a big project? If you weren't contributing or if others were having to pick up your slack wouldn't you find yourself re-assigned?
Here's the point I'm trying to make. Winning teams, real championship contenders won't sit around and let a player or two keep them out of the playoffs. If third base is a problem area for the Yankees, Red Sox, White Sox or Tigers they would find other options at third base. Ditto for left field or catcher or closer or wherever. They wouldn't continue to trot out the problem month after month and just hope that the player plays up to their potential.
I'm not a do anything for the sake of doing something guy. I am a fan that was frustrated seeing Sizemore signed to a $5 million dollar deal, knowing that was money that the team wouldn't be spending to fix the holes we've been talking about for years now.
Consider this from Joe Sheehan today-
"The Indians are once again living off a second straight strong start, but whereas the 2011 team fell fast and hard, this one arrested its descent before the All-Star break and has kept itself in two races. We say "OBP is life," and the Tribe proves it, leading the AL in walks drawn for a .335 OBP (third) that is sustaining an offense (410 runs, eighth) lacking in longball power (83, 11th). Some early-season good work by the rotation was a chimera, as it was largely the result of pitchers with poor fundamentals getting lucky on balls in play. Now, the Indians have allowed more runs than any AL team other than the Twins, and their -30 run differential is a strong indication that they should be selling.

In this case, though, Cleveland can take a good look at going the other way. Unlike many AL teams, it can realistically consider itself to have a shot at both the front and back doors to the postseason. The Indians also have a roster that is somewhat easier to improve than most, strong up the middle and weak on the corners. You'd rather be searching for first base and leftfield help at the deadline than at shortstop.

The Indians also need to look for some bullpen support, and that's always the cheapest and easiest thing to find at the trade deadline. The Indians may not be able to get into the ace-starter market — they made a big bet and lost a year ago on Ubaldo Jimenez — but could find themselves in the mix for second-tier guys like Jason Vargas and Wandy Rodriguez. With so many players at their peak ages and relatively weak competition, it's their time. BUY."
Now is not the time to let these areas of need destroy the season. It's time to make a move in order to propel the team into the post-season.
Original Story:
http://www.waitingfornextyear.com/201...
THE BACKYARD
BEST OF MAXIM
RELATED ARTICLES
BY ANY OTHER NAME
The pitcher formerly known as Fausto Carmona is returning to Cleveland. He could end up pitching with the Indians later in the season.
Johnny Damon of the Cleveland Indians made an amazing dive in the stands and also seemed to make some friends in the process. This girl seemed pretty interested in him even though she didn't put her cell phone or her beer down. The guys around him look completely psyched too. We got a guy that looks like a huge NASCAR fan and a guy with a camouflage hat. You can check out the...
Roberto Hernandez, contrite and remorseful, has apologized to the Cleveland Indians and their fans. Hernandez, formerly known as Fausto Carmona, joined the team Sunday for the first time since being permitted to return to the United States. The right-hander thanked the organization for supporting him after he was arrested in the Dominican Republic in January outside the U.S. consulate...
CLEVELAND (AP) -- Cleveland Indians pitcher Roberto Hernandez was suspended Saturday for three weeks by Major League Baseball for age and identity fraud. Indians general manager Chris Antonetti said Hernandez, formerly known as Fausto Carmona, has received a visa to return to the United States and that he would be eligible to rejoin the team Aug. 11. Hernandez will address the...
The Indians dropped their third straight game on Saturday night in front of the second largest crowd (36,247) this season at Progressive Field. Shin-Soo Choo led off the game with a solo homer but the Tribe bats would go silent after that. Zach McAllister pitched well for the Indians, getting into the eighth inning but the offense was nowhere to be found. Baltimore ...
Tyler Naquin has "future batting champion" written all over him. The Cleveland Indians selected the 21-year-old outfielder with the 15th-overall pick of this year's draft, and his sweet, left-handed stroke was the primary reason. He hit .381 over his sophomore and junior seasons at Texas A&M, prompting Baseball America to rate him the best pure hitter in the college ranks...
Cleveland Indians right fielder Johnny Damon made the catch of the night on Friday against the Baltimore Orioles. Damon, a 38 year old veteran of seven Major League teams, dove into the left field stands after chasing down a pop fly off the bat of Nick Markakis. Captain caveman, as he was known in his earlier years, exhibited some of the reckless abandon that he displayed in his...
Late last week, while delivering his State of the Fan-Friendly Union, Cleveland Indians team president Mark Shapiro could not help but field questions about the upcoming MLB trade deadline. Sure, lowering the price of concessions and making Progressive Field more accessible are all well and good, but what about the product said (hopeful) increase in paying fans would ultimately view...
The Indians returned to Cleveland for their first home series of the second half. But it was an ugly night at Progressive Field on Friday, as starter Derek Lowe's struggles continued. The O's hammered the sinkerballer for nine earned runs in just three innings work. Old friend Jim Thome blasted on of his patented homers to right off Lower — his first since joining Baltimore...
This is going to be one of those recaps that writes itself. Really, I could sum it up in a few short sentences (but what fun would that be!): David Price is a great young pitcher. He is left-handed. He entered the game 4-0 with a 2.01 ERA in five career starts against the Indians. The Tribe is not exactly what you would call an offensive juggernaut. Left-handed pitchers have little...
Cleveland Indians pitcher Roberto Hernandez was suspended for three weeks by Major League Baseball for engaging in age and identity fraud, the club announced Saturday. Hernandez also agreed to restructure his contract with the Indians. The suspension runs through Aug. 10. Hernandez will be eligible for a minor league rehab assignment during the suspension. "Roberto Hernandez...
  Player of the Game Jeremy Accardo was today's Player of the Game with a score of 1.03. In his solo inning pitched, he gave up a double and struck out 2. Accardo now has 2 awards on the season. Feathers Up The Indians managed three walks (two of Carlos Santana) against David Price, even though he is a notoriously accurate thrower. Jose Lopez also had a single in the...
MLB News

Delivered to your inbox

You'll also receive Yardbarker's daily Top 10, featuring the best sports stories from around the web. Customize your newsletter to get articles on your favorite sports and teams. And the best part? It's free!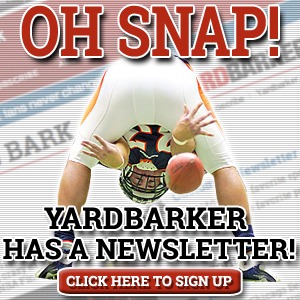 Latest Rumors
Best of Yardbarker

Today's Best Stuff

For Bloggers

Join the Yardbarker Network for more promotion, traffic, and money.

Company Info

Help

What is Yardbarker?

Yardbarker is the largest network of sports blogs and pro athlete blogs on the web. This site is the hub of the Yardbarker Network, where our editors and algorithms curate the best sports content from our network and beyond.