Found September 20, 2012 on IT IS HIGH, IT IS FAR, IT IS caught:
Stephen King moment for today: Imagine yesterday's doubleheader if Andruw Jones plays instead of Ichiro. Carrie in the high school dance, right? For starters, delete seven hits and replace them with two Ks, two pop ups, a DP and - well - maybe a BB or, better, a hit-by-pitch. (This is a Stephen King thing, remember.) Also, toss out the catch in LF that ended the Tommyknockers eighth for David Robertson. Figure Toronto scored four runs and pole-axed us in game one like Jack Nicholson doing Scatman Cruthers. Second game? We're still playing. It's the 80th inning of the Dark Towers series, and we have scored one run.But Andruw Jones...WTF? Blame age and gravity, I guess. But he started this season with a great ray of hope. The story, according to the writers - Lupica ran with this - went this way:Last winter, Andruw decided he could make the Hall of Fame, if he put together one last great shining season - a full-time OF, not just a RH specialist. He called his astral twin A...
Original Story:
http://johnsterling.blogspot.com/2012...
THE BACKYARD
BEST OF MAXIM
RELATED ARTICLES
Brett Gardner - aka, the Yankee Jacoby - could be activated today for the twinbill against the Toronto Not-That-There's-Anything-Wrong-With-Thats. Gards still cannot hit. Basically, that puts him on an even keel with Nick Swisher after August 1. In fact, with runners on base, I'd take my chances with Gardner bunting over half the "professional" hitters on this...
SAY IT ISN'T SO
When asked if he could envision himself leaving his long-time team like Peyton Manning did this season, Yankees captain Derek Jeter didn't necessarily rule it out.
NEW YORK -- Back at shortstop after a brief detour to the designated hitter spot caused by an ankle injury, Derek Jeter achieved another career milestone Wednesday night. Jeter singled leading off the first inning of the nightcap of the New York Yankees' doubleheader against the Toronto Blue Jays, his 200th hit of the season. It's the eighth 200-hit season for Jeter,...
I remember in my early teens when Yankees shortstop and icon Derek Jeter first stepped on the scene donning the pinstripes. He immediately became my favorite player, which still holds true to this day. I almost can't believe how time flies. Jeter is almost 40 and I am pushing 30. Throughout his tenure with the Yanks, he has amassed a novel of accolades. Wednesday night, Derek Jeter...
Mark Teixeira will move his rehab program to Tampa on Monday when the New York Yankees hit the road for the final time in the regular season. "It's still tight, still sore; it is what it is," the first baseman said of his strained left calf. "It's not like you can play through it -- I tried -- so we just have to be a little bit smarter about it. I'm going...
ESPN's Rick Reilly took time away for writing apologias for Lance Armstrong to interview Derek Jeter the other day. (I do think it's amusing that Reilly, the same writer who once wanted to personally have Sammy Sosa drug tested, is all "I'll wear yellow in honor of Lance," but I digress.) And the talk with Jeter became a whole to-do because of what Jeter said...
Andy Pettitte pitched five sparkling innings in his return from a broken leg and his bullpen barely held on, keeping the New York Yankees atop the AL East with a 4-2 victory over the Toronto Blue Jays in the opener of Wednesday's day-night doubleheader. Pettitte (4-3) looked his old steely self in giving up four hits in his first September start since 2010. The 40-year-old left...
Streaking Ichiro Suzuki hit a go-ahead, two-run double in a seven-run fourth inning capped by Nick Swisher's grand slam, and the New York Yankees beat the Toronto Blue Jays 10-7 Thursday night to open a one-game AL East lead over idle Baltimore. After struggling for much of the summer, the Yankees completed a three-game sweep of the Blue Jays and have won five in a row, their...
We won this afternoon, 4-2: A nice, sleepy, lead-all-the-way, small ball victory over a team that is only playing for next year's contract or pecking order.Once again, we used Raphael Soriano for a four-out save. He did the job. And theoretically, four outs shouldn't be too much more than three.But realistically, we know where this goes. Sori pitched because David Robertson...
This is a guest column from Becky W. about places to go watch Yankees and Mets games in the NYC area.  The rivalrybetween the New York Yankees and the New York Mets has been one of the fiercest in baseball since interleague play began in 1997. Many people enjoy watching a game with fans of their team. Both teams have their own bars and restaurants that their fans can visit to be...
The Yankees take a 5 game winning streak into this weekend's series with the Oakland A's at the Stadium. Those effing Orioles, who are 1 game back, are at Fenway Park to play the Red Sox.Remember what happened a year ago? Remember when the Orioles played the mother of all spoilers and knocked the Red Sox out of the playoffs? Fun times, right? Well, wouldn't it be fun...
Yankees News

Delivered to your inbox

You'll also receive Yardbarker's daily Top 10, featuring the best sports stories from around the web. Customize your newsletter to get articles on your favorite sports and teams. And the best part? It's free!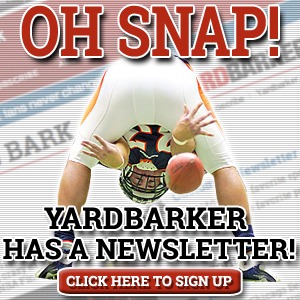 Latest Rumors
Best of Yardbarker

Today's Best Stuff

For Bloggers

Join the Yardbarker Network for more promotion, traffic, and money.

Company Info

Help

What is Yardbarker?

Yardbarker is the largest network of sports blogs and pro athlete blogs on the web. This site is the hub of the Yardbarker Network, where our editors and algorithms curate the best sports content from our network and beyond.