Found July 09, 2012 on Fox Sports Wisconsin:
MILWAUKEE Norichika Aoki could feel his muscles aching, day after day, as the middle of June wore on during his rookie season in America. He was tired -- there was no disputing that -- but for the first time in his career, he didn't know what to do about it. Aoki had been one of the most consistent players in Japan before signing with the Milwaukee Brewers in the offseason. A three-time batting champion in his native country, Aoki is one of just four players in Japanese baseball history to amass more than 200 hits in a season, an exclusive club that includes Mariners star Ichiro Suzuki. Aoki was a model of consistency in Japan. And since becoming an everyday right fielder in the Brewers' lineup in May -- making a jump to the American game that many have struggled with in the past -- Aoki had given that same impression. But as the Brewers prepared to face the Blue Jays on June 20 at Miller Park, Brewers manager Ron Roenicke started to notice a change in Aoki. "I think he's run out of gas a little bit," he said at the time. "He's playing a lot. All of a sudden, I'm seeing some funny swings from him." Roenicke couldn't help but notice something different in Aoki's preparation ever since he came to Milwaukee, something that might explain the extra aches and pains, the newfound inconsistencies in Aoki's game. Aoki was spending hours in batting practice before games, much longer than any of his Brewers teammates. He arrived to the clubhouse early to get extra work in before almost every game. He would take as many as 1,000 swings per day, more than any other player on the team by far. This was part of a cultural transition that neither Aoki nor Roenicke had expected or fully understood. The first Brewers player signed from Japan via the posting process, Aoki touched off an adjustment for both sides upon his January addition. American baseball includes significantly more games, more batting, more time in the field than Japanese professional leagues. Something would have to change or Aoki would continue to wear down. Still, Roenicke feared what would happen if he tried to force that adjustment too abruptly. Would telling Aoki to cut his practice swings in half end his June slump or simply hurt his development? "If I told him to do nothing, mentally, it may hurt him more than just letting him get a little worn down," Roenicke said then. "The longer Japanese players are here, the longer they see what works and what doesn't. It's hard when you first come over and you're used to doing that much work." In fact, not many Japanese players fare as well as Aoki has in his first few months playing baseball in America. Though Ichiro had been the gold standard of Japanese players, experiencing unprecedented success in major league baseball, he's been more the exception than the rule since he debuted for Seattle in 2001. The Minnesota Twins signed shortstop Tsuyoshi Nishioka -- a teammate of Aoki's on the 2006 Japanese team in the World Baseball Classic -- before the 2011 season, with hopes he could become their shortstop of the future. But he was a disappointment in his rookie season, hitting just .226 in 68 games with 12 errors after coming back from an early-season injury. Minnesota still has high hopes for Nishioka, but as the Japanese shortstop now toils at Triple-A Rochester it begs the question whether Nishioka will amount to much in the majors. Twins vice president of player personnel Mike Radcliff remains confident Nishioka will become what the team expected when it signed him for 9 million over three years. But he admits the adjustment from Japanese baseball to American baseball is severe. "There are major adjustments," Radcliff said. "When we were going through that process of evaluating him and going through the process of contemplating signing him and bringing him over, we came up with over 100 different things he'll have to address, adjust or change for Major League Baseball versus Japanese baseball. As small as the size of the ball difference to the majority of turf play and the type of pitching, the stadiums they play in. There's obvious cultural things, language. We came up with over 100 different things." Radcliff added that he's not surprised Nishioka's transition has been tough on him. "It's a major transition and adjustment," Radcliff said. "We knew that. He knew that. All of them who try to make the jump from that league realize that, understand that. ... It wasn't a surprise. It just takes some time. Each individual makes those adjustments and addresses all those things in their own manner." But even as his body began to wear down, Aoki's transition to the major leagues has, by all accounts, gone much smoother than Nishioka's. After Roenicke suggested he might be working too hard, Aoki recognized the problem and tried his best to rectify it. "I would say I was getting worn down a little bit," Aoki said through his translator. "I was practicing too much, working out too much. That wearing down was probably the result of that. . . . I definitely had to (change). It's something that I experienced feeling my body getting tired. I've tried to do less with my routine and go from there." To keep himself from overworking, Aoki said he has tried to come into the clubhouse an hour later than he used to. He knows if he came at the same time, he'd end up working out to pass the time. That transition, however slight, has already produced serious results. Now firmly entrenched as the Brewers' leadoff man after getting sporadic playing time in the season's first six weeks, Aoki carried a 15-game hitting streak into the All-Star break. Hitting .301 with five home runs and 11 stolen bases, he has been one of the bright spots in an otherwise tough season for the 40-45 Brewers. And if Aoki can keep from wearing down, there's no telling how much of a difference the former Japanese batting champ can make in a Brewers lineup that desperately needs a second-half spark. Follow Ryan Kartje on Twitter.
Original Story:
http://www.foxsportswisconsin.com/07/...
THE BACKYARD
BEST OF MAXIM
RELATED ARTICLES
With very little playing time available to third base prospect Taylor Green at the major league level, the Brewers optioned Green to Triple-A Nashville on Sunday after their extra-innings win over the Astros. Brewers manager Ron Roenicke did not announce a replacement for Green's spot on the major league roster, but he told reporters than a position player will be brought up...
The first half of the Milwaukee Brewers' 2012 season was loaded with uncertainty. Injuries reigned supreme in April and May. Slumps forced the offense to further adjust, as big-time contributors struggled to get their bats going. Uncertainty was the only thing the Brewers could rely on as the once-vaunted back end of the bullpen fell down in June. And now, with the All-Star...
The Milwaukee Brewers have nine games after the All-Star break to determine whether they will be buyers or sellers before the July 31 trade deadline. There were few signs during the first half that Milwaukee would get into contending mode. Early injuries, underachieving play and a combustible bullpen left the Brewers (40-45) foundering for the most part, unable to get back to ...
Here is my look at the Brewers 25-man Roster Power Rankings…it got really hard after 11 (that's what she said) ***NOTE:  The number in parenthesis is change from last week*** #1: OF Ryan Braun (-) – 7-hits, 2-homers, and 6-RBI this week keeps Braun on top of the list #2: SP Zack Greinke (-) – Loved the ejection…though with a normally calm Greinke, is frustration setting...
By JEFF MEZYDLO, STATS Senior WriterA year ago, Zack Greinke struggled to consistently win on the road. That has not been the case during his second season with the Milwaukee Brewers.The subject of trade rumors, Greinke on Saturday tries to win a third straight road start and continue his dominance over a Houston Astros club trying to end a nine-game skid.Last season, Greinke (9...
Slowly, but surely, Jonathan Lucroy is easing back on the road to recovery. Milwaukee's standout catcher has been sidelined since late May with a fractured right hand, but it sounds as though Lucroy could return to legitimate action by month's end. "He's got clearance to swing the bat, and do some stuff in the cage," Milwaukee manager Ron Roenicke said Saturday...
HOUSTON (AP) -- Corey Hart drove in the go-ahead run with a single in the 10th inning, and Rickie Weeks' third hit added an insurance run to give the Milwaukee Brewers a 5-3 win over the Houston Astros on Sunday. Nyjer Morgan walked to start the 10th and Fernando Rodriguez (1-8) intentionally walked Braun before a wild pitch moved the pair over. Rodriguez walked Aramis Ramirez...
Saturday's Houston Astros/Milwaukee Brewers had a rather bizarre moment as Brewers star pitcher Zach Grienke got ejected for spiking a baseball. In the first inning, Brewers pitcher Grienke thought he had gotten out Astros Jose Altuve on a ground ball play at first base. First base umpire Scott Holbrook didn't see it that way and called Altuve safe which caused...
With the Milwaukee Brewers and Philadelphia Phillies 6.0 and 10.0 games out, respectively, of the second wild-card spot in the National League, it's probable that one or both teams will trade their front-line, free-agent-to-be starters — i.e. Zack Greinke and Cole Hamels — before the July 31st trade deadline. "What might either be worth in terms of a trade?" is a question...
It's not exactly the way most would have assumed the NL Central would play out, but when the All-Star break arrived, last year's title-winning Brewers were eight games back and the eternally struggling Pirates stood alone in front. Of course, there's plenty of time left in the season, and even last year, Pittsburgh threatened to push the division contenders before falling...
This is the first time I've ever seen something like this. The Milwaukee Brewers beat the Houston Astros 5-3 on Sunday and one of the highlights included a home run by Brewer Rickie Weeks and a Houston fan's attempt to use a baby seat to catch the home run. Thankfully the baby was not inside. There should be a new rule at MLB stadiums.  If you baby still requires a baby seat...
MLB News

Delivered to your inbox

You'll also receive Yardbarker's daily Top 10, featuring the best sports stories from around the web. Customize your newsletter to get articles on your favorite sports and teams. And the best part? It's free!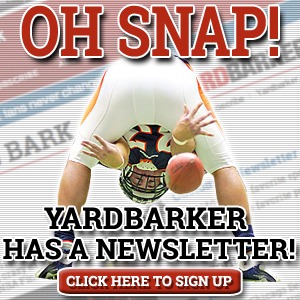 Latest Rumors
The Backyard

Today's Best Stuff

For Bloggers

Join the Yardbarker Network for more promotion, traffic, and money.

Company Info

Help

What is Yardbarker?

Yardbarker is the largest network of sports blogs and pro athlete blogs on the web. This site is the hub of the Yardbarker Network, where our editors and algorithms curate the best sports content from our network and beyond.