Found September 20, 2012 on Monkey with a Halo:
We now interrupt your regularly scheduled playoff race hand-wringing to bring you this very important bulletin: Arte Moreno is getting dead serious about moving the Los Angeles Angels to the actual city (or at least county) of Los Angeles. How do we know this? Because, according to the LA Daily News, Arte Moreno recently held a meeting with stadium developers Majestic Realty.  This is now the second such group that Moreno has met with this year after holding taking with the AEG group who have a similar stadium project downtown.  Both stadium developers are more interested in building a stadium for a NFL team, so the level of their interest is hard to gauge.  Moreno's though, that is starting to look more keen and obvious. As you might know, the Angels have an out in their lease after the 2016 season.  As you might also know, Arte Moreno has long wanted to make the Angels an elite franchise in baseball.  He tipped his hand on that long ago when he changed the team name to Los Angeles Angels of Anaheim.  That was his first step.  The second step would be getting to drop that "of Anaheim" part because the team would actually be in Los Angeles. When that AEG story broke in April, I chalked it up to a ploy to gain leverage against the city of Anaheim.  That might also be the case here with Majestic, but it might not be.  That's a really obvious thing to say, I know, but the reason to think Arte isn't bluffing now are the events that have transpired between April and now. Back in April, the Angels were poised to claim the Kings of SoCal Baseball crown.  They had just gained national attention with their free agent spending spree, landing a marquee name in Albert Pujols while the Dodgers continued to twist in the wind waiting for their ownership situation to get resolved.  Turns out it got resolved in a big way.  The Dodgers now have great new owners with pockets so deep that they make Moreno look like your cheap uncle who takes home three order of the free breadsticks at the Olive Garden.  The Dodgers are the ones now making the splashy news and grabbing all the headlines.  The Angels, well, they are back to being the JV team of Southern California. That is something that Moreno quite simply cannot abide.  The problem is he is running out cards he can play to raise the Angels' profile both locally and nationally. He's changed the name.  He's spent truckloads of cash.  He's overhauled the stadium experience.  He's landed a massive TV deal.  He's brought in brand name star players.  There is only one arrow left in his quiver and that is finally transplanting the Angels from their low-profile Orange County address to Los Angeles, right smack dab in the middle of the spotlight. If Moreno really wants to "out LA" the Dodgers, the only way he can do it is by plopping the Angels down right in the middle of their supposed territory.  Getting a new, glitzy stadium downtown can give the Angels the kind of hype, buzz and cache that they will never get by simply leveraging the City of Anaheim into footing the bill for a few small cosmetic enhancements to the Big A.  Dodger Stadium is a classic, but it is also becoming out-dated and plagued with traffic and in-stadium service problems.  Imagine how many fans the Halos could steal from the Doyers if they offered a modern, streamlined, accessible alternative in the heart of the city.  Let's face it, there is a sizable chunk of LA fans whose sports allegiance isn't exactly set in stone. It is a dangerous play for Moreno since he would risk alienating the legions of fans in Orange County who appreciate the very fact that the Halos aren't a typical, trendy LA team.  But, really, that is just a short-term loss as the next generation of Los Angeles baseball fans would grow up knowing the Angels solely as an LA team with their time in Anaheim nothing but a historical footnote. Let's not get ahead of ourselves though.  These are just initial meetings.  A lot still needs to happen for Moreno to put a relocation into motion.  First and foremost, the two stadium developers need to find out if they are going to win the NFL bid first.  After that, the loser will have to decide if cutting a deal with Moreno, with significantly less leverage now, is worth it.  That could be months or years from now, which may make the timeline difficult to manage since shovels would have to hit the ground soon to have stadium ready for MLB action in 2017.  And then there is the giant mess of money and bureaucratic red tape that are always involved with these things.  I guess what I'm saying is getting a new stadium built is incredibly hard, in fact, it might be one of the hardest things to do in all of sports.  That doesn't mean it is impossible though, rich people hell-bent on getting something do tend to get what they want.  That applies to Moreno and new stadium and Moreno and his dream of elevating the Angels to premier franchise status, two things that may very well go hand-in-hand. [follow]
Original Story:
http://www.monkeywithahalo.com/2012-a...
THE BACKYARD
BEST OF MAXIM
RELATED ARTICLES
ANAHEIM, Calif. -- A closed-door meeting in the manager's office is never a good sign, so the fact CJ Wilson spent a considerable amount of time with Angels manager Mike Scioscia on Thursday afternoon probably indicated they had lots to talk about. It can be assumed Scioscia did most of the talking. Discounting a start in Texas that was shortened to one-third of an inning because...
The Los Angeles Angels thought they were getting an elite-level pitcher when they acquired Zack Greinke in a trade before the July 31 deadline. After a slow start, it has proven to be true. Greinke is 4-0 with a 1.60 ERA over his past six starts, allowing no more than two runs or five hits in any of those outings. However, he apparently came with limitations. For the second consecutive...
Los Angeles Angels left fielder Vernon Wells went head over heels over the outfield wall, but failed to catch a home run ball hit by Texas Rangers 2B Ian Kinsler during Tuesday night's MLB game at Anaheim. It happened in the top of the third inning as Kinsler hit the ball to deep left field. Wells timed his jump well, but realized he had no chance as the ball reached the...
ANAHEIM, Calif. In the closing weeks of the season, with a playoff spot on the line, little things can make a big difference. One mistake can cost a game. One base-running error can stop a big inning. One loss can sink a season. The Angels spent Wednesday night lamenting all the little things that went wrong against the Texas Rangers. They lost a game, lost a day in their season...
Vernon Wells earned hustle points. But that's about it. In the third inning of Tuesday's game against the Rangers, the Angels outfielder aggressively chased Ian Kinsler's fly ball and leaped into the left-field stands, hoping to make a spectacular catch. But Kinsler's blast ultimately cleared the wall, resulting in an embarrassing tumble for Wells. Wells then needed...
In a hilarious attempt to make what would have been an unbelievable play, Angels outfielder Vernon Wells went head first over the outfield wall. The Angels are trying to get back into the wild card race and efforts like this is what manager Mike Scioscia has to love. I have a feeling this will be on all the bloopers videos of the 2012 MLB season. Check it out! The post Vernon Wells...
ANAHEIM, Calif. (AP) -- Ervin Santana struck out 11 while pitching seven innings of two-hit ball and the Los Angeles Angels beat the Chicago White Sox 6-2 on Friday night to gain ground in the playoff race. Mike Trout and Kendrys Morales homered for Los Angeles, which pulled within 3 games of Oakland for the second AL wild card. The Athletics lost 2-1 to the New York Yankees in...
This is perfect. On so many levels. If only those trolltastic Mariners would just end it against the Orioles. The Angels need to pick this game up on the Orioles fast, the schedule doesn't get much easier for a while so if the Angels are serious about making the playoffs they'll smash through the Rangers. Good start so far.  I really didn't think the Angels had...
Ask anyone who the AL MVP should be... OK, not anyone, that homeless guy that lives beneath the underpass near the freeway on-ramp you take to get to work probably doesn't have a ready answer, but ask any baseball fan who the AL MVP should be and you are certain to get a very definitive answer.  They will tell you that the answer is clear and not even remotely up for debate...
Adrian Beltre hit a tiebreaking two-run homer off Angels closer Ernesto Frieri in the ninth inning, and the Texas Rangers dealt yet another blow to Los Angeles' fading playoff hopes with a 3-1 victory Thursday night. Yu Darvish (16-9) held the Angels to four hits and struck out nine in a scintillating eight-inning duel with Zack Greinke, who gave up five hits and struck out...
To quote John McClane, "How can the same **** happen to the same guy twice?" Aside from the fact that this game might very well spell the end of the Angels' season, the only thing that anyone is going to remember this game for is Mike Scioscia once again pulling Zack Greinke during a great start in favor of Ernesto Frieri.  The same Ernesto Frieri who spoiled the...
MLB News

Delivered to your inbox

You'll also receive Yardbarker's daily Top 10, featuring the best sports stories from around the web. Customize your newsletter to get articles on your favorite sports and teams. And the best part? It's free!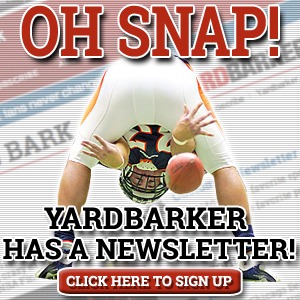 Latest Rumors
Best of Yardbarker

Today's Best Stuff

For Bloggers

Join the Yardbarker Network for more promotion, traffic, and money.

Company Info

Help

What is Yardbarker?

Yardbarker is the largest network of sports blogs and pro athlete blogs on the web. This site is the hub of the Yardbarker Network, where our editors and algorithms curate the best sports content from our network and beyond.