Found July 24, 2012 on NorthWest Sports Beat:
PLAYERS:
Jesus Montero
,
Edgar Martinez
,
Justin Smoak
,
Michael Saunders
,
Dustin Ackley
,
Kyle Seager
,
Jack Zduriencik
,
Ichiro Suzuki
,
Casper Wells
,
Eric Wedge
TEAMS:
Seattle Mariners
,
Oakland Athletics
,
Texas Rangers
,
Kansas City Royals
,
Tampa Bay Rays
,
Los Angeles Angels
Is there a silver lining between the Seattle clouds?
It goes without saying that the Seattle Mariners season hasn't exactly been a dream come true. It hasn't even gone along as planned.
In the offseason the M's acquired monster offensive prospect Jesus Montero. Many looked to him as the next "Edgar Martinez." It didn't make the Mariners a contender, but he was the perfect building block to round out a promising young squad.
Here we are in July and the Mariners sit comfortably in the cellar of the American League West. Their record sits at an ugly 42-55, 10 games behind the Oakland Athletics for third place.
Still, there's always hope.
In the past week Seattle's looked like a completely different team. They won two series in a row, one against the Kansas City Royals and the other against the always dangerous Tampa Bay Rays.
In seven games the M's took five, outscoring their opponents 38-25.
The question remains, have the Seattle Mariners turned a corner?
Is there still some kind of hope for the season?
The Short Answer: No
Winning two series in a row is a nice feat, especially when one of those series is against the Rays. It still doesn't mean anything.
Justin Smoak, Michael Saunders, Dustin Ackley, Kyle Seager and Jesus Montero. These are big names. (AP Photo/Nam Y. Huh)
Seattle got a nice hot streak there, but it could be just that. The bats were hot and the pitching was strong when it needed to be, but the team still had plenty of issues. Their two wins against Tampa Bay were by a one-run margin.
Hedging your wins on one run margins is too big a gamble to make.
Seattle's team has plenty of holes. The last seven games were all on the road. Winning games on the road comes easy for Seattle, but winning at home is a completely different story. You can win every road game and lose every home game and your team is still at 82-82, not good enough for the playoffs.
Another point that needs to be made is that 15.5 games is a long way to go. It's not an impossible gap to make up, but it's about as close as you can get to impossible this late in July.
The Mariner's would have to go on a heck of a hot streak to make it up.
Even if we're talking middle of the pack—instead of playoff bound—making up the 10 games between them and Oakland is a near improbably feat. Oakland is just as hot as Seattle—9-1 in their last 10 games—while Los Angeles and Texas are too good to fall under the M's.
In the short term, these two series mean nothing. The Mariner's are still knee deep in losses, with a tough AL West mountain to climb.
It's a nice streak, but it's just that.
The Long Answer: Yes
Yes, if these five wins mean anything it is hope. Never underestimate hope, especially in a season as disappointing as this one.
As long as the Mariners keep winning on the road there is hope. Their record away from Safeco may not be amazing, but 25-28 is nothing to balk at for a team that's struggled as much as this one.
The reason to have hope is because Seattle has been good on the road. Their offense has hit—a lot—on the road. That 21 run game against Texas wasn't a fluke.
Justin Smoak (even though breaking news tells us he's going down to AAA Tacoma tonight), Michael Saunders, Dustin Ackley, Kyle Seager and Jesus Montero. These are big names.
I know Seattle fans want to give up on some of them—especially Smoak and Saunders—who have struggled so much in Seattle, but you can't do that.
Look at how they've hit on the road. Smoak has 10 home runs away from Safeco, while Saunders has an OPS of .868. These guys have been in Seattle for a while and it's easy for fans to think they're failed prospects.
You have to remember, Safeco is a really tough place to hit. Guys have figured it out before, but those were veterans of the game. These are young 20-something prospects with plenty to prove and lots of room to grow. Things won't get better over night.
Each time a Mariner hits a home run on the road it means something. These players aren't duds. They're players struggling to hit in the American League's greatest pitchers park.
Are you really going to give up on Jesus Montero or Dustin Ackley because of one bad season?
The M's have more than just young prospects going for them. You can't underestimate a smart organization, and Seattle is smart.
Jack-Z is one of baseball's best GM's
It doesn't seem like it because of the onfield product, but Seattle was in horrid shape before he came along. Bill Bavasi may have been the worst thing to ever happen to the Seattle Mariners.
Does Jack Have A Plan For Left Field?
Zduriencik has spent his seasons stockpiling talent. Some of this talent could be featured as soon as September, another reason that the second half represents a turning point.
As of today the Mariners have officially traded Ichiro Suzuki. It's hard to admit, but this is a move in the right direction. It frees up payroll, and absolves the organization of future PR issues.
Ichiro is in the last season of his contract. The last thing the Mariners needed was to face off with the future hall of famer over a contract.
Which seems worse to the public: "the Mariners disrespect Ichiro with a long contract dispute," or "Seattle trades Ichiro to a contender giving him a chance at a title"?
Once again, the Seattle organization showcases how smart they really are.
Final Remarks
While the hot streak is most likely just that, it doesn't mean Seattle fans shouldn't have hope. No, the Mariners aren't going to make the playoffs. At this rate they probably won't catch up to Oakland.
Still, their young players and smart organization are reasons to be hopeful about the future. This team is at a vital crossroads and sometimes "turning the corner" isn't the right path. Sometimes you have to stay on the path you're on.
You've followed the road for four seasons, why change your mind now?
In my honest opinion Seattle has one of the brightest futures in baseball. In two seasons—with their prospects—they could have the best rotation in baseball. On top of that are some really great young bats.
Things will get better Seattle. It's not going to happen overnight, but it will eventually.
They may not turn the corner this season, but when the time is right they will.
CLICK HERE TO CHECK OUT THE MARINERS BLOG IN OUR CLUBHOUSE TODAY AT NWSB!
© Jonathan Irwin for North West Sports Beat, 2012. | Permalink | No comment |
Follow NWSB on Twitter or join US on Facebook for real-time updates OR... | Share This on Twitter | Share NWSportsBeat.com on Facebook
Post tags:
AL West blog
,
American League West
,
Casper Wells
,
Dustin Ackley
,
Eric Wedge
,
Ichiro Suzuki
,
Jack Zduriencik
,
Jesus Montero
,
Justin Smoak
,
Kansas City Royals
,
Kyle Seager
,
Los Angeles Angels of Anaheim
,
Mariners
,
Mariners blog
,
Mariners News
,
Mariners Notebook
,
Michael Saunders
,
Oakland Athletics
,
Seattle Mariners
,
Tampa Bay Rays
,
Texas Rangers
Original Story:
http://www.nwsportsbeat.com/mariners/...
THE BACKYARD
BEST OF MAXIM
RELATED ARTICLES
EMPIRE STRIKES BACK
In a move no one saw coming, the Bronx Bombers have acquired the long-time Mariners outfielder for two pitching prospects.
First baseman Justin Smoak was optioned to Class AAA Tacoma, with the Mariners calling up Mike Carp. Smoak is hitting .189 with 13 home runs and 38 RBI and was mired in an 0-for-16 slump that included nine strikeouts. "When you think about Justin and you think about how difficult it is once you're really in a rut here at the big-league level, to try to get out of it...
The Mariners once again demoted the struggling 25-year-old switch-hitting first baseman following yesterday's loss to the Yankees. Now more than 300 games and 1,100 at bats into his big league career, is it time for the Mariners to move on from the supposed star prospect of the Cliff Lee trade?
Seattle still houses a good amount of bands, and one of them is a fairly large Seattle Mariners fan. Ben Gibbard of Death Cab for Cutie penned a track for his beloved Ichiro a few years back, and in light of the recent trade he released it. According to Ben: "Totally okay with this trade. Thanks for your best years, Ichiro. We will always look back on them fondly."#Mariners...
On A day when Mariners Legend Ichiro Suzuki is traded here is the video of his greatest moment in Ichiro history. Classic video
No Offense, No Ichiro, No Win The Headline: Ichiro suits up for the enemy as the Seattle Mariners fall to New York at Safeco. Seattle Mariners 1, New York Yankees 4 When: 10:10 ET, Monday, June 23, 2012 Where: Safeco Field, Seattle Temperature: 65 Umpires: Home — Phil Cuzzi, 1B — Manny Gonzalez, 2B — Greg Gibson, 3B — Gerry Davis Attendance: 29,911 Love 'em 1. Mariners...
SEATTLE - The Yankees acquired right fielder Ichiro Suzuki from the Mariners in exchange for minor-league right-handed pitchers D.J. Mitchell and Danny Fahrquhar. Seattle also sent an undisclosed amount of cash to the Yankees. Ironically, the Yankees and Mariners opened a three-game series at Safeco Field on Monday, with Ichiro changing uniforms and dugouts before the game. However...
SEATTLE -- The Seattle Mariners continued to make the New York Yankees' trip to the West Coast as painful as possible Tuesday. It wasn't just that the Mariners scored a 4-2 win that sent the Yankees to their fifth loss in six games on the trip. More notable was that New York third baseman Alex Rodriguez came out of the game after taking an eighth-inning fastball off his...
Ichiro The New York Yankees, who recently came in the market for an outfielder after learning that Brett Gardner was not returning this season and that Nick Swisher's injury was going to cause him to miss significant time, have traded two minor league prospects for Seattle Mariners outfielder Ichiro Suzuki. Today the Yankees begin a series with the Mariners, so whether Ichiro...
I learned of the Ichiro Suzuki trade made by the New York Yankees from my Starbucksguy who informed me as he was making my double, tall skim latte. Seattle Mariners right fielder Ichiro Suzuki (51) (Photo credit: Keith Allison) At first, I accused the poor guy of lying and actually said, "that is not even funny." Well that explains why he wasn't laughing. Honestly, I am in...
Ichiro Suzuki is now a YankeePhoto courtesy of deadspin.com) Ichiro Suzuki is now with the New York Yankees. Yup, the Bronx Bombers strike again and land another sure-shot Hall of Fame player in an attempt to bring another World Series trophy to the pinstriped nation. According to Jack Curry of the Yes Network, the Yankees have acquired Ichiro Suzuki for D.J. Mitchell and Danny...
The only surprising part about Ichiro Suzuki's trade is the Mariners actually pulled the trigger. Who knew they had it in them? That's why I believe the company line that Ichiro requested a trade. If Ichiro didn't want to be traded, no way the big man in Japan would have signed off. The Mariners had to cut the cord; better this way than letting Ichiro flap in the wind...
MLB News

Delivered to your inbox

You'll also receive Yardbarker's daily Top 10, featuring the best sports stories from around the web. Customize your newsletter to get articles on your favorite sports and teams. And the best part? It's free!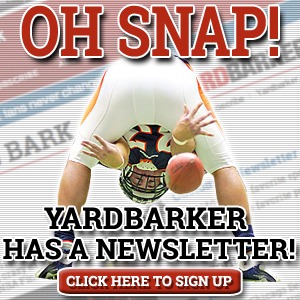 Latest Rumors
The Backyard

Today's Best Stuff

For Bloggers

Join the Yardbarker Network for more promotion, traffic, and money.

Company Info

Help

What is Yardbarker?

Yardbarker is the largest network of sports blogs and pro athlete blogs on the web. This site is the hub of the Yardbarker Network, where our editors and algorithms curate the best sports content from our network and beyond.