Found March 18, 2013 on On The Way Home:
About a month and a half ago, I talked about the situation involving the Reds moving Aroldis Chapman to the Cincinnati rotation. I felt the flame-throwing left-hander should have stayed as the team's closer, but it was obvious what the organization's decision was last winter, as they re-signed Jonathan Broxton to a three-year/$21 million deal. However, as we're just two short weeks away from Opening Day, Chapman has said he'd rather close than be in the starting rotation. Cincinnati manager Dusty Baker is happy his hurler voiced his opinion, as he rarely does that to those who have decision-making power, and plans on speaking to the southpaw before any switch is made. On the other hand, GM Walt Jocketty is not as pleased, mentioning it's not up to the players to decide how they want to be used. The decision to move Chapman to the rotation didn't make sense to me in the first place, especially since the Reds were a wildly successful team with him shutting the door in the ninth inning; he compiled a 5-5 record with a 1.51 ERA, 0.81 WHIP, 38 saves (43 opportunities), and 122 strikeouts in 71.2 innings pitched for a 97-win club that were crowned NL Central Champions in 2012. In addition to that, their starting five in the rotation were solid, so they would have to bump one of those pitchers from the staff to make room for Chapman, as he's due $5 million over the next three years ($10 million over the next three if you include his player option for 2015). I'm happy to see Chapman voicing his opinion, but I have two problems with it. One is that he should have spoken up back in November when the decision was made for him to start training as a starting pitcher. I understand he may have wanted to give it a try this spring, but not once did we hear about Chapman's opinion regarding the change. The other issue I have here is that he decided to tell the media his preference instead of talking privately with his manager. This is probably part of the reason why Jocketty didn't sound please when asked about it. A decision is forthcoming about whether or not Chapman will continue to be used as a starter, but I think it's too late for the organizaiton to change their stance now. They made their decision on Aroldis and his role with the team moving forward so they could shape the rest of their off-season strategy, which is why they went out and re-signed Broxton for three years. If the Reds decide to move Chapman back to the closer's role, they'll now have an unhappy set-up man they're paying $7 million per season. It will be interesting to see what happens with Broxton; he didn't mind being a set-up man last season because he was trying to re-establish himself after an injury, but he signed this three-year deal with the Reds to be their closer. I don't see him making a big stink about getting bumped from his projected role (despite having a 0.00 ERA in 5 innings this spring), but I would imagine he wouldn't be opposed to being sent elsewhere so he can have full control of the ninth inning. Where could he possibly be traded to so late in the spring? Well, the Detroit Tigers are in the market for a closer since youngster Bruce Rondon has struggled a bit in camp. They are rumored to be intereted in Carlos Marmol from the Cubs, but Broxton would be a great fit in the Motor City, as he's a proven closer that would fortify the bullpen of a playoff-caliber team. However, Marmol could be more attractive because he's a free agent after this season; if Detroit truly feels Rondon is their future closer, they may not want to take on a contract that blocks Rondon's path for the next three seasons. The decision will come shortly, and I'm curious to see how the decision will impact both Chapman and Broxton moving forward. Thanks for reading! To Follow Matt's posts at On The Way Home and Rising Apple, you can follow him on Twitter: @mmusico8. If you'd like to join On The Way Home as a staff writer, you can contact Matt at matt.musico8@gmail.com. The post Aroldis Chapman Wants To Close For Reds appeared first on On The Way Home.
Original Story:
http://feedproxy.google.com/~r/wordpr...
THE BACKYARD
BEST OF MAXIM
RELATED ARTICLES
If it seems like you've read dozens of articles about Aroldis Chapman potentially being a starting pitcher over the years, it's only because you've missed hundreds more. This is an old topic, as is usually the case with relievers who appear to have the potential for more. The Reds invested a lot in Chapman when they first signed him, and as of 2012 he's mastered the bullpen...
The roster count now stands at 37. The Reds effectively inched closer to the 25-man limit by cutting top prospect Billy Hamilton and RHP Drew Hayes on Tuesday. They have both been reassigned to the minor league camp. Hayes appeared in six games this preseason and tallied a 3.86 ERA in 4.2 innings. Hamilton struggled in his stint with the big club this spring. He batted ...
Two weeks from today, the city of Cincinnati will be enjoying an unofficial holiday as the Redlegs open their 2013 season against the Halos from Los Angeles. It will be a momentous occasion for all of Reds country as we celebrate the dawn of a new campaign. But for now, we are left to count down the days until Opening Day finally arrives. In the meantime, let us explore a post...
Full disclosure:  I had this idea written out a week ago for 2013 bold predictions before Aroldis Chapman stated that he would prefer to be a closer. Aroldis Chapman throws the baseball 100 mph.  That's what he does best.  His fastball is utterly dominant.  He could certainly be a great starter.  The problem with Chapman is that his secondary pitches – the change up...
The Cincinnati Reds cut 5 more players from their roster over the weekend, getting their total roster count down to 39. Optioned to Triple-A Louisville were right-handed pitchers Pedro Villarreal and Curtis Partch, infielder Henry Rodriguez and first baseman Neftali Soto. Outfielder/first baseman Donald Lutz was optioned to Double-A Pensacola. Lutz, Rodriguez, and Soto all impressed...
Aroldis Chapman rebounded from a first-inning jam in his fourth appearance and second start of spring training, helping the Cincinnati Reds beat the San Francisco Giants 7-6 on Saturday in a split squad game for both clubs. The Reds continue to consider whether to make the left-hander the team's fifth starter or keep him in the closer role. Chapman, who said after his outing...
After being eliminated by Puerto Rico on Friday, the Americans are now 0-for-3 in their bid to win the World Baseball Classic. In fact, the United States has failed to finish any better than fourth place in the tournament, which is a major disappointment to say the least. Now, Reds skipper Dusty Baker wants to play a key role in changing that for a future Classic. "I would...
Great news, folks! Redlegs Review and the TEAM LATOS crew have teamed up to offer a special promotion to our blog readers. Fans who wish to purchase a t-shirt like the one above can do so for $20 by entering the promo code "Redlegs" at checkout. The shirt retails for $25. Basically, you receive $5 (20%) off just by simply being a reader of ours and entering the aforementioned...
Ben and Sam discuss Aroldis Chapman`s role and how much control players should have over the way they`re used by their teams.
If you want me to be 100% honest, I thought it was the Reds year last year. I truly thought after they won the first two games of the NLDS in San Francisco that this team was headed to the World Series. The Reds were going to do one better than my prediction I made before the season of just reaching the NLCS; they were actually going to win the NL pennant and give themselves a shot...
MLB News

Delivered to your inbox

You'll also receive Yardbarker's daily Top 10, featuring the best sports stories from around the web. Customize your newsletter to get articles on your favorite sports and teams. And the best part? It's free!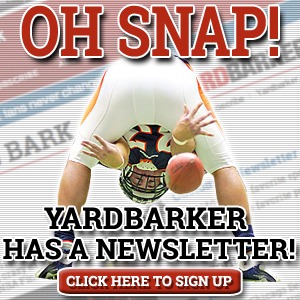 Latest Rumors
The Backyard

Today's Best Stuff

For Bloggers

Join the Yardbarker Network for more promotion, traffic, and money.

Company Info

Help

What is Yardbarker?

Yardbarker is the largest network of sports blogs and pro athlete blogs on the web. This site is the hub of the Yardbarker Network, where our editors and algorithms curate the best sports content from our network and beyond.