Found February 25, 2013 on Obstructed View OLD:
PLAYERS:
Joe Mather
,
Reed Johnson
,
Marlon Byrd
,
David DeJesus
,
Tony Campana
,
Brett Jackson
,
Adam Dunn
,
Dave Sappelt
,
Jeff Frazier
,
Jae Hoon Ha
,
Rubi Silva
,
Albert Almora
TEAMS:
Chicago Cubs
,
Philadelphia Phillies
,
Atlanta Braves
,
New York Mets
,
Arizona Diamondbacks
,
Chicago White Sox
Apparently, CF isn't as loaded as I thought (for my purposes, Soler is a RF, not a CF). There's at least one top 3-5 teamwide prospect in here, and a few ok-ish prospects as well, but it's not a surplus of value like I thought when I started.       Last Year 2013 Career   Name Age AVG OBP SLG wOBA pwOBA AVG OBP SLG wOBA MLB Campana 27 0.264 0.308 0.299 0.273 0.274 0.262 0.306 0.300 0.272   Jackson 24 0.175 0.303 0.342 0.292 0.305 0.175 0.303 0.342 0.292   Byrd 35 0.210 0.243 0.245 0.216 0.310 0.278 0.336 0.413 0.328   DeJesus 33 0.263 0.350 0.403 0.332 0.330 0.281 0.355 0.419 0.341 AAA Jackson 24 0.256 0.338 0.479 0.354           AA Ha 22 0.272 0.352 0.385 0.346             Szczur 23 0.210 0.285 0.357 0.299             Silva 24 0.263 0.277 0.413 0.311           A+ Szczur 23 0.295 0.394 0.407 0.373             Silva 24 0.302 0.322 0.412 0.333           A Easterling 24 0.243 0.316 0.366 0.314           A- Martin 20 0.270 0.318 0.377 0.328             Almora 19 0.292 0.292 0.446 0.339           Rk Almora 19 0.347 0.363 0.480 0.380           The average wOBA for a CF in 2012 was .323. MLB The Cubs had 5 players with over twenty starts at CF last year. 5! For some reason, I didn't include Joe Mather or Reed Johnson in this (who cares, really), and added Marlon Byrd because why not. He was terrible, and also on some sort of performance enhancing drug. One has to think what type of performance it was enhancing, because Byrdo was straight terrible last year. He's out of baseball, most likely. The starter at CF this year (and he logged the most starts on the Cubs at CF last year too; he was there most likely starter in both center AND right) is likely David DeJesus. He doesn't pass the eye test, defensively, but his "defensive metrics" point to an average-ish effort in any part of the outfield. He'll be a slightly-above average offering in center if he can hack it there, and should turn a nice profit at the trade deadline when the Cubs sell him off. I like DeJesus a lot, and he walked over 10% of the time last year, the first of his career. Tony Campana was seriously not good at baseball. He can't field even with his 80 speed, he has less power than you (and I mean you, dear reader) do on your beer league softball team, and he has poor plate discipline. That said, he has value as a pinch-runner on a team with a really good 4th OF. That isn't the Diamondbacks, but w/e. We got live humans for him, so I'm happy. I would have accepted dead humans, honestly. Brett Jackson has a retooled swing. Unless it cuts his strikeouts in half, I'm not terribly interested. That being said, there's still a place on the Cubs for a high-walk, high-strikeout, moderate-power CF that is a plus defensively. That's what Jackson could be without too much dreaming. If he could get his K's to just Adam Dunn levels (he's 7% away!), his line goes from .171/.303/.342 to like .200/.330/.370. On second thought, maybe he's got to get them lower than that…. AAA No one. Seriously. The way it worked out, Jackson got to the majors, Campana got sent to Arizona, and Dave Sappelt was profiled in LF. Jim Adduci is gone, and Jeff Frazier played 1 game at CF for the ICubs last year. This is the first and last time you'll ever hear the collection a syllables coalesce as "Jeff Frazier" for the rest of your life. AA Jae-Hoon Ha is interesting, in a sense. He was thought of as a toolsy "developmental" prospect who never really developed…until last year. In 200 more PA than any other year, his walk rate went from 4.5% (his previous high, comically) to 9.5%. His ISO stayed the same, and his BABIP was relatively normal, but the result was a .273/.352/.385 line in AA at 21. Putting that into perspective, he's younger than Szczur is, but last year he performed well at a level Szczur barely reached (and struggled at). For good measure, he also walked at a higher rate than Szczur at AA. That's slightly disingenous considering Matt's track record and SSS at AA (158 PA), but if Szczur is a legit prospect (and I don't think he is) than Ha is at that level or better. Speaking of, Matt Szczur, the shine has rubbed off quite a bit. It's hard to get jazzed about a guy who is prospect-old at each level he gets to (and who doesn't completely dominate those leagues). He's got 10 pounds to grow into, and maybe that'll give him some power, but he needs to move up the ladder pretty fast if he wants to be thought of highly. Rubi Silva is a baseball player. A+ Hate. Let me tell you how much I've come to hate you since I began to live. There are 387.44 million miles of printed circuits in wafer thin layers that fill my complex. If the word 'hate' was engraved on each nanoangstrom of those hundreds of miles it would not equal one one-billionth of the hate I feel for humans at this micro-instant. For you. Hate. Hate. Also, there are no prospects at A+ because they either moved to AA or are Elieser Bonne (so, no.) A Taiwan Easterling was one of the oldest players on his team last year, but he still couldn't hack league-average. He's still young to the system (college senior; he was actually drafted in the 6th round in 2007), but his frame isn't projectable and he's been nothing but overwhelmed so far. His time is short. A- Darien "Trey" Martin angered me when I couldn't find him in fangraphs. He's been a nice little player so far. He did OK last year (crushed rookie league, was ok-ish at A-), though plate discipline is already a minor concern. Martin has a nice frame and can grow into some power (and out of center, possibly) and will still be 20 this year. He'd start at A if it wasn't for Albert Almora, who did everything he was supposed to last year. At 145 PA, I'm not going crazy for anything just yet, but he did very well in his first taste of professionals. Sure, his walk rate was incredibly bad. However, look at his K rate too; he wasn't overmatched, he was just too good for the league. He made contact with everything he swung at, and that contact was for the most part loud. Almora is plenty far away but could climb the ladder quickly until he reaches a level that he has to work at. Rk I am a happy camper so I guess I'm doing something right.  Happiness is like a butterfly; the more you chase it, the more it will elude you; but, if you turn your attention to other things, it will come and sit softly on your shoulder. Albert Almora was here. There's definitely some talent here. The Cubs have one potential superstar in Almora, and 3 people or so with a shot at contributing in the majors (Jackson, Ha, Szczur). Let's hope Jackson can take over for DeJesus after he's traded, because CF are pretty damn expensive. Projected Rosters: MLB: DeJesus AAA: Jackson/Ha AA: Szczur/Silva A+: Easterling A: Almora A-: Martin The post Assume the Position: CF appeared first on Obstructed View.
Original Story:
http://www.obstructedview.net/minor-l...
THE BACKYARD
BEST OF MAXIM
RELATED ARTICLES
Dioner Navarro blasted a three-run home run to cap a four-run 1st inning, and Jeff Samardzija and six relievers combined to throw a six hitter, as the Cubs edged the San Francisco Giants 4-3 in the Cubs 2013 Cactus League home opener before a sparse crowd (7,784) this afternoon at cool & blustery Dwight Patterson Field at HoHoKam Park in Mesa, AZ. Tags: Spring Training RecapDioner...
Last month the Chicago Cubs announced a plan for $300 million in renovations to 99-year-old Wrigley Field in an attempt to maximize revenue from the ballpark. But those plans may run afoul of another local, very symbiotic business. Although the Ricketts family, which bought the Cubs in 2009, has said that the money will not come from public sources, it's another revenue streak...
In his latest attempt at a comeback, Chicago Cubs pitcher Dontrelle Willis lasted just seven pitches in a cactus league game on Monday. The left hander made an unscheduled appearance in a game against the Los Angeles Dodgers and exited the game after just seven pitches, aided off the field with a trainer. Willis, the runner up for the 2005 NL Cy Young Award was seen pointing to his...
File this first under the "this sucks" department, as one of the key Yankees players, Curtis Granderson, is out for about ten weeks after getting plunked on the forearm today.  Broken bones take time to heal and the general guess is that Granderson will be out for about a month of the 2013 regular season. Naturally that didn't prevent a lot of sportswriters and fans from speculating...
MESA, Ariz. -- Over the past four seasons, 19 major league pitchers have averaged 200 innings or better per season. Only two of them have done it pitching for four different teams: Cy Young winner Cliff Lee and Edwin Jackson. Jackson's vagabond career takes him to another baseball home for 2013: The Chicago Cubs. This time, he hopes to put down roots. The Cubs will be his sixth...
Chicago Cubs outfielder Alfonso Soriano open to reunion with New York Yankees., http://juicedsportsblog.com/sports-news/news/soriano-open-to-return-to-yanks
Former New York Yankee and current Chicago Cubs outfielder Alfonso Soriano told the New York Daily News he would consider approving a trade that would bring him back to the Bronx., http://juicedsportsblog.com/sports-news/news/soriano-open-to-return-to-yankees
MLB News

Delivered to your inbox

You'll also receive Yardbarker's daily Top 10, featuring the best sports stories from around the web. Customize your newsletter to get articles on your favorite sports and teams. And the best part? It's free!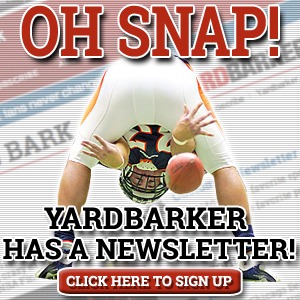 Latest Rumors
The Backyard

Today's Best Stuff

For Bloggers

Join the Yardbarker Network for more promotion, traffic, and money.

Company Info

Help

What is Yardbarker?

Yardbarker is the largest network of sports blogs and pro athlete blogs on the web. This site is the hub of the Yardbarker Network, where our editors and algorithms curate the best sports content from our network and beyond.