Found September 06, 2012 on The Sports Rocker:
Beat the Yankees? Sure, why not. And the Tampa Rays? Yep. Them to. The Baltimore Orioles aren't backing down, and could still win the division. And it's September, not April. We should all take notes. By we, I mean other teams whose executive management teams continues to mismanage their farm system and letting young prospects flee the burning barn.
Just a glance over the current roster shows the Orioles are relatively young. They only have one infielder, including catchers, over 30 years old. Shortstop J.J. Hardy is the old man here, and he just turned 30 in August. Jim Thome is on the 15-Day DL retroactive to July 28, but has only appeared in 18 games. Cooperstown is his next stop.
There are only four pitchers over 30: Randy Wolf (36), Kevin Gregg (34), Luis Ayala (34), and Joe Saunders (31). 
None of their regular outfielders are over 30.
This is how you do it, just like the Rays started their run a few years back.Youth. Don't expect to be good immediately. Let the kids play together, let them grow as a team. Make smart trades. And most importantly, don't sign free agent superstars to massive contracts at the ends of their careers. *Cough* Mets *Cough*
The Orioles have half the team salary of the Yankees, Red Sox, and other big spenders and are right with them in the standings, if not in front of them like the Red Sox. Graph from
USA Today
.
The O's are 19th in total payroll. By the way, the first place Nationals are right behind them, and that even includes that ridiculous contract to Jason Werth. 
With thrifty Oakland also being in serious contention for a wild-card spot, there is absolutely no reason why other small to medium market teams don't make more noise. Kansas City, I'm looking at you. 
The Orioles have climbed out of the dungeon after many years of seriously bad contracts, ala Albert Bell, and rebuilt from the ground up. There is one man, that deserves much of the credit, and he's not even in the position any longer. Andy MacPhail, the GM through last season, did a superb job of building a young core of talent. Now it's up Dan Duquette. Yes, the same one that oversaw the wonderful Expos farm system in the 90s, and the person of discontent among Red Sox fans for failing to re-sign Roger Clemens. Duquette was hired last November after MacPhail resigned and now has the task of continuing the youth movement in Baltimore. 
If the Orioles can contend against teams without budgets, surely other teams can do this.
Original Story:
http://www.thesportsrockers.com/2012/...
THE BACKYARD
BEST OF MAXIM
RELATED ARTICLES
Buck Is Hands Down the AL Manager Of The Year   There were rumors and questions around the sports world when Buck Showalter took the job in Baltimore. Why would he do that? He had a good job at ESPN, which he had no reason to leave, especially for a team who had not been relevant past opening day since 1997. If anything, he would have left to coach a team that was close if not...
I'm not one to usually read into something more than it actually is, or go into hyperbole; however, I'll say this about the Baltimore Orioles: this team has grit, is going through one of those 'magical seasons', and may be one of destiny. There's no need to go through what happened last night if you're a fan of this team. I went to Camden Yards last night with some...
BALTIMORE -- The Baltimore Orioles wasted a five-run lead late in Thursday's series opener against the Yankees, and these are the kind of games Baltimore has lost for many years. But this is a different year. Adam Jones hit a tie-breaking homer to start the eighth, and Mark Reynolds and Chris Davis homered later in the inning as the Orioles rallied for a 10-6 victory over...
Just a few weeks ago, the Yankees had an 8 game lead over the Orioles and  I would say almost all of us would of assumed that the New York Yankees would be in control of the AL East yet another year and that no one should be worried, but has that now changed? Are The Baltimore Orioles the new sherrifs in town? It might be too early to say all of this, but if you look at the...
photo c/o our peeps over at IhateJJRedick It was a magical Thursday night at Oriole Park at Camden Yards. In a game that was the biggest September contest in the stadium since 1997 (until Friday's game, of course  - they only get bigger at this point), the Orioles jumped out to an early lead, withstood a furious late Yankee comeback, and took the first game of the crucial four...
We've reached Threat Level Midnight. With last night's victory over the Yankees, the Orioles are now tied with New York American League East lead. Whatever one makes of the Orioles' chances, this is surprising for pretty much anyone who made a serious attempt at being objective prior to the season. When is the last time a team coming off of a sub-70-win season that got their...
BALTIMORE---Adam Jones hit a tie-breaking homer to start the eighth, and Mark Reynolds and Chris Davis homered later in the inning as the Baltimore Orioles rallied for a 10-6 victory over the Yankees on Thursday night to pull into a first-place tie in the American League East. The Jones homer off David Robertson (1-6) turned the game around. New York (77-60) had seemingly taken...
So your bullpen just blew a five-run lead in the top of the 8th inning. No worries. Adam Jones leads off the bottom of the inning. Bam! One-run lead. Matt Wieters hits a line drive single to right field. Up comes Mark Reynolds, who has hit seven home runs in the past seven games, including one earlier in the game. Bam! Three-run lead. After a pitching change,...
MLB News

Delivered to your inbox

You'll also receive Yardbarker's daily Top 10, featuring the best sports stories from around the web. Customize your newsletter to get articles on your favorite sports and teams. And the best part? It's free!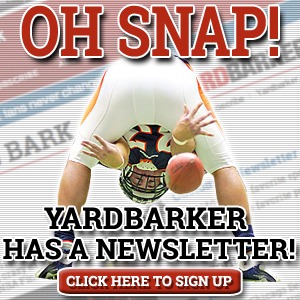 Latest Rumors
Best of Yardbarker

Today's Best Stuff

For Bloggers

Join the Yardbarker Network for more promotion, traffic, and money.

Company Info

Help

What is Yardbarker?

Yardbarker is the largest network of sports blogs and pro athlete blogs on the web. This site is the hub of the Yardbarker Network, where our editors and algorithms curate the best sports content from our network and beyond.