Found December 06, 2012 on Sports Blog Net:
PLAYERS:
David Wright
,
RA Dickey
,
Alex Rodriguez
,
Russell Martin
,
Eric Chavez
,
Nick Swisher
,
Raul Ibanez
,
Mark Reynolds
,
Josh Hamilton
,
Jeff Keppinger
,
Ryan Ludwick
,
Cody Ross
,
Lucas Duda
,
Kirk Nieuwenhuis
,
Mike Baxter
,
Josh Thole
,
Miguel Olivo
,
Jesus Flores
,
Kelly Shoppach
,
Jarrod Saltalamacchia
TEAMS:
New York Yankees
,
New York Mets
,
Pittsburgh Pirates
,
Baltimore Orioles
,
Texas Rangers
,
Tampa Bay Rays
,
Chicago White Sox
,
Boston Red Sox
,
Cincinnati Reds
,
Seattle Mariners
,
Washington Nationals
The "Winter Meetings" has been so far not so fun if you are a Yankees fan or a Mets fan. There hasn't been so much news to report on both the New York City teams. The Yankees biggest news of the winter meetings was losing A-Rod to hip surgery. A-Rod will be out for at least four to six months and won't be back until June. Also, the Mets have signed David Wright to a eight year contract worth 138 million dollars. That is pretty much the only signing they have made and they are now focusing on R.A. Dickey now. Let's go over the Yankees news: Yankees The news so far for the Yankees besides Alex Rodriguez getting hip surgery hasn't been good as of late. They have lost Russell Martin (Pirates), Eric Chavez (Dbacks) and they may lose Nick Swisher to someone else pretty soon. Losing Nick Swisher, Russell Martin, Eric Chavez and add Andrew Jones and Raul Ibanez to this list will cost the Yankees 94 home runs. How do the Yankees replace those numbers? If they want to replace those guys in order to get those home run's back in return. They need to look at players like Kevin Youkillis, Mark Reynolds and maybe Josh Hamilton if the Steinbreener kids look into it. The Yankees wanted to sign Jeff Keppinger who they thought would be a good replacement for A-Rod, but he went to the White Sox for three years. That's the only news I have on the Yankees for now. Let's go over the Mets news: Mets The Mets have the biggest PR day this past Wednesday, when they introduced David Wright to a brand new contract that will keep him with the team through 2020. The other big name the Mets are trying to get a deal with is R.A Dickey. Both parties have remian far apart for the past few days since the winter meetings started. Will the Mets trade R.A. Dickey soon? Who knows. They were talking to the Royals, Red Sox, Blue Jays and Rangers about R.A. Dickey. Nothing got done and If a trade doesn't happen pretty soon. The Mets will re-sign R.A. Dickey to a new contract extension around two years worth 15 mil per year. Other news on the Mets so far hasn't been much either. They looked into Ryan Ludwick, Cody Ross and Mark Reynolds who all three are still FA's haven't been sign yet. The Mets need to upgrade their outfield or they are stuck with Lucas Duda, Kirk Nieuwenhuis and Mike Baxter for the coming 2013 campaign. Also, they need a catcher and upgrade someone over Josh Thole for god's sake. Josh Thole is a horrible catcher who can't hit for power, extra base hits and drive in runs. He is a singles hitter at best and the Mets have been looking at catchers like Miguel Olivo who they could sign, even though they can look at Jesus Flores, Kelly Shoppach, Jarrod Saltalamacchia and maybe Rod Barajes. Those five guys would be an upgrade over Josh Thole. That's the only news for the Mets for now.              
Original Story:
http://nysportsempire.sportsblognet.c...
THE BACKYARD
BEST OF MAXIM
RELATED ARTICLES
According to Adam Rubin of ESPNNewYork.com, teams have been asking for Zack Wheeler virtually every time the Mets try to engage in any trade discussions. Rubin says that even when the Mets are discussing platoon or back up catchers, Wheeler's name has come up. Are you Kidding me? These teams can't be serious. If general managers are being that delusional, it's no wonder why...
Derek Jeter says his surgically repaired left ankle feels good and he expects to be the New York Yankees' starting shortstop on opening day. Jeter was at Yankee Stadium on Wednesday night to surprise more than 500 children from New York City at his Turn 2 Foundation's holiday party. It was his first public visit to the Bronx since having surgery in late October to repair...
This would be a solid signing for the Yankees, who as you know are in desperate need of a catcher.
The Mariners have agreed to terms with free-agent outfielder Jason Bay on a major-league contract and are close to finalizing, reports CBS Sports's Jon Heyman. Bay was released early last month by the Mets with $21 million remaining on his contract. His Seattle salary will be deducted from the Mets' obligation to him.  
You may have heard that Alex Rodriguez will begin the season on the New York Yankees disabled list, quite possibly with old pal, Derek Jeter and Mariano Rivera. That's approximately $50-$60 million in salary on Opening Day not being utilized *waves at Marlins fan*. But that's not the story, Alex is. He is having surgery [...]
R.A. Dickey's agent, Bo McKinnis, told ESPN New York that he would  not be surprised to see Dickey get traded. "It's hard to gauge," McKinnis said. "We have enough of a difference of opinion that if R.A. does get traded, I can't say I would be surprised. I'm not saying that's our first choice, but if it happens, I'm not going to be surprised. There will be no...
The New York Yankees are currently listening to offers on outfielder Curtis Granderson and right-handers Phil Hughes and Ivan Nova, reports Andrew Marchand of ESPN New York. Yankees are listening to offers on Granderson, Hughes and Nova — Andrew Marchand (@AndrewMarchand) December 6, 2012 The Yankees were one of the quietest clubs at this week's winter...
NASHVILLE While blockbuster rumors swirled, the Diamondbacks tidied up their bench and catching situations Wednesday, signing free agent veterans Eric Chavez and Wil Nieves to fill reserve roles at third base and catcher.Chavez, who would figure to get most of his at-bats against right-handers while spelling Chris Johnson at third, signed a one-year, 3 million contract. He hit 16...
Jason Bay is the type of player that when healthy can make a difference for any team he's on.  However, when he battles through injuries, he eats up payroll and a roster spot without much production.  See his time with the Boston Red Sox and the New York Mets for examples of each.  Now, after being released by the Mets, Bay has signed with the Seattle Mariners. According...
As the trade winds surrounding RA Dickey continue to swirl, the names that the New York Mets have been rumored to be inquiring about are an indication that the team is going to want a substantial haul for the 2012 NL Cy Young winner. From the Royals, the Mets reportedly asked for top prospect Wil Myers. From the Red Sox, the Mets apparently demanded Xander Bogaerts and Jackie Bradley...
This offseason has been rather un-Yankee-like. That doesn't mean the Bronx Bombers should be ruled out of anything, though While the Yankees have been relatively quiet thus far, even losing out on guys like Jeff Keppinger, New York is apparently still doing its due diligence on perhaps the biggest fish in free agency. According to USA Today's Bob Nightengale, the Yankees are...
The Yankees have put money on the table if he wants it -- a one-year deal for $12 million.I wouldn't boo him if he did it. Would you?
MLB News

Delivered to your inbox

You'll also receive Yardbarker's daily Top 10, featuring the best sports stories from around the web. Customize your newsletter to get articles on your favorite sports and teams. And the best part? It's free!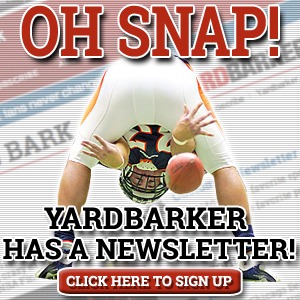 Latest Rumors
The Backyard

Today's Best Stuff

For Bloggers

Join the Yardbarker Network for more promotion, traffic, and money.

Company Info

Help

What is Yardbarker?

Yardbarker is the largest network of sports blogs and pro athlete blogs on the web. This site is the hub of the Yardbarker Network, where our editors and algorithms curate the best sports content from our network and beyond.