Found May 15, 2012 on Bronx Pinstripes:
PLAYERS:
Mariano Rivera
,
Michael Pineda
,
Brett Gardner
,
Russell Martin
,
Mark Teixeira
,
Robinson Cano
,
CC Sabathia
,
Ivan Nova
,
Hiroki Kuroda
,
Phil Hughes
,
Andy Pettitte
,
David Robertson
,
Rafael Soriano
,
David Phelps
,
Boone Logan
,
Cody Eppley
TEAMS:
New York Yankees
<a href="http://NYYUniverse.com/wp-content/plugins/wordpress-feed-statistics/feed-statistics.php?url=aHR0cDovL05ZWVVuaXZlcnNlLmNvbS9waXRjaGluZy1zdGFmZi9iYXRzLWFybXMtY2FudC1maW5kLXJoeXRobS9hdHRhY2htZW50L25ldy15b3JrLXlhbmtlZXMtdi1ib3N0b24tcmVkLXNveC8=" rel=\"attachment wp-att-6326\">
Both the pitching and offense haven't been able to get on the same page.
Coming into this year, the Yankees seemed to be one of the deepest teams in baseball. They had more arms than spots to put them, and a seasoned bench backing up future hall of famers. For the past two years, New York cracked the 850 runs scored mark, the only team to do so. Last year, they compiled a 3.74 era, while allowing 657 runs.
Injuries and slumps to key players have plagued the team so far this year. Mariano Rivera and Michael Pineda are both out for the year. Brett Gardner, the main catalyst at the bottom of the lineup is about a month away from coming back. Russell Martin is hitting on the interstate and Mark Teixeira hasn't hit with runners in scoring position. Only recently has Robinson Cano found his stroke – he was hitting .255 a week and a half ago (now .299).
On the pitching side, CC Sabathia has been his usual self. Entering tonights game against Baltimore, he was 5-0 with a 3.51 era. Ivan Nova's record of 4-1 does not reflect his inconstancy. He's currently pitching to an era of over five. Hiroki Kuroda has been Jekyll and Hyde. A good start here, a not so good start there. Much like in Los Angeles, Kuroda is not getting run support. He's  just 3-4 with a good era of 3.56. Phil Hughes has struggled, but hopefully has since turned a corner, and Andy Pettitte is just getting into the swing of things.
What I'm trying to say is that this team has been very inconsistent. They have some players who have been red hot, and some who have been ice cold. The lack of consistent clutch situational hitting and less than stellar pitching has created an eye popping stat.
Entering play tonight, the Yankees are 19-4 when scoring more than four runs in a game. They are an astonishing 1-11 when scoring three runs or fewer.
Now without Mariano Rivera and David Robertson, who just went on the DL, they need to find a way to win close games. The bullpen, which was considered one of the teams biggest strengths this year is now stretched thin. The bridge to temporary closer Rafael Soriano will include the names of David Phelps, Boone Logan and Cody Eppley.
The starters also need to bare down and shut down the opposition if their offense isn't going to score any runs. How many times already this year have the yankees found themselves trying to come from behind early in games, and ultimately can't do it?
Hopefully as the weather heats up, the bats will too. Maybe then the pitching staff can get back to giving quality starts. It seems as if when the offense is there, the pitching isn't. When the pitching shows up, the offense is missing. Last night the Yankees scored eight runs. Tonight, they can barely get anything going against Baltimore.
Once this team really hits its stride and both the offense and pitching come together, it should be a fun summer in the Bronx.
Original Story:
http://NYYUniverse.com/pitching-staff...
THE BACKYARD
BEST OF MAXIM
RELATED ARTICLES
<a href="http://NYYUniverse.com/wp-content/plugins/wordpress-feed-statistics/feed-statistics.php?url=aHR0cDovL05ZWVVuaXZlcnNlLmNvbS9waXRjaGluZy1zdGFmZi9yb3VuZC1hbmQtcm91bmQtdGhleS1nby10aGUteWFua3MtY2xvc2VyLWRpbGVtbWEvYXR0YWNobWVudC9qb2UtZ2lyYXJkaS8=" rel=\"attachment wp-att-6248\">Girardi and the Yankees have yet to name a definite closer until Mariano Rivera...
The New York Yankees have placed reliever David Roberston on the 15-day disabled list with a strained muscle in his left ribcage. Tuesday's move puts additional burden on a bullpen already without closer Mariano Rivera. Robertson finished five games this season and was 0-1 with a 2.51 ERA and one save. With Rivera likely out for the season with a torn knee ligament, Robertson...
When Mariano Rivera's ACL blew out in Kansas City earlier this month it signaled the biggest blow to Yankees' dominance since their World Series victory 1996. Instead of having a guarantee equivalent to death and taxes in the ninth inning, the Yanks were now forced to be like "everyone else" and wonder if their closer could secure the final three outs. Or were they? Enter...
BALTIMORE -- First Mariano Rivera, now David Robertson. The New York Yankees are running out of healthy pitchers to put in the closer's role. Robertson was placed on the 15-day disabled list Tuesday with a strained muscle in his left rib cage. The right-hander was working as the fill-in closer for Rivera, who is likely sidelined for the season after tearing a knee ligament May...
For every snarky article I've recently written about Roger Clemens, I've been determined to counteract it with a "feel good" story. As of last weekend, that story was going to be about Mariano "Mo" Rivera. For those of you living in the closet, Rivera is the greatest living (if not the all-time greatest) closer in baseball history. About two weeks ago, Rivera injured...
These fans don't seem to be confident.
Felix Doubront and Mariano Rivera are learning the hard way that pitchers probably should just stick to pitching. Both were injured during batting practice this year, with Rivera tearing his ACL tracking down a fly ball and Doubront getting hit by an errant fungo. NESN Nation's Dan Duquette is figuring it's probably best for all parties involved if pitchers hide to make sure...
Like any closer not named Mariano Rivera, Jonathan Papelbon had his fair share of ups and downs during his seven seasons with the Red Sox. There were times when he was the most dominant closer in the game and others when it felt like no lead was safe with him on the mound. Whether he was succeeding or failing, however, Papelbon always managed to maintain his eccentric personality...
Shagging fly balls is just a part of the baseball experience. Players do it as kids and it just becomes engrained as a routine activity before games. This season has been the prime example of when shagging flyballs can go bad, though. First it was Rays pitcher Jeremy Hellickson, who was rushed to the hospital after being hit by a home run ball during batting practice on April 11...
Every draft day I keep delaying taking closers and the early portion of the season has taught me that this strategy is smarter than I thought. If you sit back and take no closers on draft day, you will still have your choice of a dozen or so closers eventually. That is the number of teams that will be forced to change horses at some point in the campaign. Even Mariano...
Yankees News

Delivered to your inbox

You'll also receive Yardbarker's daily Top 10, featuring the best sports stories from around the web. Customize your newsletter to get articles on your favorite sports and teams. And the best part? It's free!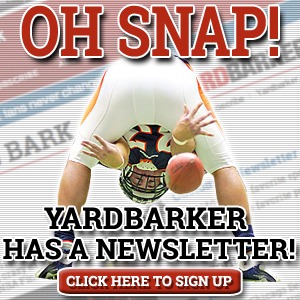 Latest Rumors
Best of Yardbarker

Today's Best Stuff

For Bloggers

Join the Yardbarker Network for more promotion, traffic, and money.

Company Info

Help

What is Yardbarker?

Yardbarker is the largest network of sports blogs and pro athlete blogs on the web. This site is the hub of the Yardbarker Network, where our editors and algorithms curate the best sports content from our network and beyond.