Found June 29, 2012 on Fox Sports:
Madison Bumgarner is quick to remind Brandon Belt who hit the first home run between them this year. Yes, the pitcher won that one. And it is Bumgarner taking the credit for getting Belt back on track, too. All but gone are those constant ''Baby Giraffe'' references to Belt and his long neck that he dealt with all of last season as a rookie, when someone even sent a giraffe plant to the clubhouse as a gift. While he has never minded his nickname much, he is a lot happier now being known for something else. At last, the talk has turned to Belt's long swing. He is emerging as a steady force in the lineup the way the San Francisco Giants had so hoped he would. It has been quite a process to get to this point, and this is only his second major league season. ''I think the game has slowed down and it has simplified,'' Belt said. ''I was trying to force hits out of myself.'' Some fans were down on him, others wanted him to just get his shot. Belt's bosses were growing impatient as he struggled to make the adjustments despite all the extra work with hitting coach Hensley Meulens. He even heard friendly razzing from Bumgarner when the pitcher hit his first home run of the season before Belt had even cleared the fences. As Belt's home run drought stretched into months, he tried everything to tweak his approach for more productive at-bats. Standing up tall in the batter's box in a new stance seems to have done the trick. ''The doubt kind of creeps into your head and you kind of question yourself a lot when you're not doing so well,'' Belt said. ''But when you have the support of the fans out there it kind of gives you a little positive light when you're kind of in a dark place sometimes, so I definitely appreciate it.'' Playing every day sure has helped his cause. He recently had a career-best, 11-game hitting streak, with four home runs and 12 RBIs during that span. He is batting .303 (20 for 66) in June after he hit .230 in the season's opening two months. ''It's not easy when you're making some changes. It takes time to get comfortable,'' manager Bruce Bochy said. ''He has worked hard at it. He was closed off quite a bit, and that kept him from using his legs probably as much as you'd like a hitter to use. He had trouble using the whole field. He was going to left field very well but he had trouble turning on the ball because he was blocking himself out. He's gotten a little more upright, and that's helped free him up, too.'' Then came that elusive home run. Bumgarner connected on June 12 against Houston, then Belt finally hit his first longball of the year just five innings later. ''I take credit for getting him hot,'' Bumgarner joked during a recent series in Oakland. ''He didn't hit a home run until I did. He was embarrassed.'' Belt can laugh about it all now. Now that he is doing what the Giants believed he could all along when they gave him a spot on the 2011 opening day roster - who can forget that made-for-TV moment of Bochy breaking the news and Belt breaking down in tears? ''Yeah, he probably can (take credit),'' Belt said a few minutes later upon being told of Bumgarner's remarks. ''I was pretty upset he hit a home run before me. Kind of lit a fire under my butt and got started.'' Now that Belt has emerged as a regular in the Giants' lineup, he is showing the consistency the Giants had been so patiently - well, sort of - waiting to see. ''It probably helped Brandon knowing he's going to be out there every day,'' Bochy said. Belt never had a legitimate chance to find his rhythm with the Giants last season, The soft-spoken Texan, who stands 6 foot 5, always has said the right thing along the way. He would keep working until his time came. Whenever his name was written into the lineup, he promised to be ready. Struggling at baseball's highest level hasn't been easy on Belt, a power left-handed hitter and sure-handed first baseman selected with San Francisco's fifth-round draft pick in 2009. Last year alone, he bounced between the big leagues and Triple-A Fresno while having four stints with the Giants. He also spent time on the disabled list with a hairline fracture in his left wrist after he was hit by a pitch from St. Louis' Trever Miller last June. That's after he earned his shot in 2011 thanks to sizzling minor league statistics. He batted .352 with 23 home runs and 112 RBIs in 136 games between high Class A, Double-A and Triple-A in 2010. He wound up with 76 extra-base hits, a .455 on-base percentage, drew 93 walks and stole 22 bases in 2010. Now, Belt has come a long way since his uncertain status at the start of this season, when Brett Pill stuck around to share time at first while playing primarily against left-handed pitchers. Aubrey Huff also would play first and some left field. Now, Pill is at Triple-A Fresno, Huff is on the disabled list after injuring himself celebrating Matt Cain's perfect game on June 13, and Belt is now the guy. Until that recent hitting streak, Belt had never experienced such a run in the majors. ''No, not at this level. Not even close,'' he said. ''That's why it's so nice just to get up here and know that on any given at-bat that I can help contribute and help be productive. So that's just my main goal right now.''
Original Story:
http://msn.foxsports.com/mlb/story/Be...
THE BACKYARD
BEST OF MAXIM
RELATED ARTICLES
It's rather surprising, but coming into tonight, Madison Bumgarner had never thrown a complete game. 67 starts, most of them good, and yet none of 'em lasted nine innings. He had pitched into the ninth inning on a couple occasions, but never a complete game. In any event, his first career complete game finally came tonight, and he was really as good as ever. Miguel "how is...
Cincinnati kicked off its longest road trip of the season with a thud, managing only three baserunners against Giants starter Madison Bumgarner. Then again, no one's been having much luck offensively against San Francisco these days. Ryan Hanigan's leadoff single in the sixth inning was the only hit by the Reds in a 5-0 loss to the Giants on Thursday night, San Francisco...
Madison Bumgarner took a no-hitter into the sixth inning and finished with a one-hitter and the San Francisco Giants beat the Cincinnati Reds 5-0 Thursday night. Bumgarner (10-4) completed his first career game with his first shutout as the Giants tossed four consecutive shutouts for the first time in franchise history. Bumgarner walked one and struck out eight in winning his fifth...
SAN FRANCISCO (AP) -- Madison Bumgarner took a no-hitter into the sixth inning and finished with a one-hitter and the San Francisco Giants beat the Cincinnati Reds 5-0 Thursday night. Bumgarner (10-4) completed his first career game with his first shutout as the Giants tossed four consecutive shutouts for the first time in franchise history. Bumgarner walked one and struck out eight...
1). Trevor Bauer ARI SP  3 IP 4.50 ERA 3 SO His first outing wasn't the most promising, but you have to give the guy some slack with it being his first career start. All signs point to him being a stud from here on out with loads of strikeouts for your fantasy staff. 2). Brandon Belt SFG 1B/OF .259 AVG 17 R 4 HR 29 RBI  4 SB Belt has been hot of late hitting four home runs in...
If you look close, you may be able to find some help on the waiver wire. As the All-Star Break approaches, usually the most attractive names on the waiver wire are top prospects who get called up. However, there are some players available in many leagues who are putting up respectable numbers. Beware, these aren't stars, but guys that can fill in if you have a hole due to injuries...
Wow. Tonight's game was so masterful, I'm almost at a loss for words to describe it. Madison Bumgarner was the best I've ever seen him, shutting down a good lineup like they were the Rangers on Halloween. He pitched in, out, up, down, and made one simple mistake of not intentionally walking Ryan Hanigan. But man, that slider. It deserves a postgame wrap of its own. Bumgarner...
The San Francisco Giants pitching is running smooth like a well oiled machine. Madison Bumgarner tossed a 1 hit shutout to an outstanding Reds offense. The G-men haven't allowed a run since Sunday (36 scoreless innings) in Oakland. That's the longest streak in franchise history since 1948. Bumgarner is also the first Giants pitcher to hit double digits (10) in the win column...
Hanigan recorded the Reds' only hit off Bumgarner. The West Coast never seems to be nice when the Redlegs visit, and Thursday evening turned into a very unfriendly welcome. The Reds (41-34) and Giants (44-33) met up as Cincinnati began an 11-game road trip on the left coast. San Francisco won 5-0. Johnny Cueto (L 9-4, 2.26) struggled with command a bit, but still ended...
The Cincinnati Reds' Johnny Cueto and San Francisco Giants' Madison Bumgarner both have a chance to go unbeaten in the month of June. While Cueto has experienced great success against the Giants, the same can't be said for Bumgarner versus the Reds. With Cueto looking to win a career-best fifth straight start and Bumgarner seeking a fifth consecutive winning decision...
The Giants set a new San Francisco-era record with Madison Bumgarner's one-hit shutout of the Cincinatti Reds: they have gone 36 straight innings without giving up a run. The streak snaps the previous record of 35 scoreless innings pitched, set by the 1960 squad, from May 10-14 and is the longest such streak since the Giants rotation pitched 31 scoreless from September...
The Giants threw their fourth straight shutout last night, beating the Reds 5-0 behind a complete game one-hitter from Madison Bumgarner. Combined with three straight shutouts against the Dodgers earlier this week, the Giants are just on an unreal roll right now. Their bullpen has gotten some time off as well, throwing a total of just six innings over the past four games...
MLB News

Delivered to your inbox

You'll also receive Yardbarker's daily Top 10, featuring the best sports stories from around the web. Customize your newsletter to get articles on your favorite sports and teams. And the best part? It's free!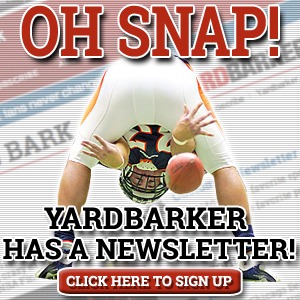 Latest Rumors
The Backyard

Today's Best Stuff

For Bloggers

Join the Yardbarker Network for more promotion, traffic, and money.

Company Info

Help

What is Yardbarker?

Yardbarker is the largest network of sports blogs and pro athlete blogs on the web. This site is the hub of the Yardbarker Network, where our editors and algorithms curate the best sports content from our network and beyond.