Found May 10, 2013 on The Daily Stache:
It was this post that I wrote after Matt Harvey's brilliant start on Tuesday that started it all. I had a ton of respect for Adam Rubin and how he covered the team. I never took his snark seriously and honestly felt bad for the way Omar Minaya shouted him out in 2010. Most people who I proudly call my friends through the #MetsTwitter world thought I was nuts. They cursed his name and his morals when it came to handling the people that follow him. I basically ignored it to be honest. I have worked as a freelance sports reporter in the past covering different high school teams in Westchester county. When I started, I knew that anything you write can be considered a slight and you will be called out on it. It is part of the job. I can freely admit that I'm not exactly a stone wall when it comes to reacting to negative press about my writing. It sucks when people hate your work or think you are stupid. But, I understand it comes with the territory. Some of you reading this are probably thinking this is sour grapes and I'm just complaining for no reason. That I deserved to be blocked by him after calling him out. You might be right and I will be more than happy to admit I'm wrong if I'm proven to be wrong. I'm not perfect by any means. Rubin on the other hand seems to think otherwise. I'm not even the only person on this website to have been blocked by Rubin. Susana, Mark, Scott, and Devon are also esteemed members of this club who also write for the site. There are also plenty of #MetsTwitter members that are also apart of this club that keeps growing and growing seemingly by the day. So I was wondering, now that I'm apart of this esteemed club, what is life like after Adam Rubin blocks you. I asked some of the more prominent members of the club to chime in and educate not only myself, but you all as well in case you get to join the club as well. "I'd say it's better. No Pre TV spoilers!" – @DevOnSports (I call the part where Rubin tweets the result before it happens on TV getting "Rubined") "I think my overall outlook on the Mets is way, way sunnier. I mean W A Y sunnier. I'll stop there." – @_mistermet "I've just lost all respect for a really good writer. For someone who reports about accountability, it's pathetic that he did what he did. His job is to criticize and analyze moves. He was absolutely dead wrong about Harvey and cried when he got called out on it. Plus the fact that he #HasLobby" – @ttlsportsblog "I offered Rubin the chance to come on our show, non-confrontational, and talk about his process. He doesn't have the decency to decline" – @TheHappyRecap What you see are basically the typical answers you hear from the members of the #MetsTwitter world that have been blocked by Adam Rubin. They have moved on to bigger and better things with guys like Jared Diamond, Marc Carig and other beat writers who understand the job is both work and fun. The final salvo will come from my good friend Jon Presser whom you may know as @MetsJetsNets88 on #MetsTwitter. His dislike for Adam is very well known. The story you see is basically what to expect if you haven't been blocked by him before. "I'll preface this by mentioning that I unfollowed Rubin many moons ago, as I often find the general tone of his tweets to be condescending and patronizing. Of course, as to be expected, I'd still see people re-tweeting him on my timeline, as he occasionally tweets something noteworthy. I believe it was after Sandy Alderson had his offseason season-ticket holder event, and Rubin was clearly pretty butthurt about Alderson giving access to MERE COMMON FOLK instead of the media." What happened next was this… @adamrubinespn you calling someone else condescending is hilarious. and you wonder why no one of substance respects you. — Jon Presser (@metsjetsnets88) January 31, 2013 Jon continues by saying… "He blocked me once he figured out that I don't follow him and he can't send a snarky DM my way. Well, as it turns out, Adam Rubin blocking me has made my Twitter experience far more enjoyable. Now his tweets rarely find their way into my timeline, and it's quite refreshing. It's much more preferable than before. The bottom line? #MetsTwitter is better without Rubin and his tweets. Period." I stand by my article about Adam earlier this week. I see no problem in calling him out for a tweet that, quite frankly, was written when he was taking jokes about himself way too seriously. He is a professional writer that has a job that myself and many other people would love to have. He's clearly reached that point in the beat writing world where the transition from a happy person to a curmudgeon has happened. If he has a problem with what I have written or this article, I invite him to e-mail me and we can talk about this and maybe have peace. If he decides not too, I wont lobby him for a response and I wont lose sleep over it. I don't care that my site is not on the blog roll of the Mets blog on ESPN-New York. I don't care if Adam has an issue with me or my staff members and I really don't care what he thinks of this site overall. Beat Writers are not above bloggers or fans. They have the easiest job in the world and life will go on without his nonsense. As you can see above, plenty of people are happy without him. There is a life after being blocked by him and it is a nice one. At the end of the day, I hope you Grow up & Man up Adam. You might like your job again if you do. The post Blocked By Adam Rubin: Is There An After Life? appeared first on The Daily Stache.
Original Story:
http://dailystache.net/blocked-by-ada...
THE BACKYARD
BEST OF MAXIM
RELATED ARTICLES
Yeah, yeah, yeah; another story about how amazing Matt Harvey is. Harvey is the best pitcher the Mets and their fans have seen on the hill in quite some time and things just keep getting better. The right-hander retired 27 of 28 hitters across nine shutout innings in his last start and looked pretty awesome doing it with a bloody nose. Harvey has not lost a single start this season...
Matt Harvey placed an exclamation point on his excellent start to the season Tuesday night with 9 one-hit innings, let's take a look at how he's doing it with a slant towards the visual. Harvey is one of the hardest throwing starters in the league on a typical night, and he had a little extra on his stuff against the WhiteSox, averaging over 95 miles per hour on his fastball...
Before getting started, I want to send out Happy Mother's Day wishes to all the mother's out there, especially my wife, metsfanbymarriage. May all your children respect and treat you well, just as you do day in and day out, year after year. A Happy Birthday shout out to my comrade and partner in crime, longislandmetfan. Today Mets Ace Matt Harvey takes the mound to try...
Once upon a time, not so long ago, the Mets had a top ten prospect named Zack Wheeler who was deemed the heir apparent to their oft-maligned rotation.  It had to be Wheeler, who would assume the role of staff ace.  Especially with the controversial trade of surprising knuckleballer, RA Dickey.  It seemed unanimous that Wheeler, his high nineties fastball, and array of formidable...
One of my greatest wishes as a relatively young Mets fan is wanting to have seen Tom Seaver pitch. Sure, I've seen the highlight videos and World Series tapes that portrayed his dominance, but it's still not the same as seeing the best pitcher in Mets' history actually toe the rubber. However, albeit still very early, we younger Mets fans are seeing firsthand what it was like...
One of my greatest wishes as a relatively young Mets fan is wanting to have seen Tom Seaver pitch. Sure, I've seen the highlight videos and World Series tapes that portrayed his dominance, but it's still not the same as seeing the best pitcher in Mets' history actually toe the rubber. However, albeit still very early, we younger Mets fans are seeing firsthand what it was like...
Matt Harvey was a prospect you heard about from the New York Mets but Zack Wheeler has been the bigger name.  Wheeler is still down in the minors and has even been struggling at the beginning of this year.  Harvey was called up last year and has never looked back, he continues to get better and could even be an All Star this season.  It is his rookie season, his first full year...
Gary Green, CEO of the Class AAA Omaha Storm Chasers, had the privledge and honor of tossing out the ceremonial first pitch at Citi Field on Tuesday night prior to Matt Harvey's manhandling of the White Sox (even with a bloody nose). Gary should have probably practiced a few more times prior to launching the first pitch, because it did not end well. Gary launched his toss with...
Matt Harvey and Zack Wheeler headline a handful of budding young pitchers who hope to one day bring the New York Mets organization back to relevance again. Harvey,  in his first full season, is doing his best to do just that–as exemplified by his near-perfect, nine shutout frames in Tuesday night's walk-off victory by the Whitestone kid, Mike Baxter–and Wheeler is knocking...
I'll be completely honest with you. I was at the Rangers game tonight. I don't have quite as good a record as Matt Harvey does at Ranger games, but it was a very workmanlike performance by me as the Rangers tied up their series against the Caps 4-3. (And by workmanlike performance, I mean ... I did nothing to help.) And I really had the best of intentions to come...
If you look at the Mets starting pitchers not named Matt Harvey, they have not been able to go deep into games of late.  On Saturday, the Mets bullpen had to pitch four or more innings for the eighth time in their last twelve games which has left the unit tired and limited. They called up funky throwing Greg Burke after sending Jeurys Familia to the DL in an effort to give the bullpen...
Mets News

Delivered to your inbox

You'll also receive Yardbarker's daily Top 10, featuring the best sports stories from around the web. Customize your newsletter to get articles on your favorite sports and teams. And the best part? It's free!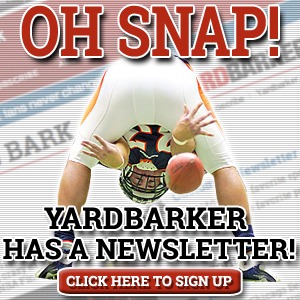 Latest Rumors
Best of Yardbarker

Today's Best Stuff

For Bloggers

Join the Yardbarker Network for more promotion, traffic, and money.

Company Info

Help

What is Yardbarker?

Yardbarker is the largest network of sports blogs and pro athlete blogs on the web. This site is the hub of the Yardbarker Network, where our editors and algorithms curate the best sports content from our network and beyond.