Found July 19, 2012 on MyTeamRivals.com:
My mother had a saying: "If not for bad luck, you would not have any luck at all." I am sorry to say that I now need to pass that sentiment down to Phillies pitcher Cliff Lee. Can this poor guy get a break already? Lee's misfortunes have certainly not all been out of his own control. But it does seem like whenever he is on top of his game, the rest of the team lets him down. Did he spill the salt? Break a mirror? Walk under a ladder? Or did a black cat cross his path? Whatever is causing the bad mojo seriously needs to stop. Lee went 8 innings against the Dodgers allowing only 2 hits and 1 run on a solo homer that probably should have been caught. And he would have kept pitching if his team had scored more than 1 run for him. But he had to be pulled for a pinch hitter. In a game that wound up going 12 innings, the Phillies basically lost it in that first inning when John Mayberry Jr. failed to utilize his 6'6" frame to reach up and catch that home run ball which barely made it over ...
Original Story:
http://www.mtrmedia.com/2012/07/blown...
THE BACKYARD
BEST OF MAXIM
RELATED ARTICLES
In sports, the term 'anchoring' refers to when fans develop an opinion based off of a specific series of events and hold steadfastly to that opinion regardless of what subsequently transpires. Most of the time anchoring occurs at the start of a season, when a hot or cold stretch can mislead fans into under- or overvaluing certain players. When preformed opinions join anchoring...
Hamels and the Phils are working. (AP) This could be the most positive news to come about regarding Cole Hamels and the contract talks with the Phillies. Jayson Stark of ESPN.com says talks have intensified between the two sides as the Phillies look to lock up their ace before the trade deadline, and well before he can hit free agency this winter. From Stark: The Philadelphia Phillies...
Photo: Philliedelphia/Steve Trapani The Phillies have won four-games-in-a-row since losing the first game of the second-half. Last night, Roy Halladay made his return to baseball and allowed just two earned runs over five innings to take the no-decision. In the eighth inning, Hunter Pence smacked a two-run double to give the Phillies the 3-2 lead, saving Doc from the loss. It seems...
As the last-place Philadelphia Phillies began to string together a few wins and showed signs of life with Ryan Howard, Chase Utley and Roy Halladay back, there was one unsolved issue that lurked in the background: Even with a healthy lineup and rotation, the bullpen remained an unpredictable mess. Season-ending injuries to Jose Contreras, David Herndon and Mike Stutes left the...
As the police detectives in the critically acclaimed "The Wire" are putting together a wire-tap case in an effort to bring down the drug trade in Baltimore, veteran Lester Freamon offers a few words of wisdom: "All of the pieces matter." The translation: no small shred of evidence should be ignored, just as one big break could make a case. As Major League Baseball...
With their fourth straight win, a 3-2 victory over the Los Angeles Dodgers, and the latest news out of Phillies camp, they could be buyers, or do nothing, as the trade deadline approaches. Oh, there may be a small trade for a reliever, or a minor outfielder trade, but … It is reported in several Web sites that the Phillies have offered $130 million, six-year contract to Cole Hamels...
Off the top of your head — if you had to name the catcher who's having the best season — which player would it be? Your first guess might be Yadier Molina, considering he's been such a steady, well-rounded player who posted five seasons in a row with more than +3 wins. But maybe it's Joe Mauer, the guy who's returning to form after his injury. Or maybe defensive stud...
The last place Phillies have a dilemma on their hands. Even with the returns of Chase Utley and Ryan Howard, coupled with the upcoming return of Roy Halladay, the Phillies chances of making the playoffs are slim. On top of that, they have quite a few contracts that will make it hard for the team to improve in the off-season. I have a few options that could help them out. With Cole...
San Francisco Giants (51-41) at Philadelphia Phillies (41-52) Tim Lincecum (3-10, 5.93) vs. Vance Worley (5-5, 3.47) Time: 7:05, Citizens Bank Park TV: PHL 17, MLBN Weather: Thunderstorms, 73 Media: Twitter and Facebook The Phillies return to Citizens Bank Park to face the San Francisco Giants, who are currently in first place in the National League West. The Dodgers will throw...
The Phillies aren't likely to be trading any prospects at the trading deadline, but their system still has some up-and-coming young players who would be enticing to other clubs.
PETER NASH on ALREACHAs a young boy, Al Reach peddled newspapers on Broadway and soon after cut his teeth as an amateur ballplayer on the sandlots of Brooklyn in the late 1850s. In the 1860s he was one of the game's first paid professionals as a member of the Athletic Base Ball Club of Philadelphia and by the close of the nineteenth-century he had become one of the most prominent...
Final: Phillies 3, Dodgers 2  WP: Kyle Kendrick (3-8, 4.71  ERA) LP: Ronald Belisario (3-1, 2.18 ERA) SV: Jonathan Papelbon (21 Saves, 3.00 ERA) The Phillies have now won four games in a row, are are going for the sweep on Wednesday versus the LA Dodgers. In Roy Halladay's return, the Phillies were able to defeat the Dodgers 3-2. Although Halladay didn't get the win, he...
MLB News

Delivered to your inbox

You'll also receive Yardbarker's daily Top 10, featuring the best sports stories from around the web. Customize your newsletter to get articles on your favorite sports and teams. And the best part? It's free!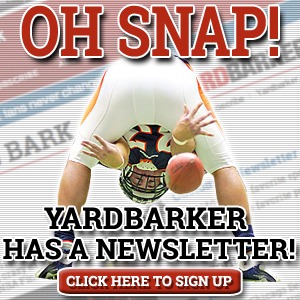 Latest Rumors
Best of Yardbarker

Today's Best Stuff

For Bloggers

Join the Yardbarker Network for more promotion, traffic, and money.

Company Info

Help

What is Yardbarker?

Yardbarker is the largest network of sports blogs and pro athlete blogs on the web. This site is the hub of the Yardbarker Network, where our editors and algorithms curate the best sports content from our network and beyond.