Found July 31, 2012 on hardballchat.com:
PLAYERS:
Steve Delabar
,
Eric Thames
,
Ichiro Suzuki
,
Travis Snider
,
Brad Lincoln
,
Brandon Lyon
,
David Carpenter
,
Andrew McCutchen
,
Clint Hurdle
,
Alex Presley
,
Jose Tabata
,
Starling Marte
,
Brandon League
,
Leon Landry
,
Logan Bawcom
,
Randy Choate
TEAMS:
Seattle Mariners
,
Toronto Blue Jays
,
New York Yankees
,
Pittsburgh Pirates
,
Los Angeles Dodgers
The Toronto Blue Jays and Seattle Mariners swung two deals respectively (one with each other) in order to shore up areas of need moving down the stretch. Obviously, both teams are in different places in terms of the pennant race. The Blue Jays are still holding onto hope that they can sneak into one of the two wild card openings while the Mariners are ready to prepare for next season. Both teams made significant progress towards those goals.
The two started off with each other. The Mariners sent Steve Delabar to the Blue Jays in exchange for Eric Thames. This is one of those old-fashioned deals where a team sends someone they don't really want or need to another team to get something they do need. The Blue Jays have been desperate for arms to help them get through the grueling days of summer. Delabar is hardly a shut down reliever, but he has been solid this season for the Mariners. He has a 4.17 ERA despite some very strong strikeout to walk numbers.
The crux of his problem has been the home run ball. Of the 23 hits he has surrendered this season, nine of them have been home runs. The Blue Jays are hoping the small sample size has skewed the results on that. Delabar has fanned 11.3 hitters per nine innings, so he has a nice live arm and should fit well into the Blue Jays' middle relief.
Eric Thames goes from the Blue Jays to the Mariners. He had a very promising 2011 trial in the final few months. He hit 12 home runs and appeared to have locked down the left field job for the Blue Jays. 2012 has been a struggle for Thames as his lack of plate discipline (40 Ks in 160 PA) has caught up with him. Still, he is only 25 years old and more than capable of being a productive corner outfielder. Goodness knows, the Mariners need productive outfielders after dealing away Ichiro Suzuki and having a revolving door in left field for several years.
The two teams made separate deals to add to their pitching and outfield depth respectively. The Blue Jays dealt left fielder Travis Snider to the Pirates in exchange for Brad Lincoln. The 27 year old Lincoln has been a swing man for the Pirates in his short career. He started five games this season, but really has made a name for himself in the bullpen. In 59.1 innings he managed a 2.73 ERA. The Blue Jays have already announced that he would be added to their pen. When you add up Lincoln, Delabar, Brandon Lyon, and David Carpenter you get quite an infusion of arms to the pen.
As for the Pirates, they have had the same issues as the Mariners in terms of outfielders. Andrew McCutchen may very well be the MVP of the National League in center field, but right and left field have been black holes. Snider is 24 years old, but seems like he should be older than that. He has been up since 2008, but has never been able to stick. He's off to strong start this season, but his best year came in 2010 when he hit 14 home runs in more than 300 plate appearances.
He may not be the answer for the Pirates in left field, but he does give Clint Hurdle more options as the Pirates try to keep in the playoff hunt. Hurdle has been juggling Alex Presley, Jose Tabata, Starling Marte, and a host of others up until this point. The Pirates are still trying to land a more substantial outfielder, but Snider will certainly help in terms of depth.
The Mariners traded former closer Brandon League to the Dodgers in exchange for Leon Landry and Logan Bawcom. Landry is only in advanced A, but he is showing some promise with the bat. He has a .917 OPS in the California League and has shown impressive speed as well. Bawcom is a promising young pitcher who could replace League within a year. He's split time between AA and advanced A this season and combined to have a 2.03 ERA and 20 saves.
As for the Dodgers, League is the second significant relief pitcher they have acquired in the last week (Randy Choate). League has a 3.63 ERA and nine saves this season, but that was seen as a disappointment following his 37 save season in 2011. Still, this year approximates his career performance, so the Dodgers are getting a solid 7th to 8th inning reliever. When you include Choate you see a much deeper bullpen than they had even a week ago. Both the Cardinals and the Rangers showed the importance of bullpen depth last season and the Dodgers appear to be ready for that kind of series.
Original Story:
http://www.hardballchat.com/2012/07/b...
THE BACKYARD
BEST OF MAXIM
RELATED ARTICLES
The Blue Jays placed designated hitter Adam Lind on the disabled list with strained back. The move was made retroactive to July 26. To fill Lind's roster spot, the Blue Jays recalled first baseman David Cooper from Triple-A Las Vegas. Toronto currently has 12 players on the disabled list. Lind, who also played first base, was having a resurgent month after spending time...
Gambling Insight Blue Jays vs M's Game 1 The suddenly hot Mariners are 11-6 since the All-Star break after victimizing the Royals for the franchise's first four-game sweep since 2005. Toronto Blue Jays vs Seattle Mariners Monday July 30 Safeco Field – Seattle, WA 10:10 PM Moneyline: Toronto -120, Seattle +110 O/U: 7.5 PITCHING MATCHUP: Blue Jays LH Ricky Romero (8-7, 5.75...
The Pittsburgh Pirates, a surprise contender in the NL Central and wild-card races, made a move to bolster their offense Monday, acquiring outfielder Travis Snider from the Toronto, according to multiple media reports. The Blue Jays reportedly will receive right-handed reliever Brad Lincoln. Snider, 24, was pulled from Toronto's game at Seattle in the seventh inning after...
#Bluejays have traded Snider to the #Pirates for RHP Brad Lincoln.#Jays — Mike Wilner (@Wilnerness590) July 31, 2012 Hold on while I pull myself together.
I'm not sure what umpire Tony Randazzo did to Mariners catcher Jesus Montero, but Montero sought out (ok, not really) Randazzo with a line drive Monday night.  Montero took a Ricky Romero fastball back through the box and Randazzo couldn't get out of the way of it. The thirteen-year veteran umpire took it in the upper ribs and went down for a few minutes before shaking it off...
Carlos Villanueva is now 6-0 after his Toronto Blue Jays beat the Detroit Tigers on Friday night 8-3 ,  Villanueva gave up only four hits, two earned runs, two walks and struck out two batters in five innings pitched. "Just a well pitched ballgame by everyone who came to the mound against a deep and powerful lineup," said Jays mananger, John Farrell in Friday's post game...
Last week, I mentioned that the Blue Jays had a very interesting trade chip in Travis Snider. Late tonight, Toronto cashed in that trade chip, sending Snider to Pittsburgh for Brad Lincoln.  On the surface, this doesn't seem like very good value for Snider. Lincoln's "just a reliever", but a good one, He's been a crucial part of Pittsburgh's bullpen...
Per a tweet tonight from the Mariners twitter account we've learned the Seattle Mariners have acquired two prospects from the Los Angeles Dodgers in exchange for RHP Brandon League. The minor leagues coming back the M's way are OF Leon Landry and P Logan Bawcom. More to follow.
The Pittsburgh Pirates have traded pitcher Brad Lincoln to the Toronto Blue Jays for outfielder Travis Snider. Snider was pulled after the sixth inning of Monday night's game at Seattle. The Blue Jays and Pirates announced the deal shortly thereafter. Snider went 1 for 2 with a walk in his final game for Toronto. The 24-year-old began the day batting .235 with three home runs...
A busy Monday night continues, with the Seattle Mariners trading former closer Brandon League to the Los Angeles Dodgers in exchange for outfield prospect Leon Landry and pitcher Logan Bawcom. The 29-year old (really, he's 29?!) League is a closer in title only, though he does have a fastball that averages 95 mph. His stats this year are disappointing, with a line drive...
Here's the running list of Brandon League rumors leading up to the trade deadline: – The San Francisco Giants are still involved on right handed pitcher Brandon league reports Jon Paul Morosi of FOXSports. – The Seattle Mariners are still trying to move League according to Jon Paul Morosi of FOXSports. Sources close to him say that the Dodgers have inquired about him. Image...
From the La Crosse Tribune Richard Prigatano knew he wasn't ready. When the Toronto Blue Jays drafted Prigatano in the 16th round of the 2011 draft, he recognized it as "a big moment, a big accomplishment." But common sense overcame the temptation to jump into the minor leagues immediately after high school. Prigatano instead headed to Long Beach State and gave...
MLB News

Delivered to your inbox

You'll also receive Yardbarker's daily Top 10, featuring the best sports stories from around the web. Customize your newsletter to get articles on your favorite sports and teams. And the best part? It's free!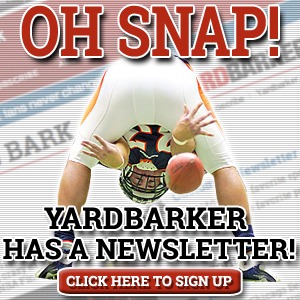 Latest Rumors
Best of Yardbarker

Today's Best Stuff

For Bloggers

Join the Yardbarker Network for more promotion, traffic, and money.

Company Info

Help

What is Yardbarker?

Yardbarker is the largest network of sports blogs and pro athlete blogs on the web. This site is the hub of the Yardbarker Network, where our editors and algorithms curate the best sports content from our network and beyond.