Found January 17, 2013 on Pirates Prospects:
PLAYERS:
Brad Hawpe
,
Todd Helton
,
Dustan Mohr
,
Clint Hurdle
,
Matt Hague
,
Jeff Larish
,
Matt Curry
,
Clint Robinson
TEAMS:
Texas Rangers
,
Colorado Rockies
,
Pittsburgh Pirates
,
San Diego Padres
,
Toronto Blue Jays
,
Tampa Bay Rays
,
Florida State Seminoles
BRAD HAWPE CORNER OUTFIELDER   Born: June 22, 1979 Height: 6'3″ Weight: 210 Bats: Left Throws: Left Drafted: 11th Round, 317th Overall, 2000 (Rockies) How Acquired: Minor League FA College: Florida State University Agent: Dan Horwits WTM'S PIRATE PLAYER PROFILES Hawpe was a solid slugger with the Rockies, posting extremely similar numbers from 2006-09.  He declined quickly, though, once he got past 30, and has also been handicapped by elbow problems.  He was platooned early in his career and usually has been kept to a limited number of ABs against LHPs.  He hasn't always struggled against them; his career OPS is .493 against RHPs and .430 against LHPs.  His good years mostly were not a result of Coors Field.  He had an extreme platoon split in one of those four years, a large reverse platoon split in one, and very small platoon splits in the other two.  Hawpe split his time between first and the outfield corners in the minors, but with Todd Helton entrenched at first in Colorado, he's mostly played right field in the majors.  He doesn't run well and, at least according to most defensive metrics, is a terrible defensive outfielder, although not bad at first. 2000 A-:  288/398/502, 205 AB, 19 2B, 2 3B, 7 HR, 40 BB, 51 K, 2-2 SB  Hawpe hit well in his short-season debut.  He split his time between first and left. 2001 A:  267/363/506, 393 AB, 22 2B, 3 3B, 22 HR, 59 BB, 113 K, 7-11 SB Hawpe continued to hit well, although with a high K rate, in low A.  He split his time between first and right. 2002 A+:  347/447/587, 450 AB, 38 2B, 2 3B, 22 HR, 81 BB, 84 K, 1-2 SB The Rockies continued moving Hawpe one level per year.  He spent the whole season in the Carolina League despite the fact that he had a breakout year, including much-improved walk and K rates.  He played first exclusively. 2003 AA:  277/338/503, 346 AB, 27 2B, 17 HR, 31 BB, 84 K, 1-4 SB In AA, Hawpe's hitting returned to more or less the levels at which it had been prior to 2003. 2004 AAA:  322/384/652, 345 AB, 19 2B, 1 3B, 31 HR, 36 BB, 91 K, 3-5 SB MLB:  248/322/400, 105 AB, 3 2B, 2 3B, 3 HR, 11 BB, 34 K, 1-2 SB Hawpe put up huge power numbers in the great hitting environment at Colorado Springs.  With Todd Helton blocking his way at first, the Rockies played him exclusively in the outfield in AAA.  They called him up in May and again in September, and he held his own in the majors, albeit with strikeouts in a third of his ABs. 2005 AAA:  464/559/893, 28 AB, 3 2B, 3 HR, 6 BB, 7 K, 0-0 SB MLB:  262/350/403, 305 AB, 10 2B, 3 3B, 9 HR, 43 BB, 70 K, 2-4 SB  Hawpe opened the season with the Rockies, platooning in right with Dustan Mohr and seldom facing LHPs.  He missed most of July and all of August with a strained hamstring.  His hitting, including his walk and K rates, was solid but he didn't show much power. 2006 MLB:  293/383/515, 499 AB, 33 2B, 6 3B, 22 HR, 74 BB, 123 K, 5-10 SB  Hawpe had his first big season with the Rockies, starting a string of four years in which he put up very similar numbers.  Manager Clint Hurdle continued to limit Hawpe's exposure to LHPs, as he got only 76 plate appearances against them.  Oddly, he hit much better on the road, with a .966 OPS compared to .822 at Coors. 2007 MLB:  291/387/539, 516 AB, 33 2B, 4 3B, 29 HR, 81 BB, 137 K, 0-2 SB Hawpe had his best season, including his only 100-RBI (116) season.  This time he took full advantage of Coors, posting a 1.017 OPS at home and .831 on the road. 2008 AAA:  019/167/091, 11 AB, 1 BB, 4 K MLB:  283/381/498, 488 AB, 24 2B, 3 3B, 25 HR, 76 BB, 134 K, 2-4 SB Hawpe missed a little time with a hamstring sprain, but otherwise had a similar season to the two previous.  He started playing more often against LHPs and posted an .826 OPS against them.  His OPS was only 30 points higher at Coors than on the road. 2009 MLB:  285/384/519, 501 AB, 42 2B, 3 3B, 23 HR, 79 BB, 145 K, 1-4 SB  Hawpe had his last good year.  He again didn't have a large home/road split, with an OPS only 27 points higher at Coors. 2010 A+ (Colo):  250/250/250, 4 AB, 2 K A+ (TB):  167/444/167, 6 AB, 3 BB, 1 K AAA (Colo):  222/300/333, 9 AB, 1 2B, 1 BB, 3 K MLB (Colo)  255/343/432, 259 AB, 21 2B, 2 3B, 7 HR, 36 BB, 68 K, 2-3 SB MLB (TB):  179/304/333, 39 AB, 2 HR, 6 BB, 17 K  Hawpe missed a little time in April, but still posted a 1.174 OPS in 15 games for the month.  For the rest of the season, though, he hit just .227.  Coors kept him afloat, as he posted a .931 OPS there, over 300 points higher than what he hit everywhere else.  The Rockies released him in August.  Tampa Bay picked him up a few days later. 2011 MLB:  231/301/344, 195 AB, 10 2B, 4 HR, 19 BB, 68 K  The Padres signed Hawpe as a free agent for 2011.  He struggled both at Petco and on the road, then had Tommy John surgery in August. 2012 AA:  260/382/382, 123 AB, 6 2B, 3 HR, 25 BB, 39 K, 0-1 SB The Rangers signed Hawpe as a minor league free agent, released him at the end of spring training, then signed him again a few days later.  Other than drawing walks, he struggled in AA.  He also missed time with elbow stiffness in May.  The Rangers released him in June at his own request, as he was unable to earn a promotion above AA, and he didn't play the rest of the year. The Pirates signed Hawpe to a minor league deal for 2013, with an invitation to major league camp.  He'll have a very difficult time making the major league roster out of spring training and faces heavy competition for playing time even in AAA.  Indianapolis likely will have Hawpe, Matt Hague, Jeff Larish and Matt Curry, and possibly Clint Robinson as well, all competing for more or less the same role.  It's possible Hawpe has an out clause in his contract in the event he fails to make the major league roster. STATS Baseball Reference–Majors Baseball Reference–Minors Fangraphs MLB.com MiLB.com CONTRACT INFORMATION 2005: $317,000 2007: $403,000 2008: $3,925,000 2009: $5,500,000 2010: $7,500,000 2011: $2,000,000 2013: Minor League Salary PLAYER INFORMATION Signing Bonus: N/A MiLB Debut: 2000 MLB Debut: 5/1/2004 MLB FA Eligible: 2016 Added to 40-Man: 11/20/2002 Options Remaining: 0 MLB Service Time: 7.058 TRANSACTIONS June 3, 1997: Drafted by the Toronto Blue Jays in the 46th round, 1344th overall pick. June 5, 2000: Drafted by the Colorado Rockies in the 11th round, 317th overall pick; signed on June 21. November 20, 2002: Contract purchased by the Colorado Rockies. August 24, 2010: Released by the Colorado Rockies. August 27, 2010: Signed as a free agent by the Tampa Bay Rays. November 7, 2010: Became a free agent. January 3, 2011: Signed as a free agent by the San Diego Padres. October 30, 2011: Became a free agent. January 20, 2012: Signed as a minor league free agent by the Texas Rangers. March 30, 2012: Released by the Texas Rangers. April 6, 2012: Signed as a minor league free agent by the Texas Rangers. June 19, 2012: Released by the Texas Rangers. January 17, 2013: Signed as a minor league free agent by the Pittsburgh Pirates.
Original Story:
http://feedproxy.google.com/~r/Pirate...
THE BACKYARD
BEST OF MAXIM
RELATED ARTICLES
ARLINGTON, Texas Playing catch for a baseball player doesn't seem like that big of a deal. It was for Texas right-hander Neftali Feliz Friday. Feliz played catch for the first time since he had Tommy John surgery last August. He was at Rangers Ballpark as part of the team's winter pitching camp. Feliz said he was a little nervous playing catch but he's cleared...
ARLINGTON, Texas All you have to know about how the Texas Rangers are trying to build their team for the future is look at their starting rotation. Yu Darvish is under contract through 2017. Derek Holland's current contract could run through 2018. Alexi Ogando is under team control through the 2016 season. And after Matt Harrison signed a five year, 55-million deal that...
Baseball fans always knew Nolan Ryan could bring the heat for the Texas Rangers. This upcoming season, more than ever, the team president is bringing the beef at Rangers Ballpark. And the dogs. Thats because his company Nolan Ryans All-Natural Beef has been selected as the exclusive hot dog and beef provider at Rangers Ballpark. Ryan, who can normally be found sitting next...
Pitcher Matt Harrison has agreed to a five-year, $55 million deal with the Texas Rangers, multiple media outlets reported Wednesday. The left-handed Harrison, 27, is scheduled to make $13 million over the first two years combined, but he will make $13 million in each of the final three seasons, according to ESPNDallas.com. There is a $13.25 million option for 2018, and that...
Derek Holland has had a little extra pep in his step the last couple of days. That's because the Texas left-hander found out he'd be part of Team USA's squad for the World Baseball Classic this spring. Holland was one of four starting pitchers selected for the team's provisional squad Thursday, joining Toronto's R.A. Dickey, San Francisco's Ryan Vogelsong...
A person familiar with the deal says the Texas Rangers and All-Star pitcher Matt Harrison have agreed to a $55 million, five-year contract. The deal includes an option for a sixth season, according to the person, who spoke to The Associated Press on condition of anonymity Wednesday night because the team hadn't announced the agreement. Several media outlets had reported the...
The Texas Rangers and 27-year old left-handed starter Matt Harrison have agreed to a five-year contract extension (with an option for a sixth year) worth $55 million. Harrison has had just two full seasons in the majors, but has compiled 8.2 fWAR over those two years. Harrison had a 3.39 ERA in 2011, and had a 3.29 ERA in 2012. Harrison doesn't strike many hitters out, totaling...
Matt Harrison and the Texas Rangers are working on a possible long-term contract extension.  The last thing he needs is to risk injury unnecessarily.  That means Harrison will not be playing in the World Baseball Classic.  The 27-year old lefty was invited to play for Team USA, but he has declined. Harrison said he was declining the invite because of the number of innings...
Apparently it was smart for Matt Harrison to skip the World Baseball Classic and focus on contract negotiations and preparing for the 2013 season.  He and the Texas Rangers have agreed to a five-year contract extension.  After the 2012 season, Harrison's extension quickly became a top priority for the club. Jeff Wilson of the Fort Worth Star-Telegram reported last night...
Yu Darvish has his partner at the top of the Rangers' rotation for the next few years. Matt Harrison and the Rangers agreed Wednesday night to a five-year, $55 million dollar contract, making the 27-year-old an official piece of the Rangers' ever-impressive core. However, where Darvish has the ideal profile for a hitters' heaven like Texas — swing-and-miss stuff with every...
All 16 nations who qualified for the 2013 World Baseball Classic announced their provisional rosters for the tournament on Thursday. Lone Star Dugout profiles the eight Texas Rangers players and prospects who will appear in the WBC this March.
The Texas Rangers insured the heart of their rotation would be locked up longer than President Barack Obama will be in office. Left-hander Matt Harrison became the third member of the rotation to earn a long-term contract when he and the Rangers signed a five-year deal worth $55 million on Jan. 17. The deal carries a club option that could be vested based on innings pitched, giving...
MLB News

Delivered to your inbox

You'll also receive Yardbarker's daily Top 10, featuring the best sports stories from around the web. Customize your newsletter to get articles on your favorite sports and teams. And the best part? It's free!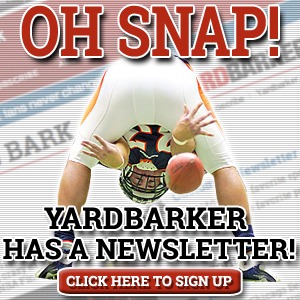 Latest Rumors
Best of Yardbarker

Today's Best Stuff

For Bloggers

Join the Yardbarker Network for more promotion, traffic, and money.

Company Info

Help

What is Yardbarker?

Yardbarker is the largest network of sports blogs and pro athlete blogs on the web. This site is the hub of the Yardbarker Network, where our editors and algorithms curate the best sports content from our network and beyond.