Found December 03, 2012 on Fox Sports South:
PLAYERS:
BJ Upton
,
Michael Bourn
,
Chipper Jones
,
Martin Prado
,
Ryan Ludwick
,
Cody Ross
,
Angel Pagan
,
Josh Willingham
,
Dexter Fowler
,
Jason Heyward
,
Ichiro Suzuki
,
Andrelton Simmons
TEAMS:
Atlanta Braves
,
Cincinnati Reds
,
Boston Red Sox
,
San Francisco Giants
,
Minnesota Twins
,
Colorado Rockies
,
New York Yankees
Frank Wren calls it his "new hit list." When Wren, the Atlanta Braves' general manager, arrived at the Gaylord Opryland Hotel in Nashville Sunday afternoon, his plan for this week's Winter Meetings was already outlined. There were clear targets on his mind. By the time he and his staff met Monday morning, the hit list was finalized: Atlanta needs a left fielder, and there's never a better time to hone in on available (or potentially available) players than at baseball's annual frenzy of free agent pickups, trades and executive bartering. "I think this morning, more than anything, we strategized as to who we liked the most to fill out our club," Wren said on a Monday radio interview in Nashville. With the signing of free agent center fielder B.J. Upton the highest-paid Braves player in team history, no less Wren addressed his franchise's biggest question mark entering the offseason. Would the team re-sign speedy leadoff hitter Michael Bourn or let him walk and find a replacement? Upton, obviously, stepped in. However, perhaps the trickier question still remains on the table for the Braves. Chipper Jones' retirement has further jumbled last season's dominant Atlanta outfield, as the ever-so-useful Martin Prado will likely fill in at third base. Finding one quality outfielder in a rather underwhelming free agent market is one thing, finding two requires a hit list. A pickup at third base would allow Prado to stay out in the grass, but that list of names is thought to be even shorter. "(Left field) is the focus, but it's just so hard. Really, there's a limited number of guys that fit that description that are available," Wren said of a left fielder who can hit in Bourn's lead-off spot. "We met, like I said, this morning just going through all the clubs re-hashing it, and we've done it several times this offseason. But, you know, there's certain guys get traded, certain guys sign, so it changes the marketplace a little bit." Wren's options are not of the big-name variety. The popular suspects are thought to be free agents Ryan Ludwick,Shane Victorinoand Cody Ross, each of which incites his own share of pros and cons for Braves' supporters to discuss. Angel Pagan was thought to be on the radar before he re-signed for four years with the Giants. A problem the team ran into with Pagan and could run into again with Victorino and others is that the free agent market has dictated three-year contracts or longer for such outfielders, which is reportedly more than the Braves are willing to pay out. Also, with a limited supply, the demand has forced prices to go up as well. Trade options are always on the table, but the most-desirable trade avenue Upton's younger brother, Justin, an All-Star on the Diamondbacks likely comes with a steep asking price. It's possible, though. It depends on how much the team is willing to send Arizona's way. Josh Willingham, a .260 hitter with the Twins, has also garnered buzz but is not believed to be available. Rockies' speedster Dexter Fowler is another name that's been thrown into mix. Of course, all of that could change at the Winter Meetings, where, seemingly every season, a surprise deal is struck. "I think there's fewer big names," Wren said, "and that's the reason, quite frankly, why we were so aggressive going out early. We knew once a couple of these guys went off the board you might be left with nothing." Jumper cables The general consensus, as Wren addressed, is that the Braves are pursuing an outfielder to not only pair with Jason Heyward and Upton, but also a guy who can step into a lead-off role. With Bourn gone (or, still pursuing a big-time contract on the open market), the Braves would like to find someone to set the table for what looks to be a young, dynamic middle of the lineup with Heyward, Upton, Prado and first baseman Freddie Freeman. Along those same lines, some have floated the name of free agent Ichiro Suzuki, a veteran contact hitter and future Hall of Famer as a possible table-setter. Victorino might also fit this role, but is reported to have numerous multi-year offers on the table. If the Braves go in a different direction than a lead-off hitter, Prado or incumbent shortstop Andrelton Simmons are also candidates to fill Bourn's role.
Original Story:
http://www.foxsportssouth.com/12/03/1...
THE BACKYARD
BEST OF MAXIM
RELATED ARTICLES
When Chipper Jones came on the scene in 1993, the Atlanta Braves were beginning one of the best runs in the history of Major League Baseball. The Braves had won the past 2 division titles, the first 2 of a storied run of 14-straight division titles. Chipper Jones was part of 12 of them. With the likes of Glavine, Smoltz, Maddux, McGriff, and Justice, Chipper joined a roster of some...
The Atlanta Braves rebounded from their disastrous 2011 finish to claim one of the wild card spots in 2012. Under the new rules they played a one game playoff and went on their way. All things told, it was a successful season for the Braves. The Cardinals did them in again just like they did last year, but the whole exercise of patience (unlike their friends from Boston) worked out...
NASHVILLE Filling a stated need for a veteran corner infielder, the Diamondbacks signed Eric Hinske to a one-year contract Tuesday noon. Hinske, 35, fits about all of general manager Kevin Towers criteria he is a left-handed bat with pop who can play first base and third base and also is versatile enough to take a turn in outfield. He also is considered a quality clubhouse presence...
According to Jon Heyman of CBSSports.com, the Phillies are among the teams interested in former Phillies centerfielder Michael Bourn. Bourn was traded by the Phillies prior to the 2008 season to the Houston Astros as part of the package to acquire Brad Lidge. Lidge went on to have his "perfect...
A person familiar with the negotiations says free agent Eric Hinske has agreed to a one-year contract with the Arizona Diamondbacks. The person spoke on condition of anonymity Tuesday because the agreement had not been finalized. A veteran of 11 major league seasons, Hinske spent the last three years with the Atlanta Braves. He hit .197 with two homers and 13 RBIs in 132 at-bats...
"Now batting 4th for your Philadelphia Phillies...number 32, Josh Hamilton?" (Photo courtesy of Wikipedia) As another free agent option bites the dust, the pickings at center field are getting slimmer by the day. Early last week, NL East divison rival the Atlanta Braves signed B.J Upton, viewed as the "cream...
You already know about this, because you're a normal person in 2012. I just thought I should reiterate, because I'm a blogger and it is my self-appointed job to regurgitate news that you already know and pretend like you need to hear it from me to make myself feel important. We all wanted to continue the Pagan worship that we enjoyed last season-- but at a reasonable cost...
With no baseball action to distract us from the countless rumors circling the internet, the MLB winter meetings are like the trade deadline on steroids. It's just  baseball's best and brightest minds talking shop all day long and us baseball nerds fanatics just soak it all in. Of course, every move that is made, whether it's major or minor, has an impact on the fantasy universe...
MLB News

Delivered to your inbox

You'll also receive Yardbarker's daily Top 10, featuring the best sports stories from around the web. Customize your newsletter to get articles on your favorite sports and teams. And the best part? It's free!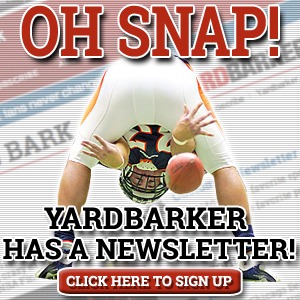 Latest Rumors
The Backyard

Today's Best Stuff

For Bloggers

Join the Yardbarker Network for more promotion, traffic, and money.

Company Info

Help

What is Yardbarker?

Yardbarker is the largest network of sports blogs and pro athlete blogs on the web. This site is the hub of the Yardbarker Network, where our editors and algorithms curate the best sports content from our network and beyond.