Found October 21, 2012 on hardballchat.com:
PLAYERS:
Heath Bell
,
Yordy Cabrera
,
Hanley Ramirez
,
Josh Johnson
,
Alex Rodriguez
,
Chris Young
,
Cliff Pennington
,
JJ Putz
,
Kevin Towers
,
David Hernandez
,
Seth Smith
,
Coco Crisp
,
Stephen Drew
TEAMS:
Miami Marlins
,
Arizona Diamondbacks
,
Oakland Athletics
,
Los Angeles Dodgers
,
New York Yankees
My colleague, Rob Kelley, already took a look at the big three team deal involving the Miami Marlins, Arizona Diamondbacks, and Oakland Athletics before from the Marlins perspective. I don't know if I can add much to the soap opera since Rob has covered it so ably, but maybe we can look at these things from a more pure baseball perspective. Miami Marlins Perspective To say that the Marlins gave Heath Bell away for nothing would be an absolute insult to Yordy Cabrera, but let's be real here. When you trade someone that was once on of the top five closers in the game you expect to get more than one minor league infielder. Cabrera was a second round pick by Oakland back in 2010. He has a .230/.297/.351 slash line at the minor league level. Let's just say that if Cabrera is going to make it, he is going to have to start hustling. The Marlins will pick up eight million of the 21 million remaining on Bell's two years. So, they save thirteen million over the next two seasons. They saved all of Hanley Ramirez's remaining contract as well. This is where I must differ from my colleague. He has accused the Marlins of bad management in this situation. They have cut and run on two different occasions, but it is still not clear as to what the mission is here. If they simply cut Ramirez and Bell and have no plans to retool or if they include Josh Johnson in the fire sale then it is fair to question what is going on. One things is clear: they have saved a lot of money on next year's payroll. The question is what they plan to do with it. If it turns into Alex Rodriguez then you can't accuse them of being cheap. Stupid maybe, but not cheap. Arizona Diamondbacks Perspective When you consider the money coming the Dbacks way on Heath Bell, they actually come out slightly ahead on the exchange of shipping Chris Young and a little cash to Oakland. So, what are they thinking here? Simply put, they have a glut of outfielders and dealing Young is simply the beginning. For their benefit, they also get Cliff Pennington in return. So, they may have filled their hole at shortstop in addition to adding a bullpen arm. In 2011, they added J.J. Putz to be their closer even though he had failed in New York in 2009. He did return to have a solid 2010 season in Chicago, but he had only three saves. So, some questioned his acquisition as well. Kevin Towers is most comfortable when asked to construct a bullpen. Bell could bounce back, but if he doesn't he isn't exactly being asked to carry the pen. They still have David Hernandez to setup for Putz and plenty of support on top of that. If Bell does return then it gives them the deepest bullpen in the division. In 2011, Cliff Pennington hit .264 with eight home runs and 58 RBIs. It may not look like much, but the Dbacks would love that kind of production from their shortstop. Those numbers dipped to .215 and 6 home runs last season. That made him expendable, so the Dbacks and Athletics have essentially traded shortstops in the last few months. Oakland Athletics Perspective If the yardstick by which we measure a trade is by asking who got the best player then the Athletics likely won the deal by getting Chris Young. It's a question as to what the A's will do now that they have five starting outfielders (counting Seth Smith). Young is a career .239 hitter, but he averaged more than 20 home runs a season and 20 steals a season in his three seasons before 2011. This might open the door for the A's to deal Coco Crisp to get some help somewhere else, but when you throw in the fact that the Dbacks traded Stephen Drew to them, the Dbacks may have single-handedly filled all of the A's holes. They had to surrender Yordy Cabrera and Cliff Pennington. I think they'll manage. The post Breaking Down the First Offseason Deal appeared first on Hardball Chat Baseball Blog.
Original Story:
http://www.hardballchat.com/2012/10/b...
THE BACKYARD
BEST OF MAXIM
RELATED ARTICLES
ENJOY YOUR STAY?
Heath Bell's first season with the Marlins was a disappointment, which is why he has been traded to the Diamondbacks in a three-team deal that also Chris Young to Oakland.
The Miami Marlins traded reliever Heath Bell to the Diamondbacks on Saturday as part of a three-team deal.
The Arizona Diamondbacks got an early start to their offseason as they announced that they have acquired Marlins relief pitcher Heath Bell and Cliff Pennington of the Oakland Athletics. The Athletics will receive outfielder Chris Young from the D'backs while the Marlins will receive prospect Yordy Cabrera. The D'backs will also receive an unknown amount of cash.
Tweet     Last offseason the Miami Marlins signed Heath Bell to a three-year $27 million contract in hopes of him solidifying the back end of their bullpen. That didn't happen. The veteran finished the season with a 5.09 ERA, 1.55 WHIP, had the second most blown saves in MLB with 8, and ended up [...]
The Oakland Athletics acquired outfielder Chris Young and cash considerations from the Diamondbacks for middle infielder Cliff Pennington along with minor-league shortstop Yordy Cabrera to Arizona. Arizona then turned around and traded Cabrera to the Miami Marlins in exchange for relief pitcher Heath Bell and cash considerations. I'm assuming Miami will be paying more than half...
PHOENIX (AP) -- Heath Bell became the latest player jettisoned by the Miami Marlins when he was dealt Saturday to the Arizona Diamondbacks, who also acquired infielder Cliff Pennington from the Oakland for outfielder Chris Young. Arizona obtained Pennington and minor league infielder Yordy Cabrera from Oakland for Young and cash, then sent Cabrera to the Miami Marlins for Bell and...
The Miami Marlins continue to make moves as they acknowledge the fact that they are further away than ever from competing for a spot in the postseason, this time jettisoning failed closer Heath Bell to the Arizona Diamondbacks in a three team trade that basically turned into a salary dump. But was the deal consummated to please manager Ozzie Guillen and give him a fresh start, or...
The Arizona Diamondbacks were rather busy Saturday, acquiring two new players and re-signing a third in just a few hours' time. First, the D-backs exercised a $6.5 million option to keep closer J.J. Putz on the team for the 2013 season. Putz saved 32 games in 37 opportunities this season with a 2.82 ERA. After a slow start in which Putz had ERAs of 4.70 and 7.71 in April...
The Arizona Diamondbacks have acquired reliever Heath Bell and infielder Cliff Pennington in a pair of trades that sent outfielder Chris Young to the Oakland Athletics. Arizona obtained Pennington and minor league infielder Yordy Cabrera from Oakland for Young and cash, then sent Cabrera to the Miami Marlins for Bell and cash. Earlier in the day, Arizona exercised a $6.5 million...
Will Ozzie Guillen stick around?  Time will tell. With a beautiful new ballpark opening, 2012 was supposed to be a different Marlins.  No longer designated the "Florida" Marlins and ready to take the City of Miami by storm by renaming the team the "Miami" Marlins and changing their uniforms to Miami's flag's colors.  In came free agents Jose Reyes...
Well, there was no baseball on Saturday...sad face. BUT, that doesn't mean that the day was dominated by college football. The Marlins, Diamondbacks, and A's completed a three team trade that sent Heath Bell to the Diamondbacks and Chris Young to the A's, and the Red Sox finally pried John Farrell away from the Blue Jays, hiring him to be their new manager in exchange...
After going crazy in the free agent market last offseason, the Miami Marlins are going to be taking a bit of a different approach this offseason. Heath Bell has already been banished from Miami, and he joined Hanley Ramirez, who was traded in July, in the NL West. Anibal Sanchez was also dealt in July, and is now playing in the World Series. But Miami still has some holes, and it...
MLB News

Delivered to your inbox

You'll also receive Yardbarker's daily Top 10, featuring the best sports stories from around the web. Customize your newsletter to get articles on your favorite sports and teams. And the best part? It's free!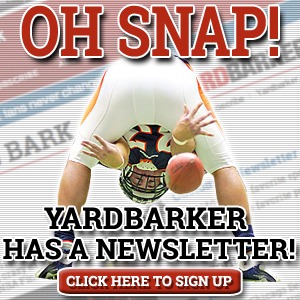 Latest Rumors
Best of Yardbarker

Today's Best Stuff

For Bloggers

Join the Yardbarker Network for more promotion, traffic, and money.

Company Info

Help

What is Yardbarker?

Yardbarker is the largest network of sports blogs and pro athlete blogs on the web. This site is the hub of the Yardbarker Network, where our editors and algorithms curate the best sports content from our network and beyond.