Found March 09, 2013 on Bronx Pinstripes:
With the official announcement earlier this morning that Mariano Rivera will be retiring at the end of the 2013 season, the BronxPinstripes writers have assembled their fondest moments of the all-time saves leader. Since 1996, Rivera has been at the forefront of some of the biggest Yankee wins. He's made countless memories for Yankee fans everywhere along the way. Here are just a few that stand out with our writers: *     *     *     *     * Mo throws a pitch in Game 6 of the 1996 World Series (Photo Credit Yahoo!). Brian Capozzi Saturday October 26, 1996 World Series Game 6 New York Yankees 3, Atlanta Braves 2 My favorite memory of Mariano Rivera was in Game 6 of the 1996 World Series. It was the top of the 8th inning, and the Yankees had a 3-1 lead. Mariano, the setup man for John Wetteland entered the game in the 7th, and shut the Braves down. In the 8th, with 2 outs, Mariano struck out the last batter of the inning to send the stadium into a frenzy. I can't remember ever hearing the stadium as loud since. The Yanks were on the brink of winning their first World Series since 1978 and Mo was as cool as a cucumber. That was the moment I knew we had someone special.   Mariano Rivera collapses on the mound as Aaron Boone circles the bases in Game 7 of the 2003 ALCS Matthew Golda Thursday October 16, 2003 ALCS Game 7 New York Yankees 6, Boston Red Sox 5 in 11 innings My distinguishing memory from the great Mariano Rivera has to be game 7 of the 2003 ALCS against the Red Sox. The Yanks/Sox rivalry was at its peak and the two teams were battling into extra innings for a spot in the World Series. Rivera pitched 3 scoreless innings, a rarity for a closer, but when it is possibly the last game of the season, you attempt to defy conventional wisdom and do anything you can to win. And, on that night, Rivera did just that. His 3 scoreless innings got the Yankees to the bottom of the 11th, where Aaron "Bleepin" Boone hit the first knuckleball he saw from Tim Wakefield deep into the night sky and the Yankees were on their way to the World Series. Amidst the exuberance, Rivera showed a rare moment of emotion when he made his way onto the field and collapsed on top of where he belongs, the pitcher's mound, the mound he so masterfully commanded earlier that night. It could not have happened any other way. Mo earns his first career RBI on the same night he earns his 5ooth save (Photo Credit nj.com). Ryan Nakada Sunday June 28, 2009 Subway Series New York Yankees 3, New York Mets 2 This could be because it is an in state rivalry, always like beating the Mets, or maybe it's because it is a first I can say I witnessed of Mariano Rivera's legendary career. On June 28, 2009, with the Yankees visiting the Mets at Citi Field, Mariano Rivera was called on for a four out save. Of course this was not the first of his career; though he would be going for his 500th career save. It was what happened in the 9th inning that was a first. Mets closer Francisco Rodriguez was always known for being a wild pitcher and it produced the unexpected, Rivera's first career run batted in. With the bases loaded, it took 7 pitches, including a ball Rivera fouled off, but a high 3-2 pitch would let Rivera take first base and send the crowd into an uproar as the lead increased en route to 500 career saves. The great Mariano Rivera showed he can do just one more thing. Rivera celebrates winning the pennant in 2009, like he's done it 100 times before (Photo Credit NY Post) Rich Kaufman Sunday October 25, 2009 ALCS Game 6 New York Yankees 5, Los Angeles Angels 2 It's hard for me to single out one Rivera moment and call it a favorite. However, on this night in 2009, Rivera showed what he has been about over his entire career in Baseball. We often see relievers jump and dance around on the mound after a big out. Rivera always acted like he's done it before. He always treated a save in October the same way as a save in April. Even-keeled, cool and calm with class and dignity. Rivera struck out Gary Matthews Jr. to send the Yankees to the World Series for the first time since 2003. From looking at the picture, you would have no idea Rivera just secured the pennant.   Mariano announces his intentions to retire after the 2013 season (Photo Credit: New York Yankees Media Relations) Dan Pfeiffer Mariano's retirement announcement Saturday March 9, 2013 This morning's news conference. When push comes to shove, this morning was the biggest reminder of an athlete who became a superstar in New York, yet didn't let the big city feel get to him. He emerged as not only a great ballplayer, but as an all-around class act. To me, this morning's news conference was all the things that define Mariano Rivera: classy, humble, and yet, still the greatest of all-time. When I remember Mariano Rivera, I'll remember that news conference, and remember him not only as the greatest pitcher of all-time, but as one of the highest-class individuals ever to don pinstripes.   Few players have been more dominant and consistent as Rivera. Dan Hickey Rivera's consistency 1996-2013 When I think about my favorite Mariano Rivera moment, memories readily flood my mind: his 602nd save, his 3-inning masterpiece in Game 7 of the '03 ALCS, his MVP performance in the '99 World Series, the final save at Yankee Stadium. To sift through the trove of incredible moments in his Hall of Fame career is nearly impossible. What I will remember about Mo after he walks off the field for the last time is his remarkable consistency. For the last 17 years every time he strode out of the bullpen we knew we were about to witness greatness in its purest form. Precision. Focus. Execution. Game in, game out. Season after season. No one has done it better in the history of baseball. No one has presided over more saves, postseason saves, or series-clinching saves than Sandman, but what sets him apart even more is how he did it. His supreme talent, his unflappability, his humility, and his class in victory and defeat makes Mo peerless in a game crowded with superstars. To put it simply: we will never see another one like him.   Mo trots in from the 'pen as "Enter Sandman" blares throughout the Stadium Suzanne Bange Enter Sandman 1998-2013 I don't have one specific instance that is my favorite of Mariano. I think '96 left a "ring" on all our hearts. We hadn't won a World Series in how long? Since the 70′s? It was the heyday of the "Core Four" and the dominant mix of Mo, fresh to the majors, in late relief and John Wetteland. Mariano's played such a vital role over the years and maybe single-handedly won a couple of World Series or "saved" them. I certainly see him as the best closer in history and most fascinating because his consistency in mowing down the league's best hitters has been incredible. It's like he drank from the baseball fountain of youth. The guy still throws as well if not better then when he was a rookie. I know no other song played at any sporting event will have the same effect as "Enter Sandman." A pitcher's struggling, you see number 42 start getting loose in the 'pen, pitching coach comes out to the mound, and cue Metallica. Every time I've been there in person, a spark of excitement tingles down my spine, I get teary-eyed (I'm a nerd, I know), the crazy dude with the long hair rockin' out on his air-guitar is up on the big screen and Rivera trots in. Yankee Nation can feel a sense of relief and closure, that whatever the score may be in the top of the ninth, it's sure as hell gonna stay that way with him closing, and either our offense has a chance to come back in the bottom or another win is sealed. It's hard to win over fans to the point where they not only love you but have utter trust in you that you aren't going to let crucial games slip away. We felt secure with him out there, something that young newbie pitchers don't give the fans. So depressing to see him go, but THANKS FOR ALL THE GREAT MEMORIES, MO!
Original Story:
http://bronxpinstripes.com/yankees-hi...
THE BACKYARD
BEST OF MAXIM
RELATED ARTICLES
ESPN and other various sources are reporting this morning that veteran New York Yankees reliever Mariano Rivera is planning to retire after the 2013 season. The announcement is planned for 10 a.m. on Saturday from the Yankees Spring Training complex in Tampa, Florida. Rivera, 43, is returning to the mound after season ending ACL surgery last season. He returns to the diamond this...
The New York Post and ESPN.com reported that tomorrow the greatest closer to ever played the game, New York Yankees Mariano Rivera will officially announce Yankees Mariano Rivera on May 25th, 2008 vs. Seattle Mariners. that he is hanging up his glove at the end of this 2013 season. Joel Sherman of the NY Post learned that Rivera had had recently asked to speak privately with Hal...
Last year at this time we thought we might have seen the last of Mariano Rivera. it is possible everyone but Rivera thought he was done and that we wouldn't see him pitch again. He is Baseball's all time saves leader with 608 saves. Chances are pretty good that he will add to that number during this season. He is a first ballot Hall Of Famer, no doubt. And to think he was a failed...
(Eds: With AP Photos.) By TIM DAHLBERG AP Sports Columnist The last save will be the toughest of them all for Mariano Rivera. The cities and stadiums will all be familiar after 18 years crisscrossing the country, glove in hand. The reception in what will be his final season may be different because even fans who never wanted to see him get the last out will want to see his last...
Mariano Rivera is hanging it up after this upcoming season makes me sad. No, not because we're going to be seeing the last of the game's greatest closer ever.  Rather, with his retirement, the epic experience of him jogging in from the bullpen to the sounds of Metallica's "Enter Sandman" will also be leaving the game.  Now, as awesome as Rivera trotting...
As expected, New York Yankees closer Mariano Rivera, one of the greatest relievers to ever play the game--if not the greatest, announced Saturday morning that the 2013 season will be his last in Major League Baseball. Your browser does not support iframes. Rivera begins the 2013 season as the career saves leader (608) and games finished (892).
The Yankees won the World Series in 1996, but it wasn't before the team came close to making a move that would have significantly altered New York's future. Yankees general manager Brian Cashman retold a story to the New York Daily News' Mark Feinsand recently. Apparently, the Bronx Bombers came close to trading away legendary closer Mariano Rivera during spring training in...
TAMPA, Fla. (AP) -- Derek Jeter and Mariano Rivera returned from injuries to make their 2013 spring training debuts Saturday in the New York Yankees' 2-1 loss to the Atlanta Braves. The 38-year-old Jeter was a designated hitter and singled sharply to left field on his first pitch since breaking his left ankle on Oct. 13 in the AL championship series opener. Jeter, who missed...
Joel Sherman of the New York Post and ESPN's Buster Olney report legendary New York Yankees reliever Mariano Rivera will announce Saturday his plans to retire after the 2013 season. Hence, the upcoming campaign will be a yearlong farewell to the greatest hurler in the annals of Major League Baseball. The 43-year-old Rivera, a 12-time All-Star and five-time AL Rolaids Relief Man...
Haven't done a link dump in a while, figured I'd start today: - Richard Justice calls the Yankees trio of Mariano Rivera, Derek Jeter and Andy Pettitte "a timeless classic" in this article for MLB.com. - Joel Sherman says that Mariano was what separated the Yankees from everyone else. I would have to agree. - After CC Sabathia sim game today, he's...
MLB News

Delivered to your inbox

You'll also receive Yardbarker's daily Top 10, featuring the best sports stories from around the web. Customize your newsletter to get articles on your favorite sports and teams. And the best part? It's free!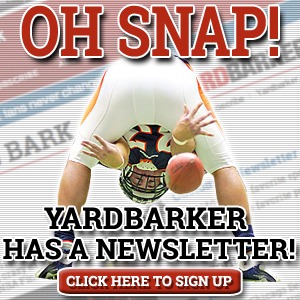 Latest Rumors
Best of Yardbarker

Today's Best Stuff

For Bloggers

Join the Yardbarker Network for more promotion, traffic, and money.

Company Info

Help

What is Yardbarker?

Yardbarker is the largest network of sports blogs and pro athlete blogs on the web. This site is the hub of the Yardbarker Network, where our editors and algorithms curate the best sports content from our network and beyond.