Found January 14, 2013 on Bronx Pinstripes:
PLAYERS:
Gary Sanchez
,
Mason Williams
,
Tyler Austin
,
Manny Banuelos
,
Jose Campos
,
Brett Marshall
,
Ramon Flores
,
Jose Ramirez
,
David Adams
,
Austin Romine
,
Mark Montgomery
,
Corban Joseph
,
JR Murphy
,
Nick Goody
,
Dellin Betances
,
Adam Warren
,
Melky Mesa
,
Chase Whitley
,
Cito Culver
,
Alex Rodriguez
,
Kevin Youkilis
,
Francisco Cervelli
,
Chris Stewart
,
Matt Diaz
,
Ronnier Mustelier
,
Rob Segedin
,
Brett Gardner
,
Dante Bichette Jr
TEAMS:
New York Yankees
Gary Sanchez has been named as BronxPinstripes.com's top preseason prospect (Photo Credit: MiLB.com) The baseball season is almost upon us, which means it is time for BronxPinstripes.com to release its first edition of prospect rankings for the 2013 season. Our final rankings from last year, completed in August just days after the trade deadline, featured the same one-two punch at the top, but things have been greatly shaken up from the third spot on down. To qualify for this list, a player must simply still maintain their Rookie of the Year status for 2013. Full write-ups on all thirty of these future Bronx Bombers can be found here. Please, feel free to comment. A lot of work has put into this list and everyone would like to hear what you think. So tell us, who do you disagree with? Who would you put on the list that is not on here? Rank Name POS Age 1 Gary Sanchez  C 20 2 Mason Williams  OF 21 3 Tyler Austin  OF 21 4 Slade Heathcott  OF 22 5 Manny Banuelos  LHP 21 6 Rafael DePaula  RHP 21 7 Angelo Gumbs  2B 20 8 Jose Campos  RHP 20 9 Brett Marshall  RHP 22 10 Ramon Flores  OF 20 11 Ty Hensley  RHP 19 12 Jose A.Ramirez  RHP 22 13 David Adams  2B 25 14 Austin Romine  C 24 15 Mark Montgomery  RHP 22 16 Nik Turley  LHP 23 17 Bryan Mitchell  RHP 21 18 Corban Joseph  2B 24 19 Gregory Bird  1B 20 20 Ravel Santana  OF 20 21 JR Murphy  C 21 22 Dante Bichette Jr  3B 20 23 Nick Goody  RHP 21 24 Dellin Betances  RHP 24 25 Adam Warren  RHP 25 26 Melky Mesa  OF 25 27 Chase Whitley  RHP 23 28 Cito Culver  SS 20 29 Austin Aune  SS 19 30 Giovanny Gallegos RHP 21   Top Five Minor Leaguers to make an impact in the Bronx in 2013 David Adams, IF – At 25 years old, Adams' time to make it to the major-leagues is running out. Some (myself included) advocated for Adams to get a chance to fill in for the injured Alex Rodriguez as part of a platoon to start the season. Instead, the Yankees signed frequently injured Kevin Youkilis. With Youkilis' injury history, coupled with Adams' ability to hit everything and play adequate defense at both second and third base, it is likely he will get a chance to break in at some point during the 2013 season. Austin Romine, C – How long do you think fans will tolerate the Francisco Cervelli/Chris Stewart catching combination? Romine's bat may not be ready for the show, but fans will likely demand he be given a chance over a pair of light-hitting veterans sooner rather than later. At least this way, Romine could have a chance to prove he belongs past the 2013 season. Matt Diaz, OF – Okay, maybe I'm cheating with this one a bit. Diaz was signed to a minor-league contract by the Yankees and given an invitation to Spring Training. As a right-handed hitting outfielder, the veteran Diaz could break camp with the team if he impresses more than newly acquired Russ Canzler and homegrown outfielder Melky Mesa. Chase Whitley, RP – The 23-year-old is considered "ready now" by many major league scouts, and will likely see time in the Yankees bullpen this season. If injuries strike or Whitley looks phenomenal in Spring Training, there is a chance Whitley could break camp with the big league squad. Ronnier Mustelier, 3B/OF – At 28 years old, Mustelier is too old to be considered a prospect. However, he has been successful at the plate at every level he has played at so far, and many believed last year that he would eventually make the major leagues. Mustelier is tiny, standing just 5-foot-7, but can provide versatility off the bench for the Yankees at some point in 2013. Reports state that Mustelier is an above-average defensive third baseman and an average outfielder.   Top Five Breakout Candidates Gregory Bird, C/1B – Bird owns a legitimate bat and seems likely to begin the season in full season ball, which could lead to a big-time power display in the SALLY league. If his bat indeed comes alive, Bird could spring into the top ten of our next set of rankings. Rob Segedin, 3B/OF – Segedin missed the cut on our list this year after struggling down the stretch in Trenton. However, Segedin's career path reminds me a bit of current Yankee OF Brett Gardner's. No, he won't steal many bases, but Segedin and Gardner both encountered struggles at the plate at the onset of each minor league stop before finding their swing. With his Trenton cameo from last season out of the way, I'm looking for Segedin to have a breakout season in the Eastern League, which will land him in Scranton/Wilkes-Barre for a short period towards season's end. Rafael DePaula, RHP – Okay, I'm cheating again. DePaula is a legitimate prospect with ace potential. However, he has never pitched in the United States, and appears likely to finally make his US debut, pitching in either Charleston or Tampa. Wherever he pitches, it will be an eye opener as he will begin what may be a quick ascension through the minor league system.  Jake Cave, OF – Cave has a ton of potential and a lot of time to make up after missing all of 2012 with a broken kneecap. A former sixth rounder in 2011, Cave has phenomenal arm strength and good range in the field. At the plate, Cave has demonstrated an ability to hit to all fields, very good plate discipline, and above-average speed. He could burst onto the scene this season if he is fully recovered from the knee injury. Gabe Encinas, RHP – Encinas struggled in 2012, with his ERA coming in a tick below 5.00 in the NY/Penn League. However, statistics aren't everything, and these don't recognize the surge in velocity that Encinas experienced. With a fastball now sitting around 93-94 and a good power curveball, Encinas could be poised to break out this year and put himself back on the map as a legitimate prospect. Follow Dan on Twitter at @danpfeiffer74.
Original Story:
http://bronxpinstripes.com/minor-leag...
THE BACKYARD
BEST OF MAXIM
RELATED ARTICLES
From Dan Martin:Long already has begun working with Rodriguez's temporary replacement at third, visiting Kevin Youkilis in San Jose, Calif., last week. "We looked at old film and compared it to 2012," Long said. "We saw some considerable differences, mainly in his stance and it looked like the adjustments had an impact. ... I think we can get him back to being an all-star...
Finally, Yankee Universe gets confirmation that team owner Hal Steinbrenner is alive. Scenes from the Yankee Parade 2009 (Photo credit: ChrisGampat) Hal discussed the current state of the Yankees with New York Post's Ken Davidoff down in Arizona at the annual MLB owners meetings last week. Everyone under the sun knows that Hal is a "numbers" guy and has made it clear that he...
Ichiro Suzuki is looking forward to starting the baseball season the way he ended last season: as a member of the New York Yankees. The Yankees and Suzuki finalized a $13 million, two-year contract in December that kept the 10-time All-Star in the Bronx after he was obtained in a trade with Seattle last July. ''Signing with the Yankees has given me a new sense of determination...
From the NY Times:"Re-signing for the Yankees has awakened a fresh determination in me," the 10-times All Star told Japanese media after a workout in Kobe. "This is a team that can select A-Rod as a pinch-hitter we're talking about," he added, referring to fellow future Hall of Famer Alex Rodriguez. Ichiro's future with the Yankees had hung in the...
It looked for a while like Rafael Soriano would regret opting out of his contract with the Yankees. That's no longer the case, as the Nationals have reportedly decided to toss a lucrative deal his way. Soriano has agreed to a two-year, $28 million contract with the Nationals, according to Yahoo! Sports' Jeff Passan. The deal reportedly contains an option for a third year that...
For the next two years, Rafael Soriano will be untucking his jersey in the nation's capital. Jeff Passan of Yahoo! Sports has reported that Soriano, 33, and the Washington Nationals  have agreed to a two-year-deal worth $28 million, with a possibility of a third year worth $14 million should the closer finish 120 games in '13-'14 combined. If and when the deal becomes official...
Berra's plaque hangs in Cooperstown (Photo courtesy of Wikimedia Commons) When the final chapter of the game is written and the Pantheon of baseball greats is assembled, Lawrence Peter Berra will surely be among them.  In his 18-year, Hall of Fame career as a New York Yankee, Yogi Berra was the glue of two dynasties, piloted by Joe DiMaggio and Mickey Mantle, was the preeminent...
Reliever Rafael Soriano and the Washington Nationals were working to finalize a $28 million, two-year contract on Tuesday, said a person familiar with the negotiations. The person said Soriano's deal would contain a $14 million option for 2015 that would become guaranteed if he has 120 games finished over 2013 and 2014 combined. The person spoke to The Associated Press on condition...
Coming into the offseason, Rafael Soriano had a choice: return to the Yankees in 2013 for $14 million, or opt out, collect $1.5 million, and become a free agent. Consensus around these parts was that Soriano should stay put. Soriano opted out. The Yankees extended to Soriano a $13.3 million qualifying offer, and there was a strong argument that Soriano should accept it and stay with...
New York third baseman Alex Rodriguez will have surgery on his left hip on Wednesday, and if all goes well he could return to the Yankees lineup shortly after the All-Star break. Dr. Bryan Kelly, the co-director of the Hospital for Special Surgery in Manhattan and the lead surgeon for Rodriguez, told the New York Daily News that the recovery and healing process for Rodriguez should...
The Washington Nationals have signed free agent reliever Rafael Soriano to a two-year, $28 million deal with a vesting option for a third season, reports Jeff Passan of Yahoo. The option for 2015 will vest if Soriano finishes 120 games over the 2013 and 2014 seasons, ensuring he'll be Washington's closer during the life of the contract. Soriano served as the closer for...
With only a month before pitchers and catchers report to training camp, the Yankees are looking to make at least one more move before the roster is set for Opening Day. On this episode of the podcast I discuss this, as well as injuries, the Hall Of Fame voting and the recent changes to the MLB drug policy. Click the player below to listen:Leave your comments below or send me an email...
Yankees News

Delivered to your inbox

You'll also receive Yardbarker's daily Top 10, featuring the best sports stories from around the web. Customize your newsletter to get articles on your favorite sports and teams. And the best part? It's free!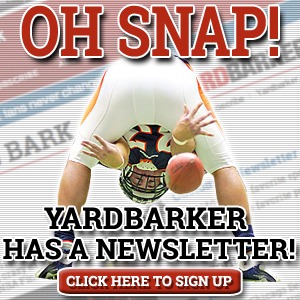 Latest Rumors
Best of Yardbarker

Today's Best Stuff

For Bloggers

Join the Yardbarker Network for more promotion, traffic, and money.

Company Info

Help

What is Yardbarker?

Yardbarker is the largest network of sports blogs and pro athlete blogs on the web. This site is the hub of the Yardbarker Network, where our editors and algorithms curate the best sports content from our network and beyond.