Found May 22, 2013 on Nationals Enquirer:
So what happened on that deep fly ball by Gregor Blanco that went over Bryce Harper's head in the 9th inning that turned into a game-tying triple? Harper appeared to flinch as he approached the wall and misplayed the ball (see video here). Turns out Harper was thinking about running into another wall: "I don't want to hit the frickin' wall full-on. Of course that crosses your mind after you jam into a wall. It doesn't really feel very good. It sucks that I couldn't make the play. I totally put that loss on me." (Bryce Harper, via Washington Post, 5/22/2013) "I better figure it out soon. Or I'm going to be in Triple-A. That's how I feel." (Bryce Harper, via Washington Times, 5/22/2013) (Screencaps via MASN/TV) Befriend Nats Enquirer on Facebook. Follow on Twitter. Related articles Video: Davey Johnson on Bryce Harper's crash into Dodger Stadium wall Bryce Harper runs into Dodger Stadium wall, leaves game shaken up and ...
Original Story:
http://feedproxy.google.com/~r/typepa...
THE BACKYARD
BEST OF MAXIM
RELATED ARTICLES
It's been a rough couple of weeks for Nats' rising star Bryce Harper. First, there was his embarrassing face-plant into the right-field wall at Dodger Stadium. Harper tried to track down a drive off the bat of A.J. Ellis but failed to remember the important part of the term "warning track." Take a look for yourself. OK, so maybe it's wise for him not to do...
Even when I'm not trying to pay attention to Bryce Harper, he finds a way to capture my focus. Last night, I was seeing off a friend on the east side of Portland, and if I'd been thinking about any sport, it was hockey, since these are the days of the NHL playoffs. A TV was being projected onto one of the walls of the bar, and at first it was showing a minor-league hockey game...
So Rafael Soriano took the opportunity to rip Bryce Harper last night for his miscue in the 9th inning on Gregor Blanco's game-tying triple. Via USA Today Sports: "With two outs and the tying run at first, you have to play the outfield so the ball doesn't go over your head,'' Soriano said in Spanish. "It may not have been a catch-able ball...
Coming off of an extra-innings loss to the San Francisco Giants on Tuesday night, Washington Nationals outfielder Bryce Harper was determined to redeem himself following a ninth-inning outfield miscue that would ultimately cost Washington the game.Following five scoreless innings between both teams on Wednesday, Harper approached the plate in the top of the sixth-inning and slugged...
UH-OH
Nationals reliever Rafael Soriano questioned Bryce Harper's defensive positioning on a game-tying triple that tied the game in the ninth inning that ultimately led to a loss.
Sure many women flock to Bryce Harper as the heartthrob of the Washington Nationals, but it's actually their pitching coach, Steve McCatty who sends all the ladies into a tizzy. All the female fervor over McCatty reached it's hunky pinnacle in 1984 when he was featured in a Playgirl pictorial. Next stop Beefcake City. This tantalizing photo has all of the early 80′s sexuality...
One of three things happens when a good team starts to lose. 1. The team rallies behind a leader who portrays a greater poise. 2. The manager makes minor adjustments in the lineup to make sure the team is running on all cylinders. 3. Frustration sets in and fingers start to be pointed, in either the direction of another player or at the player himself. The latter took place after...
Several Washington Nationals players wore a  T-shirt around the clubhouse on Tuesday with a photo of pitching coach Steve McCatty from a Playgirl photo shoot he did in the early 1980s. Right-hander Dan Haren had the shirts made, which said
In the realm of broadcasting graphic fails, this one comes out on top. This graphic was shown during the middle of the Kansas City Royals telecast on Thursday, and it is full of an absurd amount of errors. The question: "Which young player would you like to start a franchise with?" is posed to viewers. Putting aside that they end their question with a preposition, it's embarrassing...
Now we completely expect the hapless Kansas City Royals to make blunders on the field, but we expect a little bit of professionalism during their broadcast. Fox Sports Kansas City made one of the most egregious and blatant errors of sports graphics of all-time on Thursday night. During the Royals and Los Angeles Angels game the broadcast team asked the question; "Which Young Player...
We all know who Bryce Harper is – the guy will literally run into a wall for attention and then blame it on playing stupid hard.  And we all know that Miguel Cabrera is crushing high-AAA pitching on a daily basis.  There is another guy, though, that should be garnering way more attention than he currently is – Mike Trout. Last night, Mike Trout did his best pre-Kim Basinger...
Bochy talks about the progress of Bryce Harper as a hitter, the Nationals studly defense, and an unselfish performance turned in by Marco Scutaro.
MLB News

Delivered to your inbox

You'll also receive Yardbarker's daily Top 10, featuring the best sports stories from around the web. Customize your newsletter to get articles on your favorite sports and teams. And the best part? It's free!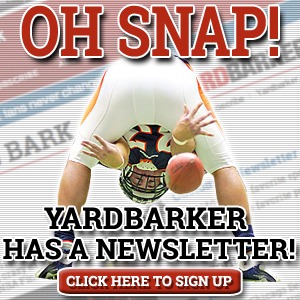 Latest Rumors
Best of Yardbarker

Today's Best Stuff

For Bloggers

Join the Yardbarker Network for more promotion, traffic, and money.

Company Info

Help

What is Yardbarker?

Yardbarker is the largest network of sports blogs and pro athlete blogs on the web. This site is the hub of the Yardbarker Network, where our editors and algorithms curate the best sports content from our network and beyond.