Found June 25, 2012 on Outside the Boxscore:
Apparently, Washington Nationals outfielder Bryce Harper has a little bit of a sense of humor when it comes to his walk-up music.
Check out Harper's use of "Boyfriend" by Justin Bieber during his third at-bat against the Tampa Bay Rays:
(Courtesy of USA Today)
Original Story:
http://www.outsidetheboxscoreblog.com...
THE BACKYARD
BEST OF MAXIM
RELATED ARTICLES
Video below (via MLB.com) of Bryce Harper's ridiculous hustle double on a chop up the middle on Sunday in Baltimore. Oh, and here's Davey Johnson talking about Harper's back (still sore) and something about contraptions: "I've seen him with all kinds of contraptions [on his back], but I think right now it's for prevention." (Davey Johnson, via Nationals...
CLOWN SELECTION, BRO
As captain of the National League's Home Run Derby team, Dodgers slugger Matt Kemp has said he will not invite Nationals phenom Bryce Harper to take part in the festivities.
As if Bryce Harper didn't already have so much going for him, now he will soon have a trademark on one of his lines. Under Armour will soon start selling shirts emblazoned with the quote on it and Harper has applied to trademark the now famous response to a reporter's question. Shortly after the Nationals June 12 game in Toronto, a reporter asked the 19-year-old Bryce Harper...
No Derby for Harper Bad news for Bryce Harper fans… Matt Kemp, the National League captain for the 2012 MLB Home Run Derby, will not be picking Bryce Harper as one of the players to participate in the event. According to USA TODAY, Kemp says he likes Harper but others are capable. Apparently, Kemp has this four-man team picked out but declined to name those players. Kemp did say...
Remember when Cole Hamels intentionally beaned Bryce Harper last month? And how he got suspended for five games for it? And how he got mercilessly ripped by ornery old baseball types like Jim Leyland and Mike Rizzo? Well, now, over a month-and-a-half and one clown question later, Hamels has apparently extended somewhat of an olive branch to Harper. According to Phillies beat reporter...
BEER ME
The Denver Beer Company was in attendance at Coors Field for Tuesday's Colorado Rockies game against the Washington Nationals and got an up-close look at rookie outfielder Bryce Harper, the inspiration for their 'Clown Question, Bro' Canadian lager. Your browser does not support iframes. Charlie Berger, one of the co-founders of the Denver Beer Company, came to the...
Matt Kemp is making a mistake. Usually, he doesn't do that. Usually, he capitalizes on mistakes and sends them over the wall in Dodger Stadium. Instead, he's leaving fans wondering why he wants to leave one of the best young talents in baseball -- and one of the league's best stories -- out in left field when picking his team for All-Star festivities. Kemp, who as captain...
What if President Obama teamed up with Justin Bieber? What would that uber-duo be like? Would this dynamic pair top the pop charts? We got this fantasy mashup in our video picks of the day. Yes,... [[ Read More ]]
I hate throwing around harsh language. I'm both a gentleman and a scholar (according to my mom) so only on the rare occasion would I stoop to calling someone that word. But Matt Kemp is , earmuffs kids, a jerkface. I said it. But why? Kemp, the NL Home Run Derby captain, will not pick Bryce Harper to participate in the event he was born to win..."It's not because he...
With players like Mike Trout and Bryce Harper who can't even legally drink yet populating Major League Baseball, the youth movement is clearly in full swing. However, the one club whose home city the under-21 crowd could actually get a beer in is having nothing of it. The Toronto Blue Jays apparently like their players 40-plus. On Monday the Blue Jays signed the 49-year-old lefty...
To Mike Trout, 20, and Bryce Harper, 19, age is just a number. Their stats are a different story.   Los Angeles knows a star when it sees one. For years, Hollywood starlets have graced the silver screen –stars of the cinematic. For seasons, Magic Johnson's smile, shot, and impossible passes made a show of every Lakers performance –a flare for the dramatic. For months, the...
RDM welcomes you to the weekend each and every week. No, no one wants to see your dog's grundle. However, on the plus side, at least it's a bit different that the normal cute animal pictures we see on the Facebook. [via Fbook] ***** There are a bunch of stories that I currently have my eye on. They need more space than WTTW offers,though. Specifically, King James' title...
MLB News

Delivered to your inbox

You'll also receive Yardbarker's daily Top 10, featuring the best sports stories from around the web. Customize your newsletter to get articles on your favorite sports and teams. And the best part? It's free!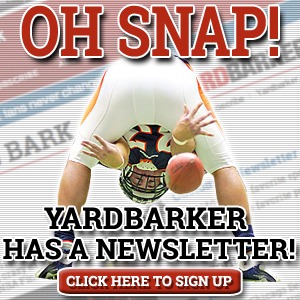 Latest Rumors
Best of Yardbarker

Today's Best Stuff

For Bloggers

Join the Yardbarker Network for more promotion, traffic, and money.

Company Info

Help

What is Yardbarker?

Yardbarker is the largest network of sports blogs and pro athlete blogs on the web. This site is the hub of the Yardbarker Network, where our editors and algorithms curate the best sports content from our network and beyond.