Found January 08, 2013 on Fox Sports South:
The Braves have enjoyed a fortuitous run of primarily keeping Javy Lpez or Brian McCann on the active roster every season since 1994 -- with the notable exception of 2004, when Johnny Estrada had a career year with Atlanta (nine HRs, 76 RBI, .314 batting). Few MLB clubs can match Atlanta's 20-season stability at catcher. And that'll be the case ... for at least one more year. With the impending free agency of McCann (offseason shoulder surgery) and systematic development of three intriguing catching prospects (Christian Bethancourt, Evan Gattis, Josh Elander), the Braves' 2013 campaign could represent the proverbial calm before the storm, backstop-wise. "Calm" being a relative term, since McCann should again play a major role on a club with legitimate championship aspirations. Here are some burning questions involving the state of Braves catchers in 2013: 1. How will Brian McCann fare in his 'contract' year? If McCann wasn't earmarked for free agency in 2014, his recovery time from torn-labrum surgery probably wouldn't be a big issue. But in this 'walk' year, everything gets magnified for a franchise linchpin who averaged 22 homers, 83 RBI and 57 runs from 2006-12. Such as, Will he be ready to go by mid-April (manager Fredi Gonzalez's estimate in December)? For May-September, can McCann average at least 22 games per month? Will he recapture the hitting prowessplate discipline that generated consistently strong annual marks with on-base percentage (.340 or above) and slugging (.450 or above)? McCann's 2012 season might have wrought career lows in hits, runs, homers, doubles, OBP, slugging and OPS, but there are two positives to celebrate from it: Last July, McCann had a pair of stellar spurts just two weeks apart. For July 5-8, spanning 16 at-bats, he notched four runs, seven hits, 11 RBI and four straight outings with one homer. And for July 18-21, McCann had a three-game flurry of three runs, four hits, five RBI and back-to-back-to-back outings of one homer each. The downside to both streaks: McCann tallied only one run in each of the seven homer games. Given the depth and potency of Atlanta's regular lineup, that's a tough reality to accept. 2. Could Gerald Laird handle a sizable workload this year, in the event of a McCann-injury setback? There are no surprises with Laird at this point in his career. He possesses solid defensive skills, a streaky bat and quicker feet than most catchers in their mid-30s. On the flip side, his diminished power (three homers over the last two seasons) cannot be rationalized as the singular result of playing in roomy ballparks for both 2011 (new Busch Stadium in St. Louis) and 2012 (Detroit's Comerica Park). With the Tigers last year, Laird produced rock-solid numbers in batting average (.282) and OBP (.337). Going further, he posted 13 outings of multiple hits and didn't go more than three games (of two or more at-bats) without registering one hit. In other words, Laird likely won't carry the Braves on his back for one, two or three weeks ... but he wouldn't be a weak link during that span, either. 3. Will Christian Bethancourt or Evan Gattis have roles with the parent club before September? The slick-fielding Bethancourt has made improvements in recent years, cutting down the high strikeout rates from 201011 and boosting his rep as a decent threat for double-digit steals. But the 21-year-old catcher still needs to develop more consistency with plate discipline and power numbers, while garnering more experience calling games from behind the plate (the same for any young backstop). These progressions will likely occur at Double-A Mississippi or Triple-A Gwinnett from April to August. Baseball America currently has Bethancourt tabbed as Atlanta's No. 3 overall prospect and loftiest position player (ahead of Gattis), but let's keep things in perspective here: Bethancourt might be the franchise's most diverse backstop since McCann...but the duo's early-career numbers run noticeably disparate. Before his big-league promotion in 2005, McCann posted consecutive seasons of 12-plus homers, 40 runs, 65-plus RBI and slugging rates over .460. To date, Bethancourt hasn't launched more than five home runs in any of his five minor league campaigns (2008-12). Which brings us to Gattis. By most accounts, the Braves apparently favor the 6-foot-4, 230-pounder as a long-term outfield prospect (a status he occupied in winter ball) -- and not the National League version of Orioles catcher Matt Wieters (size-wise). If so, it's immaterial for this particular discussion that Gattis crushed 40 total homers for 201112 ... or that his three-year hitting line of .308.374.546 garnered attention in the realm of 25-and-under prospects. But it's certainly relevant for a balanced club, like the Braves, that could always use another sweet-swinging, power-hitting outfielder in his mid-20s.
Original Story:
http://www.foxsportssouth.com/01/08/1...
THE BACKYARD
BEST OF MAXIM
RELATED ARTICLES
Michael Bourn came into this offseason as one of the top free agent outfielders. He plays a premium position in centerfield and is one of the most feared base stealers in the game. So why hasn't anyone signed him yet? Well do you remember the name Chone Figgins? If we go back to the 2009 … Continue reading »
Best known for his glove, Andrelton Simmons projects to be a valuable offensive weapon, too. A career .299 hitter in 930 minor league at-bats, Simmons rarely struck out and stole a good number of... [This is a content summary only. To keep reading just click on the post title, and don't forget to share your comments!]
Talk about a boring day on Baseball Professor — Neil Walker and Tim Hudson back-to-back? Sheesh. Thank God we had Jeff Samardzija on the docket for today. But while Hudson is as exciting to own as a ball-point pen, you always seem to find yourself thinking, "Jeez, I really wish I had a pen right now." So let's spice things up: Did you know that of all active pitchers with...
Everybody loves a long home run, because they're impressive, because they're difficult. Last year, there were 96 particularly long home runs, if we somewhat arbitrarily set a minimum distance of 450 feet. That's according to the ESPN Home Run Tracker. Giancarlo Stanton was responsible for seven of them. Miguel Cabrera was responsible for four of them, Yoenis Cespedes three...
Remember when Chipper Jones announced his plans to retire at the end of the 2012 season? Remember when Larry played in 112 games during the 2012 and hit an impressive .287/.377/.455 in 448 plate appearances as a 40-year-old? Remember how he was lavished with gifts ranging from third bases (Reds, Yankees, Pirates) to a bow hunting camera (Todd Helton) to a year's supply of sausages...
MLB News

Delivered to your inbox

You'll also receive Yardbarker's daily Top 10, featuring the best sports stories from around the web. Customize your newsletter to get articles on your favorite sports and teams. And the best part? It's free!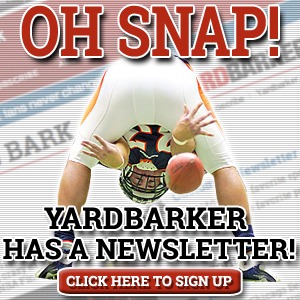 Latest Rumors
The Backyard

Today's Best Stuff

For Bloggers

Join the Yardbarker Network for more promotion, traffic, and money.

Company Info

Help

What is Yardbarker?

Yardbarker is the largest network of sports blogs and pro athlete blogs on the web. This site is the hub of the Yardbarker Network, where our editors and algorithms curate the best sports content from our network and beyond.