Found September 01, 2012 on Fox Sports:
PLAYERS:
Miguel Cabrera
,
Prince Fielder
,
Justin Verlander
,
Jim Leyland
,
Victor Martinez
,
Austin Jackson
,
Jhonny Peralta
,
Alex Avila
,
Brennan Boesch
,
Doug Fister
,
Robin Ventura
,
Adam Dunn
,
Alex Rios
,
Kevin Youkilis
TEAMS:
Detroit Tigers
,
Chicago White Sox
,
Seattle Mariners
Miguel Cabrera looked like an arthritic retiree, dragging his right leg through the infield dirt around third base. He limped. He paused. He hunched over and rested his hands on his knees, the fingers of his mitt splayed open to support his 240-pound frame. It was the top of the sixth inning Friday night, and Cabrera delivered a pep talk to one of the most important contributors in the Detroit Tigers' pursuit of a playoff berth. "I was talking to my ankle," he said. "I said, 'Let's go.'" Later, after a series opener with the Chicago White Sox that was more arduous than artful, Cabrera waddled off the field as if auditioning to be an Olympic race walker. He had, by my count, missed opportunities to record five outs during the course of the night - two popups that landed out of reach, a throwing error, a double-play grounder he didn't charge, a liner that his ankle wouldn't permit him to snare. And yet the Tigers scored a crucial 7-4 victory. Cabrera was the star, going 3-for-4 with a home run and double as fans at Comerica Park chanted "M-V-P!" He did it all on one good leg, with an ankle so badly sprained that Tigers fans watching at home surely broke out their own icepacks in solidarity. It wasn't supposed to be this hard for the Tigers. Coming off an appearance in last year's American League Championship Series, they were going to make short work of the overmatched Central Division and skate into October. Cabrera? Prince Fielder? Justin Verlander? Please. Everyone picked them to make the playoffs. But it is Labor Day weekend, and they are not in first place. Even after Friday's win, they trail the White Sox by two games. Friday afternoon, Tigers manager Jim Leyland uttered something few could have conceived during spring training. "Hopefully," he said of the division race, "it'll be a dogfight until the end." Oddly enough, the reasons the Tigers have struggled (relative to expectations) are the same reasons they can redeem themselves in September - thus avoiding company with the Angels and Marlins as the most egregious disappointments of 2012. Let's start with Cabrera. After Thursday's sweep-clinching defeat in Kansas City, some locals were upset about his game-ending double-play grounder - specifically, whether he had appropriately exerted himself while rrrrruuuuunnnniiiiinnnnggg to first. The grumbling was short-lived. Even in his diminished state, Cabrera remains capable of hitting displays such as Friday's. The MVP award - which he doesn't like talking about - is attainable, especially if the Tigers rally to win the division. On this particular day, his goal was much simpler: Cabrera needed to figure out a way to swing through the pain. So he worked with hitting coach Lloyd McClendon during batting practice on a way to stay more balanced. "Today, during BP and extra work, I finally started to feel comfortable," Cabrera said. "I didn't put too much weight on my right leg. It worked. Today, it worked. Hopefully, tomorrow it works - and the next day, and the rest of the season." In the process, Cabrera delivered a subtle message to his teammates - the way Victor Martinez did so often last year. Cabrera has played 130 of 131 games this year. Fielder has been at his post for all 131. Their reliability sets an example while fostering confidence among others in the room. Yet, they can't do it alone. Or, more accurately, Austin Jackson and the two of them can't do it alone. The three-man weave is fine for basketball practice, less so in baseball games. That's why the Tigers are in second place. Last year, while Martinez was healthy and Jhonny Peralta and Alex Avila were having career years, the Tigers drove home 200 runs between the fifth and sixth spots. Entering Friday, those same stations had accounted for only 104 RBIs. The contrast was just as stark when looking at this season's OPS in the third, fourth, fifth and sixth spots, respectively: .973 (Cabrera), .930 (Fielder), .675 (oops) and .644 (oops again). So it was fitting that Friday's decisive runs came off the bat of Delmon Young - the No. 5 hitter. "It's important," Young said. "Prince's and Miggy's backs are going to get sore, trying to carry a whole team all year. The rest of us have to contribute." And they can. Young, Peralta, Avila and Brennan Boesch have, as a group, underperformed this season - especially in comparison with the White Sox, who have had valuable production from the fifth and sixth spots. But that can be rectified over the remaining 31 games. The same is true for Tigers right-hander Doug Fister, who looked out of sync while laboring through 101 pitches in five innings Friday night. He's not the pitcher he was last year, because he's not as healthy as he was last year. He's had two stints on the disabled list because of strained muscles around his ribcage. He missed his last start with a right groin injury. The Tigers went 9-2 in Fister's starts last year after he arrived in a midseason trade with the Seattle Mariners. This year, they are just 9-11 - or 11-16, when figuring in how his replacements fared. From seven games above .500 to two games below is a huge swing - far greater than the distance between the White Sox and Tigers in the standings. Fister isn't solely responsible for that, of course, but he does have the potential to be a difference-maker over the season's final month. The White Sox, in many respects, are a more compelling story than the Tigers. Their general manager, Kenny Williams, has been rewarded for his faith in first-year manager Robin Ventura - whom Leyland went out of his way to praise in his postgame comments Friday. Adam Dunn, Alex Rios and Kevin Youkilis are among the Chicago players enjoying rebirths. But the Tigers also know this is the time of year when superstars stand out - even if they wobble. "My leg hurts - not my hands," Cabrera said with a smile. "My hands and my mind, they're good."
Original Story:
http://msn.foxsports.com/mlb/story/Mi...
THE BACKYARD
BEST OF MAXIM
RELATED ARTICLES
DETROIT -- Miguel Cabrera at 80 percent -- or whatever he is -- is better than most players at 100 percent. He knows it, manager Jim Leyland knows it and his teammates certainly know it. Without Cabrera, they have no chance of passing the Chicago White Sox and winning the Central Division. Cabrera's right ankle is bothering him, probably enough that if it were earlier in...
Miguel Cabrera is hurting. His bat, however, is feeling real good. The Detroit Tigers slugger is gutting it out at third base on a right ankle sprain that is supposed to be getting better but appears to be healing in tiny increments. "I might have to get him off it," manager Jim Leyland said, referring to making Cabrera his designated hitter, not taking him out of...
Cabrera dogged it out of the batter's box, allowing Alcides Escobar to jump, double clutch and still throw to first in time for a double play out. Continue reading →
69-62, 2nd place, 3 games behind CWS, 3 games behind WC. Well, after getting swept by KC while the White Sox lost 3 out of 4 to the Orioles certainly has dampened everyone's spirits, there is still a lot of baseball left, and the Tigers could very well find themselves tied for first place on Sunday night. Isn't this why we love baseball? So rather than focus on the negatives...
DETROIT (AP) -- Max Scherzer allowed four hits in eight scoreless innings, and the Detroit Tigers pulled within a game of first place with a 5-1 victory over the Chicago White Sox on Saturday night. Detroit has taken the first two games of this series from the AL Central-leading White Sox and will send Justin Verlander to the mound Sunday to try for a sweep. Scherzer (15-6) won...
DETROIT (AP) -- The Detroit Tigers have traded outfielder Jeff Baker to the Atlanta Braves. Detroit dealt Baker on Friday, the same day he was designated for assignment. The Braves will give the Tigers a player to be named later no later than Sept. 30. Baker hit .200 with four RBIs in 15 games with the Tigers, who got him less than a month ago from the Chicago Cubs for two minor...
DETROIT (AP) - The Detroit Tigers have traded outfielder Jeff Baker to the Atlanta Braves. Detroit dealt Baker on Friday, the same day he was designated for assignment. The Braves will give the Tigers a player to be named later no later than Sept. 30. Baker hit .200 with four RBIs in 15 games with the Tigers, who got him less than a month ago from the Chicago Cubs for two minor...
Coming into tonight's game, Detroit Tiger's Max Scherzer's month of August was a thing of beauty. He had won 4 of 5 starts, accumalating 44 strikeouts, and a 2.25 ERA over 32 innings of work. Every month since the inception of the regular season, Scherzer has seen his earned run average fall… and fall… and fall. Meanwhile, he has seen his strikeout totals rise and rise...
The Atlanta Braves acquired utility player Jeff Baker from the Detroit Tigers for a player to be named later or cash, MLB.com reported Friday. The Tigers designated the 31-year-old Baker for assignment earlier in the day. Baker is hitting .254 with four home runs this year. He was traded to Detroit by the Chicago Cubs on Aug. 5. Baker was just 7-for-35 for the Tigers. Baker...
MLB News

Delivered to your inbox

You'll also receive Yardbarker's daily Top 10, featuring the best sports stories from around the web. Customize your newsletter to get articles on your favorite sports and teams. And the best part? It's free!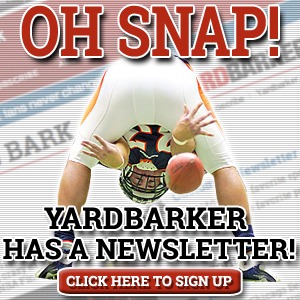 Latest Rumors
The Backyard

Today's Best Stuff

For Bloggers

Join the Yardbarker Network for more promotion, traffic, and money.

Company Info

Help

What is Yardbarker?

Yardbarker is the largest network of sports blogs and pro athlete blogs on the web. This site is the hub of the Yardbarker Network, where our editors and algorithms curate the best sports content from our network and beyond.