Found July 29, 2012 on Fox Sports North:
With their playoff chances looking ever brighter and a roster full of young, inexperienced players, the White Sox are up for the challenge. Now, Francisco Liriano must turn their challenge into his opportunity. When the White Sox traded for Liriano on Saturday, they knew they weren't getting a polished starter guaranteed to win them a chunk of games down the stretch. They were there, after all, for his most recent outing, a 2.2 inning, seven-run affair. But they dealt for him in spite of that. They dealt for him because of the little things, because of his age and his past and the tweaks they think they'll be able to make. "He has thrown some games against us that have just been lights-out outstanding," White Sox general manager Kenny Williams said on a conference call. "The last time out for him it wasn't so great, and we saw some things and see some things that can immediately lead to better results." And though that might sound like a thinly veiled insult, winning teams aren't in the business of acquiring players and then belittling them. No one forced the White Sox to make this trade, and Williams' belief that pitching coach Don Cooper might be able to tweak Liriano's problems must be founded. It's crucial that Liriano realize that he is indeed a project without focusing on the negatives of such a designation. He's a work in progress, yes, for the White Sox, but that's not why they targeted him. The team saw his flashes of brilliance. It saw his age and experience, his two postseason berths, and it hoped all that could help its staff of young, hardworking pitchers. "I think everyone that has watched us knows that our guys have just been going at it full tilt since the beginning of the season," Williams said, implying that the burden might be a large one on his young staff. Williams lumped Liriano with reliever Brett Myers, whom the White Sox acquired from Houston on July 21. Liriano is 28, Myers 31, and the two have a combined 18 years of major league experience. That's what the White Sox needed, and in terms of acquiring pitching, they're likely finished, Williams said. They've found their fits, they believe, and now it's time to eye the division title. Liriano, too, will need to shift his sights once he debuts with Chicago. A day after being traded, he's still assigning the blame for his early-season struggles. He faltered because he was walking too many players. He was thinking too much about his impending free agency. He was thinking too much, period. That's all so easy to see now, but it won't automatically change in Chicago. That change is up to Liriano, and it's still to come. But instead of dwelling on everything he and the Twins didn't do, it's now time to focus on the next two (perhaps three) months. In one night, Liriano was catapulted from the AL Central cellar to its best team, and that has to feel good. The White Sox record alone has to be a confidence boost, and now it's time for him to rise to the level of his new team. "I was surprised even though I knew something like that was going to happen, but not to the White Sox," Liriano said. "It is what it is, and it's a good team too. They're in first place, and they believe in me." With the White Sox, Liriano has a clean slate -- sort of. Because they're a division rival of the Twins', the White Sox have faced Liriano 15 times. He has the best possible situation in Chicago: no history to overcome and a coaching staff that knows his game and has been scouting him for years. Familiarity will be the theme of this trade in the coming days. Although Williams wouldn't confirm Liriano's precise role -- he said that was up to manager Robin Ventura -- there's a good chance that he starts Monday night against the Twins. Liriano expressed his desire to move on and pitch consistently after the trade, and there's no better way to put the past behind him than to pitch his first game in a White Sox uniform against the Twins. Of course Liriano was emotional about leaving the only major league team he's known, but by Sunday, he seemed more comfortable with the move and the fact that he's at the whim of the business of baseball. "It's kind of sad, being here my whole career," Liriano said. "It's kind of sad. It's not my call. There's nothing I can do about it ... That's part of baseball." Deferring to one's own powerlessness is one way to deal with the aftermath of a trade, but it's a dangerous line. "There's nothing I can do about it" applied yesterday, when the move was made by the powers above, but that's no longer the case. With a new team, a new record, a new lease on both a playoff berth and a redeemed season, there's a lot that Francisco Liriano can do about it. Follow Joan Niesen on Twitter.
Original Story:
http://www.foxsportsnorth.com/07/29/1...
THE BACKYARD
BEST OF MAXIM
RELATED ARTICLES
When Francisco Liriano takes the mound Tuesday night in Minnesota, he'll be coming out of the visiting clubhouse for the first time in his career. Acquired by the Chicago White Sox over the weekend, Liriano squares off against his former Twins teammates as these AL Central rivals continue a three-game set. In an attempt to bolster its starting rotation, division-leading Chicago...
MINNEAPOLIS The Minnesota Twins traded pitcher Francisco Liriano to the Chicago White Sox on Saturday, acquiring shortstop Eduardo Escobar and left-handed pitcher Pedro Hernandez, who will both be assigned to Triple-A Rochester. Liriano has played his entire big-league career with the Twins, dating back to 2003 when the team acquired him from the San Francisco Giants. He's...
GM Terry Ryan pulled the trigger Saturday on the trade everyone saw coming, moving LHP Francisco Liriano to the Chicago White Sox for infielder Eduardo Escobar and LHP Pedro Hernandez. That doesn't mean he's done dealing. Teams have until 3 p.m. CDT Tuesday to trade players without sending them through waivers. Ryan called the run-up "my most important time of the...
MINNEAPOLIS The inevitable came on Saturday night, just hours after recent Twins call-up Samuel Deduno's seven-inning, two-hit night. It came as the Twins have gained more and more confidence in their young pitchers over recent weeks, but that didn't make it any more of a decision the team wanted to make. It came as the Twins strung together two nights with double-digit...
The Chicago White Sox have acquired left-hander Francisco Liriano from the Chicago White Sox for shortstop Eduardo Escobar and pitching prospect Pedro Hernandez. The AL Central-leading White Sox Tweeted the news late Saturday night after the Twins beat the Cleveland Indians and Chicago won in Texas. Liriano was an All-Star in 2006 and was expected to be one of the Twins' top...
The Cleveland Indians continue to fall off pace in the AL Central amid a frustrating series against the Minnesota Twins. On the bright side, they won't have to face Francisco Liriano in the finale of the three-game series Sunday when they try to avoid a sweep. Liriano was scheduled to pitch before the Twins dealt him to Chicago late Saturday night for shortstop Eduardo Escobar...
A sweep in Texas would have been nice Sunday night, but the Chicago White Sox lost 2-0 as Rangers RHP Scott Feldman pitched eight shutout innings. The Sox couldn't feel bad about taking two of three from the Rangers, as well as going 6-3 against the defending American League champions this season. And when they arrive in Minnesota for a three-game series, the Sox will welcome...
Kenny Williams made another puzzling move when he dealt infielder Eduardo Escobar and left-hander Pedro Hernandez to to the Twins for starter Francisco Liriano. The White Sox have long been questioned for the depth of their farm system and now he has made two deals surrendering five prospects. What's more, I'm not exactly sure how he has gotten better. Liriano presumably...
Kenny Williams reportedly worked his tail off to land Zack Greinke from the Brewers this week. The AL Central is up for grabs and the White Sox and Tigers have gone back and forth for the division lead in recent weeks. Greinke would have solidified the White Sox hold on the division by giving them another top starter to go along with Chris Sale and Jake Peavy. Williams was so entrenched...
MAKING MOVES
The White Sox weren't able to get Zack Greinke from the Brewers, but they pulled off a trade for Francisco Liriano from the Twins.
53-48, 2nd place, 2.5 games back. Keeping it short and sweet for the W… - Sanchez threw only 4 balls in the first 3 innings yesterday. - White Sox continue to beat up on Texas (5-0 vs. them this year), as they won their 5th straight yesterday, and they acquired Francisco Liriano from the Twins. Today's It's Okay to Bat Rayburn Once Per Week Against Lefty's Though 6th is...
Last Thursday, The Common Man expressed his trepidation that the Twins were positioned to truly make this a disastrous trade deadline.  With the trade of Francisco Liriano to the White Sox, that's well underway. Admittedly, Liriano is a uniquely frustrating pitcher.  When he's on, Liriano has three plus-plus pitches in his fastball, changeup, and slider, and is capable of...
MLB News

Delivered to your inbox

You'll also receive Yardbarker's daily Top 10, featuring the best sports stories from around the web. Customize your newsletter to get articles on your favorite sports and teams. And the best part? It's free!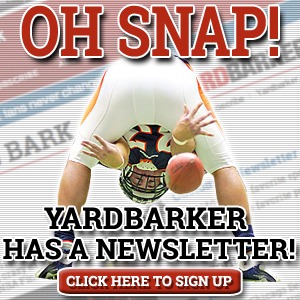 Latest Rumors
The Backyard

Today's Best Stuff

For Bloggers

Join the Yardbarker Network for more promotion, traffic, and money.

Company Info

Help

What is Yardbarker?

Yardbarker is the largest network of sports blogs and pro athlete blogs on the web. This site is the hub of the Yardbarker Network, where our editors and algorithms curate the best sports content from our network and beyond.