Found July 17, 2012 on Fox Sports Midwest:
PLAYERS:
John Axford
,
Mike Matheny
,
Matt Carpenter
,
Lance Berkman
,
Carlos Beltran
,
Rafael Furcal
,
Skip Schumaker
,
Matt Holliday
,
Allen Craig
,
Jason Motte
TEAMS:
Milwaukee Brewers
,
St. Louis Cardinals
MILWAUKEE Time will tell whether or not the three-run ninth inning Monday night will prove to be a turning point for the slumping St. Louis Cardinals. But desperate for a big hit after getting swept in Cincinnati, they'll gladly take it. Down to their last out and looking at a frustrating fourth-straight loss ahead of them, the Cardinals instead rallied for three runs off Brewers closer John Axford to pull out a dramatic 3-2 victory at Miller Park. Combined with Cincinnati and Pittsburgh both losing Monday, the Cardinals moved to within 3.5 games of the division leading Reds and 2.5 games of the second place Pirates. "A lot of smiles in the clubhouse," said manager Mike Matheny. "I love how they fight. They made it very interesting there and what great at-bats you could think of from a number of guys there. They made some pretty impressive things happen. "It was one we certainly needed." The Cardinals went just 4-for-28 with runners in scoring position and left 30 runners on base during the three-game weekend sweep in Cincinnati. And the frustrating struggles continued Monday when they started 0-for-15 with runners on base in the first eight innings and trailed 2-0 heading to the ninth. Matt Carpenter walked off Axford to start the ninth but both Lance Berkman and Carlos Beltran followed with long fly outs to put the Cardinals an out away from a four-game losing streak. Rafael Furcal kept the inning alive with an infield single before Skip Schumaker worked an impressive walk to load the bases for No. 3 hitter Matt Holliday. Criticized by some in St. Louis for his lack of production in key situations, Holliday bounced a 2-2 pitch through the right side for a two-run single to even the score at two. Allen Craig followed with a bloop hit to put the Cardinals in front 3-2. "It feels good anytime you are able to come back and get a win, especially since we didn't get one in Cincinnati," Holliday said. "We need to win all of our games. We needed to win because we need to win. Obviously getting swept in Cincinnati, we need to get it going, but every game is important. "Every day is a new day. We have to come back tomorrow and find a way. We only scored three runs. We have to find a way to take some pressure off our pitchers." Closer Jason Motte, who allowed an inherited runner to score in the bottom of the eighth inning to make it 2-0, came back out for the ninth inning and pitched a 1-2-3 ninth to pick up his fourth win of the season. In the 36 innings counting the three games in Cincinnati and the first eight innings Monday, the Cardinals hit just .159 with runners on base and .125 with runners in scoring position. They hit just .111 with RISP and two outs. According to FOX Sports Midwest producer Tim Trokey, the Cardinals left 39 runners on base in those 36 innings, including 19 in scoring position. But that changed in a big way once Axford stepped to the mound in the ninth. The Cardinals went 3-for-6 with runners on base in the ninth inning, including two hits in three at-bats with runners in scoring position and two outs. "These guys demand from themselves to be able to come through in those situations and they aren't content or happy when they don't," Matheny said. "Every time those guys have a chance, there's a lot of emotion in there. We had Gatorade coolers all over the place and broken bats. The guys care about this and when they don't get the job done, they aren't happy." Asked if he thought the three-run outburst in the ninth Monday could be what the Cardinals needed to get the offense going, Matheny said, "I hope so. You're not going to be able to keep this offense down. Sooner or later it's going to take off. We've all seen it. "It would be nice to have the consistency but you can wish all you want, but it's just a matter of it happening. But those kinds of wins there and those kinds of at-bats in big situations amp every one of those guys for good things tomorrow and moving forward and then for the team and the belief that we can come back once again." The Cardinals aren't putting too much stock into getting swept by the Reds, because they remember sweeping the Reds in Cincinnati in 2010, only to see the Reds come back and win the division. But with a four-game losing streak and a growing deficit in the division appearing likely, the Cardinals rallied for arguably the three biggest runs of the season to date. "It's a huge win," Schumaker said. "We hadn't won a game in the second half, so for Matt to come through like that against Axford, who I don't think we've scored a run against since I've been here, was big for us. "In 2010 we swept the Reds and they ended up winning the division. It was three games. Our bats just didn't come alive that series. I think we have a really deep lineup. Our pitching has been there. I think we're going to click at some point here and hopefully it's at the right time." Said Holliday, "We have to start playing well. We have to start beating the teams in our division. We have a good team. We talked about it today. We have a lot of talent in this room." The next few weeks and months could prove just how big Monday's comeback was.
Original Story:
http://www.foxsportsmidwest.com/07/17...
THE BACKYARD
BEST OF MAXIM
RELATED ARTICLES
John Axford is struggling. After blowing another save last night, the Brewers' closer is now tied for the league-lead with six blown saves. Over the last two seasons, Axford had emerged as one of the best relievers in baseball. Among qualified relievers, Axford rated fourth overall with 3.9 WAR. While relief pitchers are rarely able to sustain their greatness for multiple seasons...
MILWAUKEE John Axford trudged off the mound with his head down, slower than usual. Boos rained downon him in his home park, as he walked off the field, having blown his sixth save of the season. But this blown save holding onto a 2-0 lead with two outs in the ninth inning against a division rival was by far the most cruel in a season that hasn't been short on cruelty for...
MILWAUKEE Just days after John Axford had hit what seemed like rock bottom on Monday, the Brewers former closer got to experience a few things he never had as Milwaukee's ninth inning specialist. The first man out of the bullpen on Wednesday, Axford relieved starter Tyler Thornburg and threw 1.1 solid innings, giving up just one hit in that span. It was an enlightening experience...
One day after his worst outing in a difficult season, John Axford lost his job as the Milwaukee Brewers' closer. Manager Ron Roenicke said before Tuesday night's game against St. Louis that Francisco Rodriguez will be handling ninth-inning duties while Axford tries to get his confidence back in lower-pressure situations. ''It's always difficult when you'...
Milwaukee Brewers manager Ron Roenicke made official Tuesday what most people expected, including John Axford. Axford is being moved out of the closer's role and being replaced for the time being by Francisco Rodriguez. The last straw came Monday night when Axford turned a 2-0 lead over the Cardinals into a 3-2 loss by allowing three ninth-inning runs on three hits and two...
MILWAUKEE It was apparent the moment John Axford began his conversation with reporters Monday night that something had been different this time. For the Milwaukee Brewers closer who has struggled on so many occasions this season his ERA ballooning to over 5.00 and his WHIP following suit over 1.50 this night had presented a much more complex set of frustrations. He had inexcusably...
MILWAUKEE After a record season as the Milwaukee Brewers closer in 2011, an inconsistent 2012 cost John Axford his ninth-inning role. Manager Ron Roenicke announced Tuesday that Francisco Rodriguez will replace the closer who had a string of 49 consecutive successful saves broken in early May. "Frankie is going to close right now," Roenicke said. "Ax, we're...
Former Met Closer Francisco Rodriguez has been given the closing responsibilities for the Brewers after former closer John Axford blew his sixth save of the season. Axford has been terrible this season, with a 5.35 earned run average and 73% save conversion rate. Francisco Rodriguez, a former closer for the Angels and Mets with 292 saves, has a 3.67 ERA on the season in 41.2 innings...
MILWAUKEE (AP) -- Just when it looked as if their recent offensive struggles were getting even worse, Allen Craig and the St. Louis Cardinals pulled off one of their most impressive rallies of the season. Craig hit a bloop RBI single off closer John Axford, completing a ninth-inning rally and lifting St. Louis to a 3-2 victory over the Milwaukee Brewers on Monday night. Craig&...
MLB News

Delivered to your inbox

You'll also receive Yardbarker's daily Top 10, featuring the best sports stories from around the web. Customize your newsletter to get articles on your favorite sports and teams. And the best part? It's free!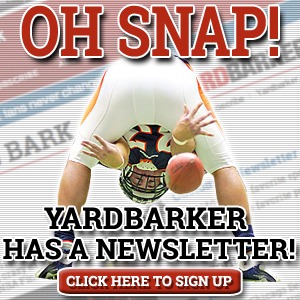 Latest Rumors
The Backyard

Today's Best Stuff

For Bloggers

Join the Yardbarker Network for more promotion, traffic, and money.

Company Info

Help

What is Yardbarker?

Yardbarker is the largest network of sports blogs and pro athlete blogs on the web. This site is the hub of the Yardbarker Network, where our editors and algorithms curate the best sports content from our network and beyond.