Found March 08, 2013 on Fox Sports Midwest:
PLAYERS:
Edward Mujica
,
Elvis Andrus
,
Miguel Cabrera
,
Pablo Sandoval
,
Carlos Gonzalez
,
Miguel Montero
,
Martin Prado
,
Marco Scutaro
,
Yadier Molina
,
Carlos Beltran
,
Mitchell Boggs
,
Fernando Salas
,
Marc Rzepczynski
,
Mike Matheny
,
Jason Motte
,
Adron Chambers
,
JP Arencibia
TEAMS:
St. Louis Cardinals
,
Texas Rangers
,
Detroit Tigers
,
San Francisco Giants
,
Colorado Rockies
,
Arizona Diamondbacks
,
Toronto Blue Jays
JUPITER, Fla. - Edward Mujica proudly wore his Team Venezuela cap Thursday. But it was also a weird feeling. He was wearing it in the Cardinals clubhouse and not in Puerto Rico where the rest of his fellow countrymen were playing in the first round of the World Baseball Classic. Mujica was offered the chance to pitch for the Venezuelan team in the WBC but turned it down in January to focus and prepare for the upcoming Cardinals season. But that doesn't mean he's not watching. "I'm getting a little bit anxious because I have a couple friends playing for the team and I could have been there," Mujica said. "But I made the decision to stay here and get ready for the season. I'll definitely be watching. "We only see this tournament every three or four years so it's fun. A lot of the other teams have the best players from their countries and so do we. We have a pretty good team." Team Venezuela figures to have one of the best teams in the tournament with the likes of stars Elvis Andrus, Miguel Cabrera, Pablo Sandoval, Carlos Gonzalez, Miguel Montero, Martin Prado and Marco Scutaro in their lineup. But Mujica won't be the only player in the Cardinals clubhouse watching the WBC with a closetful eye. In fact the tournament figures to be a highly talked about event around these parts with stars Yadier Molina and Carlos Beltran playing for Team Puerto Rico. Reliever Mitchell Boggs is playing for Team USA while reliever Fernando Salas is pitching for Team Mexico. Salas had a perfect eighth inning in their first round opener against Italy on Thursday afternoon. Team USA opens up the first round of pool play with an 8 p.m. CT matchup Friday night against Mexico at Chase Field in Phoenix. "Oh yeah I'll be watching," said reliever Marc Rzepczynski. "You don't want to see anybody get hurt but it's a privilege to get to go play and guys are taking it more seriously this time and more big named guys are playing. Being from the USA, obviously we want us to win it, but you still root for your teammates. I "I'm going to watch the Puerto Rican games to see Yadi and Carlos and Salas for Mexico. I hope we beat Mexico, but you definitely want to support your teammates." Team USA is in a pool with Mexico, Canada and Italy while Puerto Rico and Venezuela are in a pool with the Dominican Republic and Spain. Each team plays a game against the other three in their pool and the top two advance from each. Japan, Cuba, Chinese Taipei and the Netherlands have already advanced to the second round in their respective pools. Beltran missed the Cardinals final spring game before he left with a bruised toe stemming from a hit-by-pitch but played in Puerto Rico's exhibition game and appears to be fine. "He sent me a text last night and told me that he felt really good and he told me not to worry," Cardinals manager Mike Matheny said Wednesday. "He said that he's going to do the right thing and be ready to go. He said we' so I guess he was speaking for he and Yadi both, that we will be careful." On the main concern with the WBC that players could get injured and miss part of the regular season, Matheny said, "They know what they are doing. The only guy would be Fernando that we don't know really what the expectation level is for him. Between Boggs, Carlos and Yadi, they know exactly what they should be and shouldn't be doing. They won't let it be pushed so far." Salas finds himself in the unique position that he left the Cardinals right in the middle of a heated competition for one of the final bullpen spots. And the Cardinals don't have much say or much information on how he'll be used for Team Mexico. "Salas is excited about pitching for the Mexican team which he should be, it's a great honor for him, but we wanted to make sure as he was walking out the door, just don't do too much," Matheny said. "You have to come back here and we need you to be ready. As far as Yadi and Carlos go, they know exactly what's right and what's wrong right now and I don't think they are going to sacrifice a healthy start to the season for anything right now." The Cardinals could have had a significant portion of their roster participating. In addition to Mujica, closer Jason Motte understandably turned down an invite from Team USA due to the recent birth of his first child. Several countries are represented within the Cardinals clubhouse in addition to those playing in the Classic, making the three-week tournament something that's sure to be talked about and watched on a daily basis. "Heck yea," said outfielder Adron Chambers. "I know everybody in this locker room will be watching. We got our best out there. Carlos, Yadi, Mitchell, Salas, we're not only rooting for those guys to do well, but to come back healthy." Added Rzepczynski, "I know everybody will root for their country. We have a lot of latin countries represented and then the USA so we know a lot of guys playing. My former catcher with Toronto J.P Arencibia is the catcher so I'll be watching and hopefully we win."
Original Story:
http://www.foxsportsmidwest.com/mlb/s...
THE BACKYARD
BEST OF MAXIM
RELATED ARTICLES
Yadier Molina spends months each year at the plate cranking out hits. In 2012, the St. Louis Cardinals catcher collected 159 on his way to a .315 batting average, both career bests. Now, the 30-year-old hopes to extend his hit-making skills into the music business. Back home in Puerto Rico for the World Baseball Classic, the backstop announced Molina Records' first launch, an...
St. Louis Cardinals manager Mike Matheny made a very interesting comment on Wednesday. With regard to the three-way battle for the final rotation spot among Joe Kelly, Shelby Miller and Trevor Rosenthal, the skipper said the following, as reported by B.J. Rains: "We're getting close," Matheny said of needing to make a decision. "Yeah, we're getting close." This was...
The battle for the Cardinals 5th starter spot just became a little clearer. According to Jennifer Langosch, Trevor Rosenthal did not attend the Cardinals starting pitchers meeting on Tuesday morning and, according to Derrick Goold, Mike Matheny confirmed that Rosenthal will move to the bullpen. That leaves Joe Kelly and Shelby Miller as the remaining competitors for the job. ...
After his stellar performance last year as a reliever both down the stretch during the regular season and during the playoffs, Trevor Rosenthal will be returning to the pen this year.  But, is this a career change for Rosenthal or just a temporary assignment? As we have seen previously with Adam Wainwright and Lance Lynn, the Cardinals have no qualms about using one of their stud...
Jennifer Langosch broke the news this morning and it was confirmed by Derrick Goold that Rafael Furcal will undergo Tommy John surgery, as soon as next week, which will knock him out for all of the 2013 season. With that issue finally settled, albeit in a bad way, the Cardinals need to move forward and, as I see it, the Cardinals have 3 options: 1.  Go with what they've got...
St. Louis Cardinals short stop Rafael Furcal will require Tommy John surgery on his right elbow. Furcal has been attempting to rehab the injury since August after it was originally diagnosed as a UCL tear. The Cardinals will be without Furcal for the entire 2013 season. Taking his place in the lineup will be Ronny Cedeno or Pete Kozma. The 121 games that Furcal appeared in last season...
In the This Is My Nightmare series, we'll take a look at what the absolute worst case scenario for each team would be in 2013. Think of it as the negative complement to our You May Say I'm A Dreamer series that we'll be running during our preview series. The Cardinals have had the kind of recent success that makes thinking up of a nightmare scenario actually fairly...
What else can baseball fans do in January but dream of October? In You May Say I'm a Dreamer, the Outside Corner staff will imagine the route to a World Series in 2013 title for all 30 teams. No National League team has won more World Series than St. Louis, and in 2013 the Cardinals made it an even dozen world titles. It's truly a golden era for baseball in St. Louis -...
There was hope that rest and some time off might be able to cure shortstop Rafael Furcal's ailing elbow. On Thursday, the St. Louis Cardinals announced that the veteran infielder will undergo Tommy John surgery on his elbow and most likely will miss the entire 2013 season. Furcal made the trip to Pensacola, Florida to visit renowned surgery Dr. James Andrews who made the determination...
JUPITER, Fla. (AP) -- Adam Wainwright might be spending a little more time in autograph sessions after a picture presented by a fan to sign helped the St. Louis pitcher diagnose a flaw in his mechanics. Wainwright struck out six in 4 2-3 innings and the Cardinals blanked a Miami Marlins split squad 2-0 Saturday. The photograph that benefited Wainwright was taken a couple years...
Hot News for SS Rafael Furcal
In what seems like the offseason of bizarre baseball injuries (including Francisco Liriano and kids at Christmas, and Joel Peralta getting out of his car to procure a sandwich), Marc Rzepczynski (a.k.a. scrabble) the effective, situational lefty out of the Cardinals strong bullpen added to the casualty list.  As he played golf today in Viera, Florida, presumably after his ball club's...
MLB News

Delivered to your inbox

You'll also receive Yardbarker's daily Top 10, featuring the best sports stories from around the web. Customize your newsletter to get articles on your favorite sports and teams. And the best part? It's free!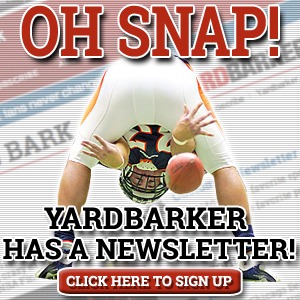 Latest Rumors
The Backyard

Today's Best Stuff

For Bloggers

Join the Yardbarker Network for more promotion, traffic, and money.

Company Info

Help

What is Yardbarker?

Yardbarker is the largest network of sports blogs and pro athlete blogs on the web. This site is the hub of the Yardbarker Network, where our editors and algorithms curate the best sports content from our network and beyond.