Found July 24, 2013 on Metstradamus:
Although it didn't start down the path of righteousness, Carlos Torres turned in a solid performance giving up only one run in six innings and getting the win last night over the Braves. He gave up a home run to the first batter of the game, and then left runners on in all but one of his six innings, but with the help of Juan Lagares cutting a runner down at the plate, he gut it out ... while getting an RBI single himself ... to give the Mets a chance to win. (Maybe this guy should be Carlos Danger.) But the amazing thing how the Mets took advantage of that chance to win: Ike Davis. This was the guy who earlier in the game tried to bunt his way on not once, mind you, but twice in a row. And I feel like this is my fault because I was the one who ******* that Ike Davis should bunt once in a while to get himself out of his slump and stop teams from playing a dopey shift against him. But then I saw him actually try it. And he looked like a drunk AT Armored Transport while trying...
Original Story:
http://www.metstradamusblog.com/2013-...
THE BACKYARD
BEST OF MAXIM
RELATED ARTICLES
When we signed journey-man Carlos Torres to a deal in the off-season, I was somewhere between disappointment and apathy, honestly. I thought that he would serve no purpose on this team and that he was wasting space in a Triple-A rotation. I made comments akin to, "This is exactly the reason no other Triple-A affiliate wants to take the field for the Mets." And yes, as he struggled...
That which we call a rose By any other name would smell as sweet And that's how Shakespeare ties into Carlos Torres. It's time to take a look at Torres and his nasty off-speed pitch, which seems to me to be a slider. But if you go to his FanGraphs page, it shows him throwing four pitches – fastball, cutter, curve and change. Not a slider in sight, or so it would seem. ...
The New York Mets came back from a heartbreaking loss on Monday to beat the Atlanta Braves 4-1 and even up the series at a game apiece tonight at Citi Field. Carlos Torres was impressive again in his second start for the Mets. After being greeted by a home run from Andrelton Simmons to leadoff the game, Torres settled into a groove and weaved in and out of trouble as he held the...
Mets manager Terry Collins offered one specific piece of advice to his starting pitcher Carlos Torres minutes before he took the mound opposite the Braves Tuesday night: keep the ball away from Andrelton Simmons. Torres could not. Simmons, the Braves' leadoff hitter, whacked Torres's second pitch, an 87 mph changeup over the heart of the plate, for a home run over the left-field...
Ike Davis is nowhere close to where he wants to be as a player, and the New York Mets are taking the second half to see if he fits into their plans. Unless Davis goes on a complete tear the next two months, the odds are very good the Mets will not tender a contract and let him go as a free agent. Understandably, their fear is he'll walk and become a start someplace else. Nobody...
Mets look to rebound from last night's tough loss and hope Torres can go deeper his second time as a starter for the club.  Game time is 7:10 PM. To get started just enter your email address and desired username: Name E-mail Related Posts:Game Chatter: Jeremy Hefner vs. Kris Medlen (5/24/13)Game Chatter: Shaun Marcum vs. Kris Medlen (6/19/13)Game Chatter: Carlos Torres vs....
Carlos Torres pitched six impressive innings as a fill-in starter and had an RBI single, Ike Davis turned an angry crowd in his favor with a go-ahead double in a three-run sixth and the New York Mets beat the Atlanta Braves 4-1 Tuesday night. John Buck had a run-scoring single and Juan Lagares a sacrifice fly in a sixth inning that helped the Mets beat Atlanta's Kris Medlen...
(John Munson/The Star-Ledger) Just look at that perfect form and that brilliant execution as Ike Davis lays down a bunt invoking memories of Jackie Robinson, Lou Brock and Ozzie Smith. Such form, such presence, and of course that game-breaking speed…. ZZZZRRRRPPPP….. Yeah, whatever, Davis drove in the run that put the Mets ahead for good last night with an RBI-double in the sixth...
The Mets keep rolling.  Having won 19 of their last 31, sporting a win percentage of .612 over that stretch, the Mets didn't cool off after the All-Star break.  Taking the series against the Phillies, even after a crushing first game loss, and splitting the series so far at one game a piece with the division leading Braves, the Mets are continuing to climb their way back to...
Atlanta Braves vs New York Mets Kris Medlen (6-9, 3.64) vs. Carlos Torres (0-1, 0.79) Starting Lineup Eric Young, Jr. – LF Daniel Murphy – 2B David Wright – 3B Marlon Byrd – RF Ike Davis – 1B John Buck – C Juan Lagares – CF Omar Quintanilla – SS Carlos Torres – RHP Game Notes RHP Dillon Gee flirted with history on Monday night, when he carried a no-hitter into...
In an effort to be a little more interactive with the readers, since I'm not usually around during the day to respond to comments frequently, I grabbed two comments that I thought were great discussion starters off MetsMinors… Dave in Spain commented… Satish — Ideally this would be great. I wonder if the Mets would take a look at Corey Hart on a short-term, incentive based...
Updated 12:40 PM: Keith Law wrote me saying: Your writer says: "Keith Law must be a terrible assistant GM and front office person, and that's why no major league team has hired him since he got ****-canned in Toronto." You can call me whatever names you like, but I was not *******-canned" or fired by Toronto. I quit in May of 2006 to join ESPN, and have discussed this openly...
Mets News

Delivered to your inbox

You'll also receive Yardbarker's daily Top 10, featuring the best sports stories from around the web. Customize your newsletter to get articles on your favorite sports and teams. And the best part? It's free!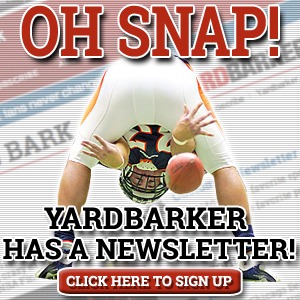 Latest Rumors
Best of Yardbarker

Today's Best Stuff

For Bloggers

Join the Yardbarker Network for more promotion, traffic, and money.

Company Info

Help

What is Yardbarker?

Yardbarker is the largest network of sports blogs and pro athlete blogs on the web. This site is the hub of the Yardbarker Network, where our editors and algorithms curate the best sports content from our network and beyond.