Found January 20, 2012 on Fox Sports Ohio:
There's probably nothing quite like running a major league baseball team and waking up to find out one of the guys you're counting on is not whom you thought he was. Literally. One day the Cleveland Indians feel like Fausto Carmona is an erratic but still reasonably young pitcher who might be able to turn around a rocky career. A few hours later he's a post-30 guy whose best days might not be in the future. That's the mindset when, in a matter of hours, that player goes from being 28 to 31 and from being Fausto Carmona to Roberto Hernandez Heredia. Suddenly, the perception changes. Because that's what it was all about for Carmona: Perception. If charges filed against him in the Dominican Republic are accurate, Carmona changed his name and identity way back when, and he did so to secure a major league contract. The man who shall still be known as Carmona for the short term was arrested Thursday in Santo Domingo after applying for a visa so he could pitch for the Indians this season. He was charged with falsifying documents. The Associated Press reported that the deception included falsifying his age to make himself appear to be three years younger. Why would someone do this? To make the bigs. Kids in the Dominican grow up dirt poor, and baseball is a way out. Carmona is not the first to fake his age, nor will he be the last. Some try to make themselves older to get to the big leagues faster; Carmona probably on the advice of someone who benefited from his deal made himself younger. The reason: Perception. A 17-year-old on the rise is viewed differently from a 20-year-old. Five years after he signed with the Indians, Carmona was lit up as a relief pitcher. At that point, the Indians thought he was 22. So they gave him a chance to start, and in 2007 he had an outstanding season and produced the now infamous bug game. Had the Indians known he was 25, it's worth wondering what would have happened to him. Heck, had the Indians known he was 30 or 31 after last season's disaster (7-15, 5.25), it's worth wondering if they would have picked up Carmona's 7 million option. A team with a tight budget might take a chance on a 28-year-old guy who pitches a lot of innings. A team looking at a guy on the other side of 30 a bit of a benchmark in sports might think twice. The Indians evidently had no clue about the situation. General manager Chris Antonetti released a brief statement saying they had been made aware, were looking into it and were not commenting further. The issue raises many questions. About whether Carmona's contract is still binding, about how he is viewed by the team, about what it's like to walk around as someone else but, most immediately, about Carmona's availability for this season Obtaining a visa after being charged won't be simple. Juan Carlos Oviedo was the closer for the Miami Marlins last season. Except he was really Leo Nunez. In September he returned to the Dominican and admitted playing under a false name. Oviedo still doesn't have his visa though the Marlins did sign him to a one-year, 6 million contract for this season. Is Carmona's 7 million salary outrageous for a 31-year-old (assuming that's what he is) who pitched at least 188 innings the past two years? Well, at age 38 Derek Lowe will be paid 5 million by the Indians this season, and 10 million by the Braves. Those numbers roll easily off the keyboard, but a quick pause shows how staggering they really are and why Carmona did what he did, or why someone enticed him to do what he did. The Dominican Peso is worth .0257 US dollars. That's a 38.9-1 exchange rate. The US government and other international websites state that the average annual income in the Dominican is 8,200. The Indians have paid Carmona 15.1 million (he is due to be paid 7 million this season if he pitches). If he earned 10,000 annually in the Dominican (to round up the average wage), he'd have to work 1,500 years to approach the 15 million he's been paid. In the first year Carmona pitched for the Indians, he was paid 387,500. That's the average annual salary for 47 people in the Dominican. Just a guess, but he'd probably say it was worth it.
Original Story:
http://www.foxsportsohio.com/01/20/12...
THE BACKYARD
BEST OF MAXIM
RELATED ARTICLES
SANTO DOMINGO, Dominican Republic (AP) -- From year to year and game to game, the Cleveland Indians never knew what to expect from Fausto Carmona. On Thursday, he stunned them again. Carmona, the Indians' opening-day starter last season, was arrested in the Dominican Republic for allegedly using a false identity. Officials in his native country are contesting his real name...
Yesterday, Enrique Rojas broke the news that Fausto Carmona's real name is actually Roberto Heredia, and he's three years older than his listed age of 28. Additionally, because he was using a false identity, Carmona's Heredia's chances of securing a work visa seem to be less than stellar. Previous players who have gotten caught using a false name and birthdate have ended...
Authorities in the Dominican Republic have arrested Indians right-hander Fausto Carmona and accused him of using a false identity to try to obtain a U.S. visa, a police spokesman said.
He is Roberto Hernandez Heredia. That is all. More »
The pitcher formerly known as Fausto Carmona was outed when he refused to increase hush money payments to the real Fausto Carmona: ESPN's Pedro Gomez reported on "Outside the Lines" yesterday that Carmona was outed several weeks ago on a popular radio show in Santo Domingo by the mother of the real Fausto Carmona. You can watch video of Gomez's report here. The belief...
CLEVELAND - Cleveland Indians pitcher Fausto Carmona has been arrested for allegedly using a false identity in...
A spokesman for police in the Dominican Republic says the Cleveland Indians pitcher known as Fausto Carmona has been arrested for using a false identity. It is the second such case involving a major leaguer in four months. Maximo Baez Aybar said Thursday that Carmona was arrested outside the U.S. consulate in Santo Domingo.
CLEVELAND (AP) - Cleveland Indians pitcher Fausto Carmona has been arrested for allegedly using a false identity in the Dominican Republic, where officials are contesting his real name and birthdate.A police spokesman said Carmona was arrested Thursday outside the U.S. consulate in Santo Domingo. Carmona had gone there to renew ...
Cleveland Indians pitcher Fausto Carmona has been arrested on suspicion of using a false identity in the Dominican Republic, where officials are contesting his real name and birth date.
SANTO DOMINGO, Dominican Republic (AP) -- The Cleveland Indians pitcher known as Fausto Carmona issued a tearful apology Friday as he was released following his arrest for allegedly using a false identity to play baseball in the U.S.
CLEVELAND (AP) -- With the future of the starter they knew only as Fausto Carmona unclear, the Indians made a move to protect their rotation. Cleveland traded for right-hander Kevin Slowey, acquiring the right-hander from Colorado on Friday for minor league reliever Zach Putnam and cash considerations. Indians general manager Chris Antonetti claimed the deal was not a direct reaction...
MLB News

Delivered to your inbox

You'll also receive Yardbarker's daily Top 10, featuring the best sports stories from around the web. Customize your newsletter to get articles on your favorite sports and teams. And the best part? It's free!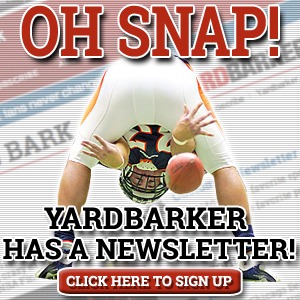 Latest Rumors
The Backyard

Today's Best Stuff

For Bloggers

Join the Yardbarker Network for more promotion, traffic, and money.

Company Info

Help

What is Yardbarker?

Yardbarker is the largest network of sports blogs and pro athlete blogs on the web. This site is the hub of the Yardbarker Network, where our editors and algorithms curate the best sports content from our network and beyond.