Found April 12, 2013 on The Daily Stache:
With the 2013 Mets season underway, I wanted to try something new here at the Daily Stache. After some meditation and prayer, I thought why not try out a quick back and forth with a fellow blogger of the New York Metropolitans. So to get us started this week is a good friend of mine, Jon Presser. Jon happens to run the fantastic Mets blog The Shea Faithful on Rant Sports. Now some of you might be wondering who this person is. I don't blame you, he leads a quiet life in Westchester. Very unassuming as he enjoys life taking care of his little dog. But, What if I told you that he is known on twitter as @MetsJetsNets88? Oh, so now you know who it is. Yes, that's right, the guy who always fights a lot with people on twitter and never buys anything. All joking aside he just happens to be one of the brightest baseball minds I have the pleasure of knowing. With with the Mets season starting the season well, the team is off to a solid 5-4 start, the two straight losses in Philly not withstanding, I thought I should see what his mindset is about the early story lines that have come about already. Below are the three questions (just like three strikes and three outs, there are three questions) he answered about a couple of issues and highlights regarding the Mets. 1. What can the Mets do to fix the back of the rotation? I hate to say it, but they need to just press on right now. I wouldn't mind seeing Collin McHugh get a shot over Aaron Laffey, but I think with Gee and Hefner, the Mets just need to be patient. Both Gee and Hefner have similar repertoires and approaches on the mound, so perhaps it could help to split them up so they don't pitch back-to-back days against the same opponent in the future. But really, for the most part, I think the Mets just need to be patient and hope that Niese and Harvey can continue to carry the rotation until Shaun Marcum gets healthy, Gee and Hefner settle down, and Zack Wheeler finds his rhythm with a few more weeks/months in Las Vegas. McHugh is probably the next man up if needed. 2. Does Ike Davis' slow start concern you? Not particularly. For the most part he's been more of a second-half hitter in his career, and we all know he got off to a very extended slow start last year and still rebounded to SLG .542 with an .888 OPS after the All-Star break. He's too good of a hitter not to get on a hot streak at some point. He's only swung and missed at 9% of the pitches he's seen this year, down from a career-worst 11.2% last year, so hopefully he starts getting luckier with balls in play. He's had a paltry .158 BABIP so far this year, (and he had a .325 BABIP combined in 2010/2011 for what it's worth) despite a solid line drive rate of 20%. The hits will come. 3. What player (Not named John Buck) has impressed you to start the season? Lucas Duda's approach at the plate has really impressed me. Obviously the power numbers are great (.731 SLG, 1.216 OPS in 35 plate appearances through the first 9 games of the year) but really what I love seeing from the Mets this year is the selective aggressiveness that Dave Hudgens has preached, and nobody has embodied that better than Duda. Duda has only swung at 11.8% of pitches outside the strike zone so far this year, and he's made contact with a career-best 75% of those pitches. He's only swung and missed at 6.6% of the pitches he's seen this year, and that combination of a good eye and a quick bat has really helped him be productive to start the year. I'd love to see him keep it up and put it together for a longer stretch of time, like he did in the second half of the 2011 season when he hit .322 with a .411 OBP and a .957 OPS in his final 64 games after the All-Star break. The post Chat With The Stache: Jon Presser appeared first on The Daily Stache.
Original Story:
http://dailystache.net/chat-with-the-...
THE BACKYARD
BEST OF MAXIM
RELATED ARTICLES
Matt Harvey's been dominant, Lucas Duda has been selective and powerful but beyond a shadow of a doubt the best story so far for the 2013 Mets is that of John Buck.  So, I asked friends in the blogosphere the following question: What do you make of John Buck's start?  Is this a brief hot stretch like Rod Barajas in 2010 or is it something else? These people all do great...
And the streak continues! For the ninth straight game (hey, maybe I was onto something) to open the season the Mets have hit at least one home run, a streak that is now a new record while besting the 87 squad. Surprisingly leading the charge is the "throw in" in the R.A. Dickey trade, John Buck. To say that Buck is hot would be a massive understatement. Buck has been everything...
Can you spot the overlooked offensive star in this photo? With all the attention being paid to John Buck's torrid start, another Met's offensive performance has gone under the radar.  But his start is just as noteworthy as Buck's. Daniel Murphy has always been a great contact hitter, lashing doubles at a rate never before seen by a left-handed hitter in Mets history.  Nearly...
St. Lucie Mets 0, Palm Beach Cardinals 1 Hansel Robles took the mound for the Mets on Wednesday night, after leaving the St. Lucie Opener last week with an apparent oblique injury. He showed no ill-effects of the injury, as he pitched 6.1 innings, holding the Cardinals to one run. Robles kept his team in the game all night, but was credited with his first loss, as the Mets' offense...
St. Lucie Mets 4, Palm Beach Cardinals 7 Pitching has been the story for St. Lucie in 2013 thus far. Everyone has praised the pitching staff as being one of the best in the minor leagues, and we've told tales of their dominating performances to start the season. That all came to a screeching halt last night. Domingo Tapia, a consensus top fifteen Mets prospect, took the hill...
Since the birth of baseball, teams have had one goal for each season and that was to win the championship and allow their fans bragging rights. Many teams have had the honor of not only winning one, but winning the Fall Classic multiple times. But for Mets fans wanting to win more than two and actually doing so, has been an uphill climb for so many years. With so many seasons with...
It is fun to speculate Andre Ethier and Carlos Gonzalez in the Mets' outfield. I would also take Josh Willingham, but pass on Carl Crawford and Alfonso Soriano. It would take a lot in terms of prospects and cash down the line to make a run at Giancarlo Stanton. These names have been suggested as outfield possibilities for the Mets, but of all of them, only Willingham in terms...
The New York Mets are monitoring the markets for marquee outfielders Giancarlo Stanton and Carlos Gonzalez, according to Andy Martino of The New York Daily News. Martino notes that Mets general manager Sandy Alderson is anxious to produce a winner in New York, and the club covets a high-profile outfielder to add to the mix. Stanton would be the first choice – considering...
TweetYesterday because they had nothing new to write about the New York Mets, another beat writer for the Daily News made up a story about the Mets possibly trading Zack Wheeler and Travis d'Arnaud (TdA) for Miami Marlins slugger Giancarlo Stanton. First of all, it's a non-issue because neither team really wants it to, but what's interesting was the fan backlash it generated...
Last Night's Quick Scores:                                                                  Savannah vs Rome was postponed due to inclement weather. St. Lucie (5-2) dropped a game to Palm Beach, 7-4. Binghamton (4-3) dropped a game to New Hampshire, 3-1. Las Vegas (5-3) defeated Fresno in a blowout, 14-3.  Stat Line of the Night: Zach Lutz: 2...
St. Lucie 6, Bradenton Marauders 5 by Vinny B. Jacob DeGrom started the game strong for St. Lucie by retiring the first eight batters that he faced, but he ran into trouble in the fourth inning.  DeGrom gave up three runs off four hits in the frame. He then gave up a home run to Willy Garcia in the sixth that put St. Lucie behind 4-3. However, the Mets were able to retake the...
St. Lucie 6, Bradenton 5 Jacob DeGrom started the game strong for St. Lucie by retiring the first eight batters that he faced, but he ran into trouble in the fourth inning.  DeGrom gave up three runs off four hits in the frame. He then gave up a home run to Willy Garcia in the sixth that put St. Lucie behind 4-3. However, the Mets were able to retake the lead due to some sloppy...
Mets News

Delivered to your inbox

You'll also receive Yardbarker's daily Top 10, featuring the best sports stories from around the web. Customize your newsletter to get articles on your favorite sports and teams. And the best part? It's free!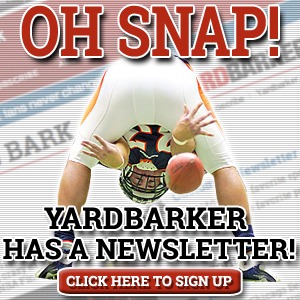 Latest Rumors
The Backyard

Today's Best Stuff

For Bloggers

Join the Yardbarker Network for more promotion, traffic, and money.

Company Info

Help

What is Yardbarker?

Yardbarker is the largest network of sports blogs and pro athlete blogs on the web. This site is the hub of the Yardbarker Network, where our editors and algorithms curate the best sports content from our network and beyond.