Found March 06, 2013 on Grab Some Bench:
For seemingly many years now, the White Sox farm system has been viewed as one of the MLB's worst. Whether it's because of trades that took depth away from the farm system or just bad drafting, there's a school of many that believe the Minor Leagues of our Palehose leaves a lot to be desired. However, there's four guys who, from what they have displayed through their minor league play or their performance in Spring Training this season, have the ability to prove some of those people wrong. I'm talking about four guys who I'm going to start coining "The Outfield Quartet": Trayce Thompson, Keenyn Walker, Jared Mitchell, and Courtney Hawkins. Just by looking at the pure athleticism all four of these guys possess, it's hard for me to believe that there's a deeper group of outfield prospects out there in another system. While only one of these guys crack MLB.com's Top 100 Prospect list (Courtney Hawkins, 68), all four made MLB.com's list of Top 10 White Sox farmhands (Hawkins first, Thompson second, Mitchell fifth, Walker eighth). So let's take an updated look at each of 'em ... COURTNEY HAWKINS Hawkins, who our very own Zach Gropper interviewed on this site shortly after he was drafted, projects as the best out of the four. Many see him as a middle-of-the-order guy with speed to go along with his power bat. Given the fact that he was drafted last season (first round, thirteenth overall), he did not earn an invite to big league camp this year. However, the numbers he put up in his 59 minor league games suggest he could as soon as next year. Rising from rookie ball to high-A, he hit .284 with eight home runs, 33 RBI, 11 steals, and a .804 OPS. Plus, he hit two home runs for the Winston-Salem Dash in the Carolina League playoffs. It's a safe bet that he'll start the season in Winston-Salem, but don't be surprised if he's in AA Birmingham by the end of this year if he keeps improving at this rate. TRAYCE THOMPSON Trayce Thompson was viewed as the number one guy in the organization last year until Hawkins put on a show, but his raw power and athleticism gives Sox fans a lot to be excited about. Like Hawkins, he too shot up the system last year, as the 2009 second round pick made stops in high-A, AA, and AAA, hitting 25 home runs, driving in 96, and stealing 21 bags along the way. While his strikeout totals are a bit high (166 last year), he was impressive enough to earn an invite to big league camp. Expect Thompson to start the season out at AAA, and if he performs well enough, he could be the guy to get the call-up if someone on the big league club were to go down for a while. He's struggled in Spring action this year (0-for-8 at the plate), but if his success last season and athletic bloodlines are any indication (his father was an NBA Champion, and his two brothers are currently in the NBA), he could be an impact player for this organization. JARED MITCHELL Mitchell has taken an interesting road to this point. A two-sport star at LSU in baseball and football, Mitchell was less polished than most when the Sox drafted him 23rd overall in 2009. However, he performed well in low-A Kannapolis after he was drafted, and even better in the Spring of 2010 when he was ranked 55th on Baseball America's prospect list. However, an ankle injury knocked him out for all of 2010, and he's struggled to find success at the plate the past two seasons. Now though, he's been one of the best stories in camp, hitting .385 with a home run and four RBI in seven Spring games with the big league club. While cutting down on his strikeouts is a must if he wants to be a top-of-the-order hitter at the next level (179 between AA and AAA last year), the Sox feel he's close, as indicated by his promotion to the 40-man roster before Spring Training. Like Thompson, he too may get a cameo in the MLB this season if injury occurs or as a September call-up. KEENYN WALKER Walker's the guy you probably know the least about, but if he can produce the way he expects himself to, you'll be hearing about him a bit more. He said in a recent interview with whitesox.com that he wants to get 100 steals in the minor leagues this season. While that could be a bit far-fetched, his 56 steals in 111 games last season between both A-ball classes show that he has some scary, scary speed potential. He's hit alright in Spring Training thus far (.250 average in 16 at-bats, with a double and a triple to go with it), but last season, he showed some promise by hitting .283 in low-A Kannapolis. Like Thompson and Mitchell, he's a high strikeout guy at this point (143 in both stops last year), but he also walked 74 times and recorded a stellar .378 on-base percentage. The 2011 sandwich pick (compensation pick between the first two rounds) will likely start the season in high-A or AA, and if he can keep getting on-base at the rate he did a year ago, he could be this team's leadoff man in a few years. HOW DO THEY ALL FIT? When you look at these four, it really is difficult to figure out why the Sox outfield isn't looked at as one of the premier prospect outfields out there. While no team has ever had every single prospect end up the way they were projected to (see Joe Borchard, Josh Fields, and Jerry Owens just to name a few for our Southsiders), you can bet your bottom dollar that the Sox certainly see all four of these guys playing key roles in the big leagues. It puts the Sox in an interesting scenario, as the White Sox already have three outfielders at the big league level in Dayan Viciedo, Alejandro De Aza, and Alex Rios that look like they have more than just a few good years ahead of them. If "The Quartet" plays out like they can, it could mean that Viciedo indeed becomes the heir-apparent to first base when Paul Konerko leaves, and De Aza, Rios, or any one of the four guys mentioned above could bring in a hefty return. Who knows what the future holds for these four, but if they live up to their potentials, Courtney Hawkins won't be the only one doing backflips. Rick Hahn, Robin Ventura, and Sox fans could be doing some of those as well.
Original Story:
http://www.grabsomebench.com/2013/mar...
THE BACKYARD
BEST OF MAXIM
RELATED ARTICLES
The White Sox are always a peculiar team to me.  They rarely come into a season with fanfare, but seem to ride a mix of veterans and mildly known young guys to a good enough record to not be horrible, but also not make the playoffs.  the last time they made the playoffs was 2008 and since they've finished either 2nd or 3rd in the AL Central.  How long can the White Sox continue...
From the esteemed Dan Hayes of CSN Chicago: White Sox pitcher Chris Sale confirmed Tuesday his representatives have had discussions with the club about a contract extension. (snip) "We've been kind of back and forth but nothing too crazy right now," Sale said Tuesday when asked about extension talks. Think of the headline potential. "Sale Extended: Now Through 2018!" That...
The U.S. team played to a 4-4 tie with the Chicago White Sox on Tuesday in the first of its two exhibition games leading up to the start of the World Baseball Classic. It was still a losing afternoon for the Americans. First baseman Mark Teixeira will miss the tournament after straining his right forearm while swinging in the batting cage before the game. Yankees manager Joe Girardi...
WHITE SOX 8, CUBS 3 MESA, Ariz. -- Paul Konerko hit two home runs and Adam Dunn added a two-run shot as the Chicago White Sox beat the Chicago Cubs 8-3 Thursday. Dunn and Konerko hit consecutive homers in the sixth inning. They also added singles and Gordon Beckham had a RBI double. White Sox starter Jose Quintana allowed one earned run and two hits in 3 2-3 innings. He struck...
The White Sox and Chris Sale have recently talked contract extension for the 23-year-old lefty.  The question has been asked whether or not it makes sense for the Sox to extend the young ace now, or wait a little bit. The earliest that Sale could become a free agent is 2017, so the Sox have him under team control for the near future.  However, Sale will become arbitration eligible...
The only thing consistent from year-to-year with Alex Rios is his inconsistency. In the last four years he's had batting averages in the .240s, .260s, .280s, and .300s. I mean, seriously, it doesn't get less consistent than that. In the last three years he's had stolen base totals of 34 (career high), 11 (career low), and 23 (just right), and don't even get me started on...
Who do you think is the slowest player in major league baseball? No fair guessing Bartolo Colon. Allow me to re-phrase. Who do you think is the slowest position player in major league baseball? You probably have a few names floating around in your mind. Many of them are probably catchers. I can tell you I don't know if I've ever seen a worse runner than Jesus Montero. Montero...
Last season, when Dayan Viciedo wasn't on one of his torrid hot streaks, there was a lot of criticism aimed at the 23 year-old Cuban outfielder. Many grew tired of his lack of plate discipline - especially in situations when the White Sox needed a smart at bat, if you will. But I'm here to remind you why we, as White Sox fans and even analysts, should not take "the...
  The White Sox unveiled the 2013 marketing campaign – "Make an Impact." This follows in the footsteps of "Appreciate the Game," which came after "All in." The sequence of these campaigns is interesting. After an abysmal 2011 season, we were "ALL IN" on getting rid of Ozzie. I don't know about you all, but I most certainly appreciated...
White Sox News

Delivered to your inbox

You'll also receive Yardbarker's daily Top 10, featuring the best sports stories from around the web. Customize your newsletter to get articles on your favorite sports and teams. And the best part? It's free!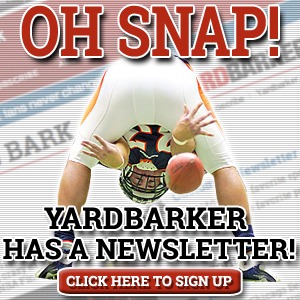 Latest Rumors
The Backyard

Today's Best Stuff

For Bloggers

Join the Yardbarker Network for more promotion, traffic, and money.

Company Info

Help

What is Yardbarker?

Yardbarker is the largest network of sports blogs and pro athlete blogs on the web. This site is the hub of the Yardbarker Network, where our editors and algorithms curate the best sports content from our network and beyond.