Found July 06, 2012 on The Daily Stache:
The Cubs are tied or the worst record in the Majors, and they bring their continued struggles to Citi Field to close out the first half of the year against the Mets. Keeping a grip on second place in the National League East, the Mets are fresh off one of their most momentous wins of the year against Philadelphia last night and will look to enter the 2012 All-Star break in style. It was only a week and a half ago that the Mets dropped two of three to the Cubs at Wrigley. After back to back abysmal showings on offense, they exploded for a 17-1 win to salvage a game in that series. The hit parade should be in full swing against the Cubs after that win and last nights walk-off victory. The Mets will don their blue "Los Mets" threads for Hispanic Heritage night this evening. Lineups New York Mets 1)
2)
3)
4)
5)
6)
7)
8 )
9) Johan Santana LHP Chicago Cubs 1)
2)
3)
4)
5)
6)
7)
8 )
9) Travis Wood LHP Matchup NYM: Johan Santana (6-4, 2.76 ERA) Dating back to his June 1 no-no, Johan has been the victor in five of his last seven starts. He pitched eight scoreless innings against the Dodgers on Sunday on three-hit ball and is proving that his return to form is truly real. He took a tough loss in his last decision against the Cubbies, going six, allowing just two runs while not receiving an ounce of run support. Give him the backing he needs, and this Chicago team is a team that Johan can most certainly handle. CHC: Travis Wood (3-3, 3.05  ERA) Joining the Cubs midway through the season, Wood has rebounded flawlessly after quietly falling off the map in Cincinnati. Left-handed hitters have only picked up seven hits against him in his first nine starts this year. He has managed to get key outs, bailing him out of his control problems. He stacks up well against the Mets. The Mets couldn't score on him a week and a half ago, so Wood will be up against his scouting report for sure this evening. Stache Keys to the Game
There's no reason for the clutch hitting to stop. The Mets cash in with two outs as well as anyone else in baseball.
Work the matchups and scare away southpaw Cubs pitchers.
Scott Hairston and David Wright are feasting on the lefties. Light up Travis Wood and bring him back to earth.
Slated for a 7:10 PM ET start, catch the game live on SNY and WFAN 660.
Original Story:
http://dailystache.net/archives/2426?...
THE BACKYARD
BEST OF MAXIM
RELATED ARTICLES
Travis Wood is one of a select few to outpitch Johan Santana this season, getting the best of his fellow left-hander last week. Accomplishing the feat on the road may prove to be more difficult. Santana looks to improve on his already stellar numbers at Citi Field when his New York Mets host Wood's Chicago Cubs in the opener of a three-game set Friday night. Chicago beat New...
The Cubs and Mets start their last series before the All-Star break tonight as the Mets look for revenge from the last Cubs/Mets series. Last night the Mets were on the verge of losing the series against the Phillies when the offense started a real, 2012 Mets style ralley and with a some good AB's they got the runs in. Anyway, Johan Santana looks to keep the energy levels up as...
Every pitcher has one of those days, and today, Johan had one of those days. Mets just cannot seem to beat the Cubs as they couldn't finish their late inning rally, losing 8-7. Johan Santana simply just did not have it today. And unfortunately, he didn't have enough back up to cushion the blow. He gave up seven earned runs, five runs being from three different homeruns he gave...
Pretty cool game last night.Johan Santana vs Travis Wood in New York with the Mets in 2nd behind Washington in the East and the Cubs sort of a related development.But whatever, Reed Johnson led off with a homer, got 4 hits and scored 3 times.Jeff Baker hit one out, Alfonso Soriano went 2 for 4 and knocked one in (he's now 26 RBIs from 1000).Geovany Soto got 2 hits to raise his...
Daniel Murphy was one of several Mets to have a big game in Thursday's come-from-behind win against Jonathan Papelbon and the Phillies. Lost amid the ninth-inning heroics was the excellent defensive play he made in the top of the eighth that saved at least one run. Murphy ranged far to his right to snag a ball hit by Placido Polanco, planted and without even looking at the...
Starting Lineup Ruben Tejada – SS Ronny Cedeno – 2B David Wright – 3B Scott Hairston – LF Lucas Duda – RF Justin Turner – 1B Mike Nickeas – C Kirk Nieuwenhuis – CF Johan Santana – LHP The Cubs and Mets start their last series before the All-Star break tonight as the Mets look for revenge from the last Cubs/Mets series. Last night the Mets were on the verge of...
I'm glad the Mets came back and made a game of this. Not so much for the "heart" or the "grit" that the Mets showed, but because when it was 7-2 in favor of the Cubs it was a sure thing that the knives were being sharpened to call this the dreaded "let down" game. And it wasn't. The loss to the Cubs was simply a case of Johan Santana not having...
The New York Mets begin a series against the Chicago Cubs tonight at 7:10 PM ET at Citi Field. The game can be seen on SNY and heard on WFAN. Starting Lineups: #Mets Fri. lineup vs. Chicago: Tejada-SS, Cedeno-2B, Wright-3B, Hairston-LF, Duda-RF, Turner-1B, Nickeas-C, Nieuwenhuis-CF, Santana-LHP — New York Mets (@Mets) July 6, 2012 #Cubs lineup @Mets 7/6: Johnson RF, Barney SS,...
MLB News

Delivered to your inbox

You'll also receive Yardbarker's daily Top 10, featuring the best sports stories from around the web. Customize your newsletter to get articles on your favorite sports and teams. And the best part? It's free!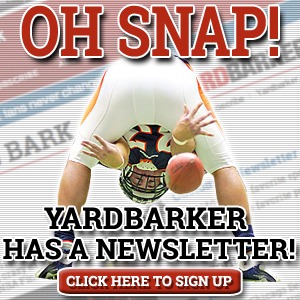 Latest Rumors
Best of Yardbarker

Today's Best Stuff

For Bloggers

Join the Yardbarker Network for more promotion, traffic, and money.

Company Info

Help

What is Yardbarker?

Yardbarker is the largest network of sports blogs and pro athlete blogs on the web. This site is the hub of the Yardbarker Network, where our editors and algorithms curate the best sports content from our network and beyond.