Found March 12, 2012 on isportsweb.com:
Those reading this may be wondering why there hasn't been more Spring Training coverage before now. To be perfectly honest, I was waiting for the White Sox to win more than one game so I'd at least have some positives to write about.
The Sox stand at a 2-6 record after Sunday's 2-5 loss to the Colorado Rockies. Just looking at the numbers, it is the Sox pitching that appears to struggling. Potential opening day pitcher John Danks highlighted Sunday's loss by throwing four walks in three innings. For those keeping track of Danks through this last week, that makes seven walks in five innings overall.
Still warming up
Furthermore, newly converted starter Chris Sale did not fare so well in his first Spring Training start. The 22 year-old let up three runs in three innings, including a home run.
Despite looking very lackluster this past week, the news isn't all bad. Even though the pitching could stand to improve, the run production is certainly enough to win games. No game saw the White Sox batting lineup get shut out. Unfortunately, even though the Sox scored six runs in three of their games, they could only win one of them due to defense issues.
Another positive point of note is the performance of utility player Brent Lillibridge. The versatile player is coming off a very successful 2011 season and manager Robin Ventura has been very open about recognizing Lillibridge's potential to contribute in a variety of ways. His diverse talents could back up a struggling Beckham or Ramirez in the infield. Lillibridge can also fill in for Alex Rios if he continues to have trouble at the plate (which looks like it could happen considering he is only 1 for 12 so far).
Now I don't mean to get everyone's hopes up, but Adam Dunn has 4 RBIs in 11 at-bats, including a home run. It is too early to make any assumptions, but hopefully he continues to see the ball well so he can contribute throughout the season.
Although a starting week of 2-6 is not ideal, what is important to remember is that Spring Training is rarely indicative of how a team will fare in the regular season. Many are on the roster that won't be there opening day and the players,as well as the rookie manager Ventura, are all getting settled into this new team. Sox fans will remember that in 2005, the team had a very poor pre-season only to hold first place all season and eventually take home a World Series Championship.
Even though it is a lofty and unrealistic goal, hopefully we can see a similar level of success this season.
Original Story:
http://isportsweb.com/2012/03/12/chic...
THE BACKYARD
BEST OF MAXIM
RELATED ARTICLES
@!#!% FOR MY VALENTINE
It's only Spring Training, but two of baseball's most outspoken managers have already gotten themselves into a mini war of words.
Ozzie Guillen was right when he said he was one of the best things to happen to Chicago. I know, I know, he's no longer with Chicago, but his presence is still a great thing for baseball. Ozzie was ejected in the sixth inning of the Marlins-Red Sox spring training game Monday for arguing a call. He had to walk across the field to exit through the Boston dugout. Opposing manager...
Despite a report by sources close to Jon Paul Morosi of FOX Sports, the Chicago White Sox have no intention to move starting pitcher Gavin Floyd.  In an email from GM Ken Williams to MLB.com's Scott Merkin, Williams said, "I am not looking to move him." Morosi reported earlier on Monday that the Toronto Blue Jays were in pursuit of the right-handed pitcher.  The Jays want...
Red Sox manager Bobby Valentine laughed off Miami counterpart Ozzie Guillen's profane reference toward him, commenting: ''Isn't that his standard comment on everything?'' Guillen was ejected from Monday's spring training game against Boston for arguing a foul call and Valentine waved goodbye a couple of times. After the game Guillen said he would have...
Yes, it's only spring training, but Ozzie Guillen is in midseason form.  And we wouldn't expect anything less from Ozzie Guillen.Today during the Marlins-Red Sox game, Guillen was ejected (see, midseason form) for arguing a fair/foul call. On the way to the exit, Red Sox manager Bobby Valentine waved and said "See ya". Guillen didn't hear or see Valentine's remark, but...
Ozzie Guillen couldn't even make it to the regular season without getting tossed from a game. The new Marlins skipper was ejected in the sixth inning of what was eventually a 5-3, 10-inning win for the Red Sox at JetBlue Park on Monday. As Guillen exited the field, Red Sox manager Bobby Valentine wished him farewell with a friendly wave. "See ya," Valentine recalled...
White Sox starter Jake Peavy allowed six runs and eight hits in just 2 1-3 innings of his second spring training start, and the Oakland Athletics beat Chicago 9-4 on Monday. Peavy, who struck out one and walked two overall, left with the bases loaded and one out in the third after yielding four consecutive singles and a walk. Oakland's Daric Barton went 0 for 3 with two walks...
In today's practice game, Ozzie made sure the umps knew that the ball never reached the bag and also that just because he's sippin' on pina coladas and mojitos in south beach, doesn't mean he's going to be taking no crap this season. As Ozzie stomped towards the locker-room Red Sox manager Bobby Valentine gave him a little wave, which unfortunately he did not see...
By Adam Berry and Evan Drellich / MLB.comTAMPA, Fla. -- Red Sox manager Bobby Valentine took no offense to Marlins skipper Ozzie Guillen's critical comments following Guillen's ejection on Monday, laughing it off."Isn't that his standard comment on everything?" Valentine said.Guillen was ejected from Monday's game between the Red Sox and Marlins for arguing...
Ozzie Guillen is up to his old shenanigans and Bobby Valentine has been told what's up. Guillen was ejected from Monday's Grapefruit League game against the Boston Red Sox for what else but arguing a call. Then, as the new Miami Marlins skipper exited the field, opposing manager Valentine gave him a sarcastic wave adios and said, "See ya." This exchange (although...
For most players, spring training stats are meaningless. As long as they are healthy, their swings or deliveries are in order, and their bodies are conditioned for the 162-game grind, all the March 0-fers and five-run duds will be forgotten come Opening Day. That's not the case for Adam Dunn. No one in baseball needed a clean slate after last season more than the 32-year-old...
It's only mid-March and two MLB managers are already engaging in a slightly immature war of words. Granted, one of the managers is the colorfully verbose Miami Marlins skipper Ozzie Guillen, and the other is a guy who has always loved the sound of his own voice, new Boston Red Sox manager Bobby Valentine. Valentine [...]
MLB News

Delivered to your inbox

You'll also receive Yardbarker's daily Top 10, featuring the best sports stories from around the web. Customize your newsletter to get articles on your favorite sports and teams. And the best part? It's free!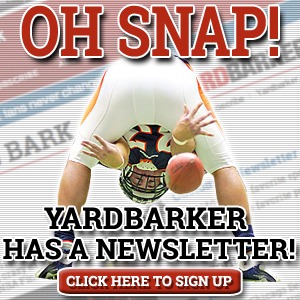 Latest Rumors
Best of Yardbarker

Today's Best Stuff

For Bloggers

Join the Yardbarker Network for more promotion, traffic, and money.

Company Info

Help

What is Yardbarker?

Yardbarker is the largest network of sports blogs and pro athlete blogs on the web. This site is the hub of the Yardbarker Network, where our editors and algorithms curate the best sports content from our network and beyond.