Found May 02, 2012 on isportsweb.com:
Suffice it to say that the Chicago White Sox surprised pretty much everyone this April. As I've said before, it doesn't look like they will become the awful 95-loss team that analysts predicted. Going into May, their record of 12-11 has them vying for first place in the AL Central. It is true that the Sox were in contention last year before the Detroit Tigers got red-hot, but this 2012 team already has me feeling better than last season. Our consistently good players continue to be…well, consistently good. Add that to the fact that several other players are enjoying a much needed rebound and you have a team that could be atop the division at the All-Star Break. The Good Paul Konerko If I'm going to talk about what's going right for the White Sox, obviously the team captain will headline this category. Not to sound like a broken record, but Konerko continues to be an absolute beast. Recently named AL Player of the Week, Konerko has been simply crushing the ball. During the beginning of a season when many players enjoy bloated stats, Konerko is still batting .369 with 5 HR and 16 RBIs. In this respect, he continues to set himself apart from the rest of the pack. Hopefully those RBIs increase as the rest of the lineup finds its groove. Peavy starting out strong Jake Peavy The former Cy Young winner looks like a new man this season. Due to a string of injuries, he's been lackluster to say the least since his acquisition in 2009. However, having already thrown two complete games this year, Peavy possesses a 1.67 ERA along with a very impressive 33:5 strikeout to walk ratio. Also positive to note is he has only allowed one home run in 37 innings of work, which demonstrates his excellent control of the zone. If this continues, the Sox rotation could end up being one of the best in the league. The Bad Brent Morel and Gordon Beckham I've grouped these two players together because they're in the relatively same predicament. They're each extremely strong defensive players that are having major problems at the plate. In fact, it is their stellar defense that may be the only thing keeping them in the lineup. They each have batting averages below .200 and only have 7 RBIs between the two of them. Hats off to Robin Ventura for being supportive and standing by his players, but if their numbers don't improve in a few weeks, you can be sure that utility player Brent Lillibridge will be seeing some more action. Admittedly, I've never been on the Gordon Beckham bandwagon, but I desperately want to be proven wrong. It would be great to have another franchise player in an infield that already has the sure glove of Alexei Ramirez. On the Rebound? Alex Rios After only having 44 RBIs in the 2011 campaign, Rios already has nine to go along with his .295 BA. Obviously it is still somewhat early and his numbers could easily go down, but Rios has really been shining this year in key spots. It is nice to see him make the occasional contribution despite still being in the bottom half of the lineup. Adam Dunn Don't look now, but Dunn's bat is actually driving in runs. His 16 RBIs and 5 homers ties him with Paul Konerko. Yes, it would be nice to have him strikeout a bit less and to have the average rise some more, but let's not be unreasonable here. The key thing is that there is noticeable improvement. He is taking pitches he would have swung at last season and he is making much better contact. Dunn's bat is essential to a White Sox playoff run. If he can stay productive, then the 1…2…3… punch of Dunn, Konerko, and Pierzynski will be very dangerous to opposing pitchers. All this being said, the Sox are looking ahead to May. 21 of the 29 games this month are against division opponents. Games against division rivals are always important, but the Sox have had problems these last few years winning these contests. Fortunately, they are 5-1 this year against their American League counterparts and if that continues, the Southsiders could easily be 4 or 5 games in first by the time June rolls around.
Original Story:
http://isportsweb.com/2012/05/02/chic...
THE BACKYARD
BEST OF MAXIM
RELATED ARTICLES
The first month of the major league baseball season was a whirlwind. In the American League, Tampa Bay, Cleveland, and Texas lead their respective divisions. As is always the case, some players have come from out of nowhere to surprise with their production while others have been flat out terrible. We're only one month in so much will change, but with a full calendar month now...
Chicago White Sox CF Alejandro De Aza managed to hit an infield double Tuesday night as the Cleveland Indians infielders lost the ball in a cloud of smoke. The smoke came from fireworks which were set off to celebrate a home run by the previous White Sox batter, Gordon Beckham. After De Aza's double, the White Sox scored three more runs in the inning on the way to a 7-3...
Cycling is, above all, a team sport, and the tactics involved are as complicated as those of baseball or basketball. "Ever try to explain the infield fly to somebody?" Armstrong asked me when we were in Texas, where he lives when he is not racing or training in Europe. --New Yorker, 2002 If you know very little about baseball, you still probably know that the infield...
Gordon Beckham snapped out of a slump with three hits and the Chicago White Sox beat the Cleveland Indians 7-2 on Tuesday. Beckham was mired in 0-for-10 slide and was batting just .153 before he belted a solo homer in the third to give Chicago a 2-1 lead on a rainy, overcast night at U.S. Cellular Field. He also singled in a run in the fifth. A.J. Pierzynski also had a solo homer...
CHICAGO (AP) -- Gordon Beckham snapped out of a slump with three hits and the Chicago White Sox beat the Cleveland Indians 7-2 on Tuesday. Beckham was mired in 0-for-10 slide and was batting just .153 before he belted a solo homer in the third to give Chicago a 2-1 lead on a rainy, overcast night at U.S. Cellular Field. He also singled in a run in the fifth. A.J. Pierzynski also...
The early-April Chicago rain gave way to fireworks, smoke and free passes from the Indians' stirrup-wearing starter. After an hour delay, the White Sox played host to the Cleveland Indians who would go on to play one of their fundamentally worst games of the still-young 2012 season. Errant pitches, botched grounders, dropped pop-ups and miscommunication on stolen base attempts...
If you follow me on Twitter at @Grab_Some_Bench, which you 'oughta, then you know that Wednesday night's game was the first time I made it to U.S. Cellular Field in this young 2012 campaign. I soaked up a lot throughout the five or-so hours I spent there, and I think you'll all enjoy hearing what I found to be unique about "The Cell" this season. But first, let's touch...
Prior to the start of the season, few would have considered a matchup between Detroit's Drew Smyly and Chicago's Jake Peavy a pitchers' duel. Both are off to sensational starts, however, and runs could be hard to come by when the two square off in Friday night's series opener between the Tigers and White Sox at Comerica Park. After opening 9-3, Detroit (12-12) has...
According to the sources of Time Out Chicago's Robert Feder (a long time Chicago Sun-Times writer, so I would very seriously trust these sources), Sun-Times sports columnist Joe Cowley is one step away from being canned. As far as his employment goes, the former White Sox reporter hired away from the Daily Southtown is trailing by a couple runs with two out and two strikes in the...
White Sox News

Delivered to your inbox

You'll also receive Yardbarker's daily Top 10, featuring the best sports stories from around the web. Customize your newsletter to get articles on your favorite sports and teams. And the best part? It's free!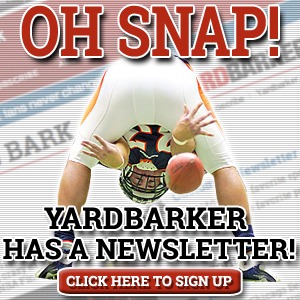 Latest Rumors
Best of Yardbarker

Today's Best Stuff

For Bloggers

Join the Yardbarker Network for more promotion, traffic, and money.

Company Info

Help

What is Yardbarker?

Yardbarker is the largest network of sports blogs and pro athlete blogs on the web. This site is the hub of the Yardbarker Network, where our editors and algorithms curate the best sports content from our network and beyond.