Found September 05, 2012 on isportsweb.com:
After the past weekend's sweep by the Tigers, it looked like the Chicago White Sox were quickly losing their momentum. Going into Monday, they were tied for first place in the AL Central. Thankfully, today's 6-2 win against the Minnesota Twins gave them a series win and helped maintain their position.
Rios puttin' it on the board
Starter Jake Peavy needed a strong performance in the wake of the 18-run beating the Twins gave the Sox last night. Peavy (10-10) hadn't won since August 1st mainly due to poor run support, but he came out today and gave another stellar performance. He pitched six innings and only allowed one earned run. Giving up an impressive five hits, he controlled most of the game and only had one sticky situation to pitch out of.
Peavy earned his tenth win for the first time since 2008 and the man that made it happen was Alex Rios. Normally Peavy doesn't get much run support, but today was an exception. Rios came out strong in the first inning with a grand slam after both Dunn and Youkilis drew walks. He hit another long ball in the sixth after Paul Konerko was walked. These RBIs gave him 82 on the season.
Rios' performance this season has been amazing and he is always in talks concerning Comeback Player of the Year. His 2011 season was both offensively and financially disappointing since the Sox were paying him to play like the old Alex Rios. Now in 2012, not only is he playing in a manner equivalent to his potential, but he's primed to eclipse his season best 88 RBIs.
Rios is just one of many players on the White Sox that are crucial to their success. A.J. Pierzynski, Kevin Youkilis, Paul Konerko, and Adam Dunn are all players I would deem irreplaceable to the team as they try to make the postseason. Every player on that list consistently comes through at important times and there has always been someone there to pick up others' slack.
Their win today maintained their lead and the pressure is now on second place. No matter how the Detroit Tigers fare tonight, the Sox know they will be going into Friday at least one game atop the AL Central.
Original Story:
http://feedproxy.google.com/~r/isport...
THE BACKYARD
BEST OF MAXIM
RELATED ARTICLES
Your browser does not support iframes. Catching a ball at a game has to be one of the greatest thrills a fan can have. I'm speaking out of assumption since I've never had the fortune of catching a ball at a game, but it sure looks awesome. Think about how lucky one has to be to even have the opportunity to catch a ball. Out of thousands of fans in attendance, the ball has to...
Alex Rios homered twice and drove in a career-high six runs to lead the Chicago White Sox to their fourth straight victory, 6-2 over the Minnesota Twins on Wednesday. Rios hit a grand slam in the first inning and a two-run shot in the sixth to help extend Chicago's lead in the AL Central to 1 1/2 games over Detroit. The Twins erupted for 18 runs against Chicago pitching Tuesday...
Rumors began to swirl on Chicago talk radio and in social media yesterday, that Chicago White Sox catcher, A.J. Pierzynski tested positive for performance enhancing drugs and would begin serving a 50-game suspension immediately, essentially being lost for the season.  With the White Sox clinging to a one-game lead over the Detroit Tigers, losing the veteran catcher for the season...
One of the bigger pre-season storylines this year was the numerous relievers who were being used in their respective rotations. A number of them struggled, but a few have exceeded expectations. Jeff Samardzija has relied heavily on his split-fingered fastball and has had a solid season; Lance Lynn was an all-star; and then there's Chris Sale — the player who made the most...
And that's just the tip of the iceberg of what has been posted today to Ozzie Guillen's Twitter account. Yes, Ozzie is a crazy maniac who doesn't usually make sense in English, but these tweets are more incoherent than usual. Man juices? And there's so much more. For example: whit. all. this. trafic. lol. but. is. ok. i. going. to. listen. el. tigre. rafael. salsa. program...
iam. baaaaaaaaaaaaaaaack — Ozzie Guillen (@OzzieGuillen) September 5, 2012 It has been 110 long, Ozzie Guillen-less days on the interwebs since the Miami Marlins skipper delighted us with his sometimes nonsensical, often in Spanish and always entertaining ramblings courtesy of his Twitter account. And even though the Marlins are suffering through a terrible season, it [...]
The Minnesota Twins have typically been a thorn in the Chicago White Sox's side, but not this year. Back in sole possession of first place in the AL Central, the White Sox look to win their seventh straight at home over the Twins on Tuesday night. Prior to this season, Chicago hadn't posted a winning season record against Minnesota since 2005, but a 4-2 victory Monday improved...
2012 BANDAI OWNERS LEAGUE LASTINGS MILLEDGE Mets COTW is back in town after 5 weeks in Japan, jet lagged as hell and raring to go. While in Tokyo, I dropped 5,000 yen on Japanese baseball cards at an Akihabara hobby shop. All in the name of research, I assured my wife, as she cocked her head and arched an eyebrow or two. The primary card set in Japan is called "Owners League"...
Last Thursday, I took a stab at predicting how batter's swing influences their ground ball / fly ball splits. One of the most important retorts to the research (a retort made both in the comments and on The Book blog) was that pitch location was the determining factor of bat angles — what I was attributing to hitter tendencies (at least for hitters who have big GB/FB platoon...
MLB News

Delivered to your inbox

You'll also receive Yardbarker's daily Top 10, featuring the best sports stories from around the web. Customize your newsletter to get articles on your favorite sports and teams. And the best part? It's free!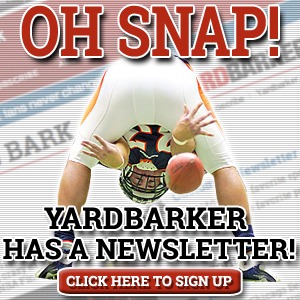 Latest Rumors
Best of Yardbarker

Today's Best Stuff

For Bloggers

Join the Yardbarker Network for more promotion, traffic, and money.

Company Info

Help

What is Yardbarker?

Yardbarker is the largest network of sports blogs and pro athlete blogs on the web. This site is the hub of the Yardbarker Network, where our editors and algorithms curate the best sports content from our network and beyond.