Found July 19, 2012 on Larry Brown Sports:
Melky Cabrera antagonized Braves fans for the second day in a row, and this time Chipper Jones called him out for his actions. During the third inning of Tuesday's series opener between the Braves and Giants, Cabrera did a "suck it" crotch chop to the Braves fans after making a catch. Cabrera repeated the gesture at least twice during the Giants' 9-4 win on Wednesday. He did it after homering in the sixth, and again after Gregor Blanco's home run in the 11th made it 9-3. On top of that, Andrew Baggarly of CSN Bay Area says Melky teased Braves fans by pretending to throw balls to them, and that he did a hand gesture after Jason Heyward decided not to tag on a ball hit to him in deep left. Chipper Jones took note of Cabrera's behavior. "That's Melky, and that's why he's not here anymore," Jones said after the game, per CSN Bay Area. "He got a little happy when I think (Gregor) Blanco hit the home run. That won't be forgotten." Sounds to me like someone is getting dosed on Thursd
Original Story:
http://larrybrownsports.com/baseball/...
THE BACKYARD
BEST OF MAXIM
RELATED ARTICLES
Maybe Melky Cabrera should take Monday night off and head on over to the Scottrade Center in St. Louis for WWE Raw's 1,000th episode. He'd fit right in. The reigning All-Star Game MVP has been crotch-chopping and double-dog daring his way onto the Braves' doo-doo list in recent games, which could -- and perhaps should -- earn him a couple of inside fastballs whenever...
Melky Cabrera gave some Atlanta Braves fans payback when he did the DX suck it to them after being taunted.  Seriously didn't want to post this being a huge Braves fan, but I'm also a huge fan of D-X so I had to respect Melky for pulling this out.  The video is below if you missed it. Check out our Home Page for more stories and follow us on Twitter and Facebook
Atlanta Braves fans weren't exactly the biggest supporters of Melky Cabrera during his stint with the club in 2010, and it seems the San Francisco Giants left fielder didn't make himself anymore friends during the three-game series that concluded Thursday in his first trip back to Atlanta since being released at the end of his only year with the Braves...
San Francisco Giants outfielder Melky Cabrera had a series to remember in Atlanta. Not because of any game-ending hits or homer-preventing catches, but because of his body language, how he irritated the Braves and the apparent tension between Cabrera and Chipper Jones. Cabrera, the All-Star Game MVP last week, was a struggling Brave in 2010, and he didn't exactly get treated...
It is time for my weekly three up and three down column.  The All Star game was completed last Tuesday with the National League blowing out the American League 8-0.  Melky Cabrera won the MVP of the All Star Game.  As always you can reach me through facebook, twitter @gmarchesej, comment under this article or email me at gmarchesej@aol.com.  Thanks for reading as always and I...
The trade -- outfielder Melky Cabrera to the San Francisco Giants for left-hander Jonathan Sanchez and minor league lefty Ryan Verdugo -- seemingly made sense for the Kansas City Royals when it was announced last Nov. 7. Sure, Cabrera was coming off a career year in which he batted .305 with 44 doubles and 201 hits. However, the Royals needed starting pitching, and Sanchez had...
Chipper Jones has seen a lot in his 19 seasons with Atlanta. Even he hasn't seen anything like what the Braves did Friday night. Atlanta was down 9-0 after five innings with Washington Nationals star pitcher Stephen Strasburg on the mound. The Braves came back to take the lead in the top of the ninth, after the Nationals tied it Atlanta pulled out a wild 11-10 win on Paul Janish...
Chipper Jones and Lance Berkman both made terribly hilarious plays on defense yesterday, but which was worse? I'll go with the one that allowed the Giants to score. (-_-)
Jonathan Sanchez, the primary player involved in the trade that sent Melky Cabrera to the Giants, has done little for the Kansas City Royals, so the Royals essentially replaced him on the roster with the minor-league player acquired in the Cabrera trade -- Ryan Verdugo. Verdugo was scheduled to make his major-league debut Tuesday. Sanchez has been designated for assignment after...
  Photo Courtesy of Jesse Montellano Ken Rosenthal of FoxSports.com says it's not a surprise that the San Francisco Giants are looking for bullpen help. Rosenthal says their bullpen is perceived as a strength, but their combined strikeout rate (Giants relievers) is the third-lowest in the NL.   Welcome Back All Star outfielder Melky Cabrera will rejoin the Giants today in Atlanta...
While editing the latest piece by Zach Gropper, which will be published soon, I came across the following line in reference to Melky Cabrera's underwhelming power numbers when compared to other NL MVP candidates: And let's not forget…chicks dig the long ball. And, of course, I could not help but think back to the great Nike commercial that coined the phrase, which immediately...
Hoping to continue their 7-game winning streak, the Braves were derailed by the San Francisco Giants Tuesday night. They then lost the second game of the series after midnight in the 11th inning. The Braves were able to salvage the third game of the series, avoiding the sweep, behind an awesome outing by veteran Tim Hudson. It was an interesting series for veteran Chipper Jones....
MLB News

Delivered to your inbox

You'll also receive Yardbarker's daily Top 10, featuring the best sports stories from around the web. Customize your newsletter to get articles on your favorite sports and teams. And the best part? It's free!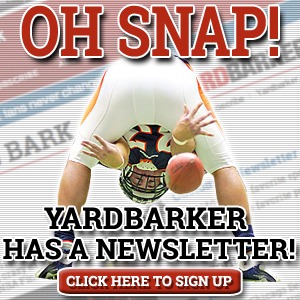 Latest Rumors
Best of Yardbarker

Today's Best Stuff

For Bloggers

Join the Yardbarker Network for more promotion, traffic, and money.

Company Info

Help

What is Yardbarker?

Yardbarker is the largest network of sports blogs and pro athlete blogs on the web. This site is the hub of the Yardbarker Network, where our editors and algorithms curate the best sports content from our network and beyond.