Found March 22, 2012 on Mike Silva's New York Baseball Digest:
It was announced earlier today that Chipper Jones, one of the greatest sports villains in New York history, will be exiting stage right at the end of the season. When you think about some of the prominent villains over the last 25 years Reggie Miller, Michael Jordan, Pedro Martinez, Ken Griffey Jr. and Jones stand out. For as aggravating as it was seeing him and the Braves beat the Mets yearly during the late nineties, you have to respect Jones' 19-year journey. Chipper was drafted #1 overall in 1990 as a shortstop; moved between third base, left and right field as a young player his first 3 years in the league. When he finally established himself as the best third basemen in baseball, the Braves moved him left field, again, in 2001. He finally settled in back at the hot corner to stay in 2005. It's not very often you see someone with that type of resume moving all over the field. Not many stars would be ok with it, either. How good is Chipper Jones? He is fourth all-time in Wins Above Replacement and third in OPS+ (141)* at third base. *This is for players with 75% of their appearances at third base Maybe only Mike Schmidt and Eddie Mathews will go down as better third basemen in the history of the game. Jones will go down as one of those rare modern day players that spent his entire career with one team, as this year will be his 19th season with the Braves. When he was to hit free agency in 2001, he re-signed for a below-market contract (6 years/$90 million) to stay in Atlanta. After seeing how easily Albert Pujols fled the Cardinals this past October after winning his second World Series, you come to appreciate Jones even more. He knew who he was a Southern boy that was comfortable and successful in a Braves uniform. No amount of money was going to overcome that fact. Mets fans know all about Chipper. He probably will go down as the team's all-time killer. For his career he's hit 48 HRs, drove in 154 runs, and hit .318 against New York. He actually walked more (140) than struck out (130), which tells you how tough an out he's been over the last two decades. The Mets inability to get him out symbolized the rivalry with Atlanta during the late 90s. It came to a head during the 1999 NLCS. The same series that was marked by the wild antics of John Rocker was also when Mets fans broke out the "Larry, Larry" chant in reference to Jones' actual first name. Just weeks earlier he told Mets fans to "put their Yankees hats on," after it appeared the Braves left them for dead the last week of the regular season. Unlike Pedro Martinez, who is hated by Yankees fans to this day, Mets fans grew to respect Chipper over the years. The feeling is mutual, as he named his son "Shea" after the Mets old ballpark; a place where he hit a cool .313 for his career. It was interesting to see him take his family for a final tour around the stadium during the Braves final visit in 2008. Will we see a rivalry like this again? Will fans get the opportunity to have another Braves/Jones type of storyline? I am not so sure. Sustaining success in the modern game is difficult. Payroll restrictions have forced just about every team outside of the Yankees and Red Sox to decide which stars they keep. It's hard to maintain a level of consistency with the same group of players as they reach their late arbitration years leading up to free agency. Most players wouldn't take a below-market value contract like Jones did. This was during a time of wild spending when stars such as Manny Ramirez, Jason Giambi, and Ken Griffey Jr. either left via free agency or forced themselves out off the team's they grew up with. Even when a team does (see the Phillies), you need the other organization (see Mets) to live up to their end of the bargain. For as much as Knicks fans hated Reggie Miller and Michael Jordan while they played, they respect them that much when looking back at the rivalry today. I believe Chipper Jones will be viewed the same way, and probably be given a much deserved salute when the Braves make their final stop to Citi Field on September 9th. That game probably won't mean anything, since the Mets are nowhere near a contending team. That's too bad, since it would have been fun to go at it with Larry one more time for old time's sake. His body may be breaking down, and he clearly isn't the same player we he once was, but I don't know of too many players that I would rather not see at the plate in a big spot. Even more ironic is the Braves final home game of the season is against the Mets. Jones' final appearance at home will be against the team he loved to torture. Want to bet he gets the big hit to send the Braves home winners? It will be the fitting end to a great career, and symbolic of his relationship with the Mets and their fan base. You never like losing to a hated rival. You also don't like the absence of rivalries. Chipper Jones ruined many a day for Mets fans, but I think half the fun is the competition. Rivalries are what makes sports fun, spurs debate, and gives us something to talk about before and after the game. The Mets will be contenders again, but I don't know if they will have a villain like Chipper Jones across the diamond.
Original Story:
http://nybaseballdigest.com/2012/03/2...
THE BACKYARD
BEST OF MAXIM
RELATED ARTICLES
HANGIN' IT UP
According to the team's Twitter account, the longtime Atlanta Braves third baseman plans to retire at season's end.
Braves third baseman Chipper Jones says this will be his final season. Jones, who turns 40 next month, issued a statement through the team Thursday saying he will retire after the season. He has spent his entire 18-year career with the Braves, winning the NL MVP award in 1999. He has a .304 career average with 454 homers and 1,561 RBIs, but has toyed with the idea of retirement...
Atlanta Braves veteran third baseman Chipper Jones will retire following the upcoming season, the team announced on Thursday. A news conference is scheduled for later in the day. Jones, who will turn 40 next month, has been nursing several injuries over the last few seasons. A 1999 MVP and seven-time All-Star, Jones batted .275 with 18 homers and 70 RBIs in 126 games in 2011. ...
Atlanta Braves 3B Chipper Jones announced this week that this season will be his last. His last season has not gotten off to the start that he might have been hoping for as he is now scheduled to undergo knee surgery. On Monday, the future Hall of Famer will undergo arthroscopic surgery to repair a torn meniscus. The injury Jones sustained was while the veteran was stretching...
It's been a long and wonderful road Larry Wayne, and we'll be sorry to see you go. The news announced via the Atlanta Braves Twitter account Thursday morning made us a little sad even though we've seen it coming since at least 2010: Chipper Jones is retiring following this season. He held an emotional press conference later on in the day, which every single one of...
With his 40th birthday approaching, Atlanta Braves third baseman Chipper Jones announced Thursday he will retire after the season. Jones, who has spent his entire 18-year career with the Braves, battled a rash of injuries the past several seasons and actually decided to retire in 2010, only to change his mind. This time, he means it. The team issued a statement before its spring...
After more than 17 years as a fixture in Atlanta Braves baseball, Chipper Jones has announced that he will retire as a player after the 2012 season. His $7 million club option for next year would have vested at $9 million with 123 games played this summer, but apparently enough is enough. Jones, 40 next month, has been ravaged by (mostly) knee injuries that have limited him to fewer...
Larry Wayne Jones, or more popularly known as "Chipper", has been a key member of the Atlanta Braves franchise for close to two decades. Jones time with the Braves will soon be coming to an end, as the veteran third baseman has decided to call it a career at the conclusion of the 2012 season, [...]
Some opponents you loathe. You watch with venom in your heart for how they destroy your team, for their arrogance and attitude. Other opponents you respect and admire, and salute for their longevity and talent. Such is the case with the Braves' Chipper Jones. The inevitable became official this morning when Jones announced this would be his final season playing third base for Atlanta...
By Bud L. Ellis Chipper Jones debuted in the big leagues as a shortstop in1993 ATLANTA — In the spring of 1994, a 21-year-old converted shortstop found himself trying to make a major-league roster. At the same time, a 21-year-old college student found himself trying to make his mark as sports editor of his college newspaper. And on the airwaves that spring, a song worked its way...
FORT MYERS, Fla. –– First, Jason Varitek retired. Then, earlier this week, Braves third baseman Chipper Jones announced his retirement, effective following the 2012 season. In a span of weeks, two of Jarrod Saltalamacchia's mentors have closed the books on their illustrious careers. Considering Jones advised him as a rookie in the Atlanta organization, that retirement announcement...
KISSIMMEE, Fla. (AP) -- Tyler Pastornicky had four hits and Freddie Freeman added three and the Atlanta Braves tied the Miami Marlins 5-5 in 10 innings, just hours after Chipper Jones said he will retire at the end of the season. Jones did not play on Thursday. Pastornicky has struggled this spring, but lifted his batting average to .224. Freeman boosted his spring average to ...
MLB News

Delivered to your inbox

You'll also receive Yardbarker's daily Top 10, featuring the best sports stories from around the web. Customize your newsletter to get articles on your favorite sports and teams. And the best part? It's free!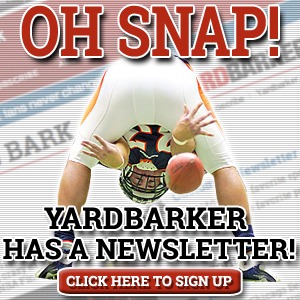 Latest Rumors
Best of Yardbarker

Today's Best Stuff

For Bloggers

Join the Yardbarker Network for more promotion, traffic, and money.

Company Info

Help

What is Yardbarker?

Yardbarker is the largest network of sports blogs and pro athlete blogs on the web. This site is the hub of the Yardbarker Network, where our editors and algorithms curate the best sports content from our network and beyond.