Found February 14, 2013 on Phillies Nation:
It is particularly difficult to watch a presidential debate or State of the Union and hear the party line as a response for each question. It becomes a predictable exercise where each answer is as rehearsed and choreographed as a pop music performance at the Grammys. When reporters engaged Carlos Ruiz in questions about his 25-game suspension for Adderall use, Ruiz stuck to the talking points, the party line: he was very sorry that he disappointed everyone, he's putting it behind him. Chooch had a very unique opportunity on his hands: he could have been a trailblazer, he could have been the first person taking a PED to describe the advantages of taking them, detailing why he took them, stating what aspects of his game they improved. He could have had the mia culpa of all mia culpas, describing when and why he started, why he continued to do so even after he was busted once and told he would be tested eight times a year. Chooch didn't give any of those details. Now, why he didn't is ...
Original Story:
http://philliesnation.com/archives/20...
THE BACKYARD
BEST OF MAXIM
RELATED ARTICLES
Roy Halladay told reporters yesterday that he was ready to throw 320 innings in 2013 if that's what it took for the Phillies to win the World Series. That's right – Halladay is ready to throw 54 innings more than he has ever thrown before, becoming the first Phillies pitcher since Steve Carlton in 1972 to throw over 300 innings. Halladay is ready to pitch 320 innings if that...
Juan Cruz, 34, was the odds on favorite among the non-roster invitee relievers to make the club out of Spring Training. Today, Todd Zolecki reported that Cruz and the Phillies have decided to part ways. Zolecki indicates that the signing of Chad Durbin made Cruz believe his window to make the club was increasingly narrow. Cruz was the only pitcher to not report to camp on time yesterday...
This morning, the Phillies and Roy Halladay held their normal spring training news presser at the Phillies' spring training complex. When reporters asked about Halladay's shoulder, the Phillies revealed that his ailment last season was not due to an injured shoulder, but instead was caused from his lower back. Halladay...
Over the last two seasons, Carlos Ruiz has become the most popular player on the Phillies roster. He has been admired for his unique combination of playing ability and adorableness (it's a word). Not once had we heard any news of Chooch being linked to banned substances or any other...
Roy Halladay feels good and wants to stay in Philadelphia. The Phillies big right hander said today on how he felt compared to last year, "If I feel the way I feel right now, I'm very confident." Halladay also made it clear that his lower back, not his shoulder was the issue in 2012. When asked about testing free agency after this season Doc said, "I really don't see myself...
Jimmy Rollins made his major league debut back in 2000. It's now 2013 and Rollins is entering his 14th major league season as a 34-year-old who's played every one of his 1,792 games with the same team. Amazingly, even at his advanced age, Rollins hit 23 home runs last year. That total was his most since 2007 (30) and just the third time he'd hit more than 16.Rollins has always...
Venezuelan born infielder Cesar Hernandez was signed as an amateur free agent by the Phillies at the age of 16. Since then, the slick defender that primarily plays second base, has displayed solid progress and improvements in many areas of his game. Hernandez, a switch-hitter, made his professional debut with the Venezuelan Summer League in 2007 at the age of 17. In two seasons...
Nearly 24 hours after Roy Halladay took the microphone at his Clearwater press conference, Phillies first baseman Ryan Howard took to the reporters to discuss his offseason and his preparations for the 2013 season. Howard, who missed the first half of the season last year with a ruptured left Achille's...
Juan Cruz, we hardly knew ya. Actually, we didn't get to know you at all. The veteran had agreed to a minor league deal with the Phillies, but then had a change of heart.
So here's the deal… It was Opening Day 2011, and the Phillies were coming off a heart-breaking Game 5 in the NLDS where they bounced from the playoffs by the Cardinals. Kevin and I were also bounced that night. We were thrown out of CBP by a douche bag security guard. Never has such little power gone to a man's head so badly as it did with that security guard. But that had...
Tune in now for the MTR Morning Throwdown. Question of the show. Will Domonic Brown, Darrin Ruf, or someone else emerge as the Philadelphia Phillies regular left fielder. Listen 7-10am EST on MTRRadio.com and join our discussion on Facebook and Twitter.
     So, I took part in an offseason project for C70 At the Bat (www.cardinal70.com) where I was asked to field some questions about the Cleveland Indians heading into the 2013 season.  It's still a little early, but it's a fun exercise.  Look for the full analysis of all 30 teams at the C70 site, but here is my Indians take.      1)   How would you grade the...
MLB News

Delivered to your inbox

You'll also receive Yardbarker's daily Top 10, featuring the best sports stories from around the web. Customize your newsletter to get articles on your favorite sports and teams. And the best part? It's free!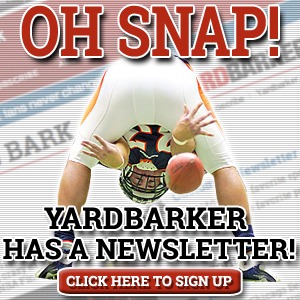 Latest Rumors
Best of Yardbarker

Today's Best Stuff

For Bloggers

Join the Yardbarker Network for more promotion, traffic, and money.

Company Info

Help

What is Yardbarker?

Yardbarker is the largest network of sports blogs and pro athlete blogs on the web. This site is the hub of the Yardbarker Network, where our editors and algorithms curate the best sports content from our network and beyond.