Found May 23, 2012 on Fox Sports Houston:
PLAYERS:
Roger Clemens
,
Barry Bonds
,
Rafael Palmeiro
,
Alex Rodriguez
,
Sammy Sosa
,
Andy Pettitte
,
Mark Mcgwire
,
Gary Sheffield
,
Jason Giambi
,
Mike Piazza
,
Brian Mcnamee
,
LeBron James
TEAMS:
New York Yankees
,
Colorado Rockies
,
Miami Heat
There is something sad about this Roger Clemens, bloated and desperate, clinging with white knuckles to a legacy he can't possibly keep. Granted, he is mostly just trying to keep himself out of prison at this point. He has to fight that fight. But it began with his legacy. Against a lot of evidence to the contrary, he wanted us all to believe The Rocket had not been artificially propelled, and he was so unconvincing in front of Congress that two years ago a federal grand jury charged him with six felonies. Clemens was too self-involved, too stubborn, too short-sighted to see that the Steroid Era was just that -- an entire era. It wasn't just about him. If you were a powerful player for a long time, and you played between the late 80s and the mid-aughts, everybody was already suspicious of you. Without using your Google machine, see if you know which of the following players used steroids, which were implicated, which weren't, which were proven, which admitted to it and which ones offered denials nobody believes: Barry Bonds, Rafael Palmeiro, Alex Rodriguez, Sammy Sosa, Manny Ramirez, Andy Pettitte, Mark McGwire, David Justice, Gary Sheffield, David Ortiz, Jason Giambi, Mike Piazza. It's tough to keep it all straight, isn't it? The more time passes, the more they all get lumped in together as suspect contemporaries in an era when performance enhancing drugs were commonplace. That's about as forensic as most of us care to get. (Clemens, if you need a refresher, was named in the Mitchell Report. It said he used anabolic steroids late in his career, and that this information came from his former trainer, Brian McNamee.) Clemens could have denied he used, and most of the people would have still thought he did and held it against him forever. Or he could have admitted he used, and most of the people probably would have forgiven him, or at least made peace with his place in the Steroid Era. This, after all, is an era defined by the asterisk. We will never know who exactly used performance-enhancing drugs and how much, so the accomplishments of the players whose careers aligned with the Steroid Era can only be evaluated against each other. That's not fair, but it's the best we can do. And Roger Clemens, who played during the Steroid Era against a lot of hitters and other pitchers who were on The Juice, was maybe the greatest pitcher of his time. That's an imperfect legacy, but it's still a darn good one, and it's too bad Clemens didn't realize he didn't have to deny using steroids in order to keep it. Too bad Clemens didn't understand that he wasn't going to be able to change the way he was perceived. It was too late. Too bad Roger Clemens failed to see that no one really cares about steroids. He can see it now. Jurors are falling asleep during his perjury trial. The public is ignoring it all together. The media have moved on to concussions and LeBron James and Tim Tebow. Oh, if Roger could do it all over again, he would simply cop to having experimented with The Juice and that imperfect legacy would be intact. But now look at him. His friends are ratting him out, and he has to sit there and squirm and hope he isn't proven a liar. "Give it up, Roger," we all want to scream. I am not trying to convict Clemens here. That's what the trial is for. It's going to take a superhuman effort by his defense to convince me he didn't use PEDs, but I don't want Clemens to go to federal prison over all this. To put a baseball player in jail for lying about something he did to help him play baseball better seems like a pointless exercise of the American judicial system to me. Rather, I wish Clemens had either just admitted to it, or found a way to not say anything at all. Because in that case we would have seen him as a great baseball player who cheated during an era defined by cheating, and instead he's a sad old man yelling at a television that isn't even on.
Original Story:
http://www.foxsportshouston.com/05/23...
THE BACKYARD
BEST OF MAXIM
RELATED ARTICLES
WITH FRIENDS LIKE THESE...
Jose Canseco, who professes to know more about steroids than anyone, strongly supports Roger Clemens' claims, saying he believes the pitcher never took steroids.
A forensic scientist has testified that two cotton balls and a syringe needle allegedly saved after a steroids injection tested positive for Roger Clemens' DNA - in a key moment as the government tries to prove the former pitcher used performance-enhancing drugs. Alan Keel told jurors Friday that the DNA on both cotton ball matches were ''unique to one person who has...
The longtime head athletic trainer of the New York Yankees once wrote that Roger Clemens ''maintains complete confidence and respect'' for strength coach Brian McNamee. Gene Monahan, who retired last year, testified Wednesday in the perjury trial of the 11-time All-Star pitcher. In 2000, Monahan wrote a letter to the Yankees manager and general manager about Clemens...
WASHINGTON -- Among the 29 questions the Roger Clemens jury wanted to ask the pitcher's chief accuser, Brian McNamee, one cut to the heart of the case. "Why should we believe you when you have shown so many inconsistencies in your testimonies?" "I won't ask that," U.S. District Judge Reggie Walton declared during a bench conference with trial attorneys...
The judge in the Roger Clemens perjury case ruled Thursday that the government can call former major leaguer David Segui and another man to testify about conversations they had with Clemens' chief accuser, Brian McNamee. Prosecutors hope that Segui and Anthony Corso, who was one of McNamee's private workout clients in New York City, can help rebut defense suggestions that...
Former major leaguer David Segui and a Wall Street investor will be required to testify in the federal perjury trial of Roger Clemens, Judge Reggie Walton ruled Thursday morning. Segui arrived at the courthouse Thursday afternoon, according to multiple reports. The prosecution was looking for Segui to testify about prior consistent statements made by Brian McNamee, Clemens'...
Former major leaguer David Segui may be required to testify in the Roger Clemens perjury trial, against his wishes. Prosecutors want Segui to speak about a 2001 conservation he had with Clemens' former strength coach, Brian McNamee. McNamee supposedly told Segui about saving waste from injecting players to satisfy McNamee's wife. Relating that information would be consistent...
Is it me or has the Roger Clemens perjury trial dragged on like the slowest episode of "Law & Order" ever? I'm talking pre-Jerry Orbach slow, man. Nonetheless, things might have just gotten interesting. Prosecutors want to drag former major leaguer David Segui in to corroborate Brian McNamee's testimony. Former Oriole Segui is so reluctant to testify that Judge Walton...
At least one of the jurors in the Roger Clemens perjury trial has some concerns about a key witness' credibility.
In the 1980s, there were some legendary pitching performances. The decade introduced us to "The Doctor" Dwight Gooden, and "The Rocket" Roger Clemens. Mike Scott dominated with his splitter and Steve Carlton called it a career. The Factor12 Rating is able to quantify each successful season or failure. Where does your favorite pitcher rate against the competition? There were...
MLB News

Delivered to your inbox

You'll also receive Yardbarker's daily Top 10, featuring the best sports stories from around the web. Customize your newsletter to get articles on your favorite sports and teams. And the best part? It's free!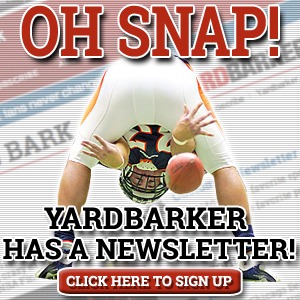 Latest Rumors
The Backyard

Today's Best Stuff

For Bloggers

Join the Yardbarker Network for more promotion, traffic, and money.

Company Info

Help

What is Yardbarker?

Yardbarker is the largest network of sports blogs and pro athlete blogs on the web. This site is the hub of the Yardbarker Network, where our editors and algorithms curate the best sports content from our network and beyond.